Dish Network accessories have emerged as one of the best Satellite television service providers globally.
Over the years, the company has offered top-level IPTV, mobile wireless, and Sling TV services.
But what accessories does the company employ to make its operations successful? 
Our research shows that Dish Networks employs the best receivers, DVRs, and remotes.
Additionally, smart technology ensures customers keep up with the ever-changing tech space. 
Keep reading to learn more about  Dish Network accessories.
Table of Contents
Dish Network Digital Receivers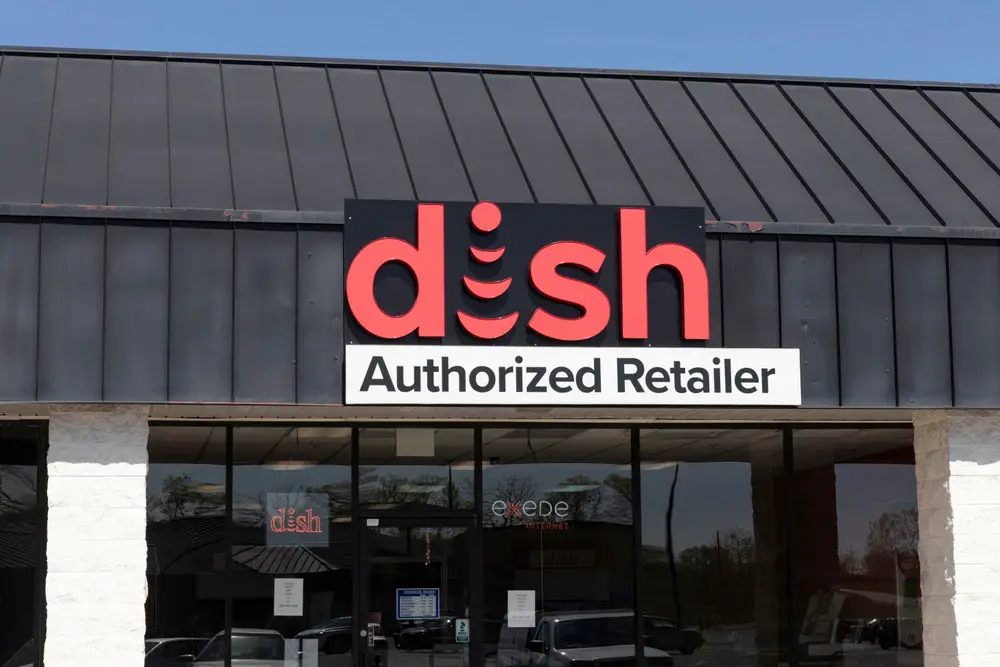 (A dealer where you can buy Dish Network receivers)
Dish Network offers high-level digital satellite receivers that can support any standard or HD TV.
However, digital receivers won't support recording. Check the available receiver options below:
Wally
This single high-tech tuner offers premium quality in a standard receiver. Therefore, wally supports Dolby Digital audio and HD television.
Additionally, it comes with parental controls and a remote control locator. 
Furthermore, you'll enjoy Built-in Netflix, Pandora, and Weather Channel. Finally, there is an integrated search capability and a friendly interface. 
Duo VIP 222K
As the name suggests, this receiver supports two TVs. Additionally, it keeps an on-screen caller ID.
Also, there is over-the-air broadcasting. However, it would be best to buy an OTA 2 module to enjoy it.
Lastly, a picture-in-picture capability allows users to check different channels without changing stations. 
Solo VIP 211K
This receiver supports only a single HD TV. Like the Duo VIP 222K above, it also supports on-screen caller ID. Additionally, you'll enjoy over-the-air broadcasting.
Duo 322
The Duo 322 can support two SD TVs. People like it because of the parental controls that help them regulate what their kids can access. Finally, the receiver supports an on-screen caller ID. 
Solo 311
Finally, there is the Solo 311, which supports a single SD TV. Additionally, it supports an on-screen caller ID. 
Dish Network DVRs
Dish Network delivers cutting-edge and high-tech DVRs to serve your TV without problems. Below are some available options:
Hopper 3
This is, without question, the most powerful DVR by Dish Network. It records a total of 16 channels at once.
Additionally, it lets you use integrated apps like Netflix and YouTube. Furthermore, it supports the multiview mode, allowing you to view four channels simultaneously. 
You'll love its voice remote that lets you search channels using advanced voice recognition.
Also, you'll have two terabytes of storage, translating to 2000 hours of recorded TV programming. Finally, you can record 16 shows simultaneously. 
Hopper Duo Smart DVR
As the name suggests, this DVR supports recording up to two televisions. Also, you can watch two shows simultaneously.
Furthermore, the DVR supports voice remote and Amazon Alexa integration. Finally, it features a remote finder to find the remote when you lose it quickly. 
Dish Network Joey TV Receivers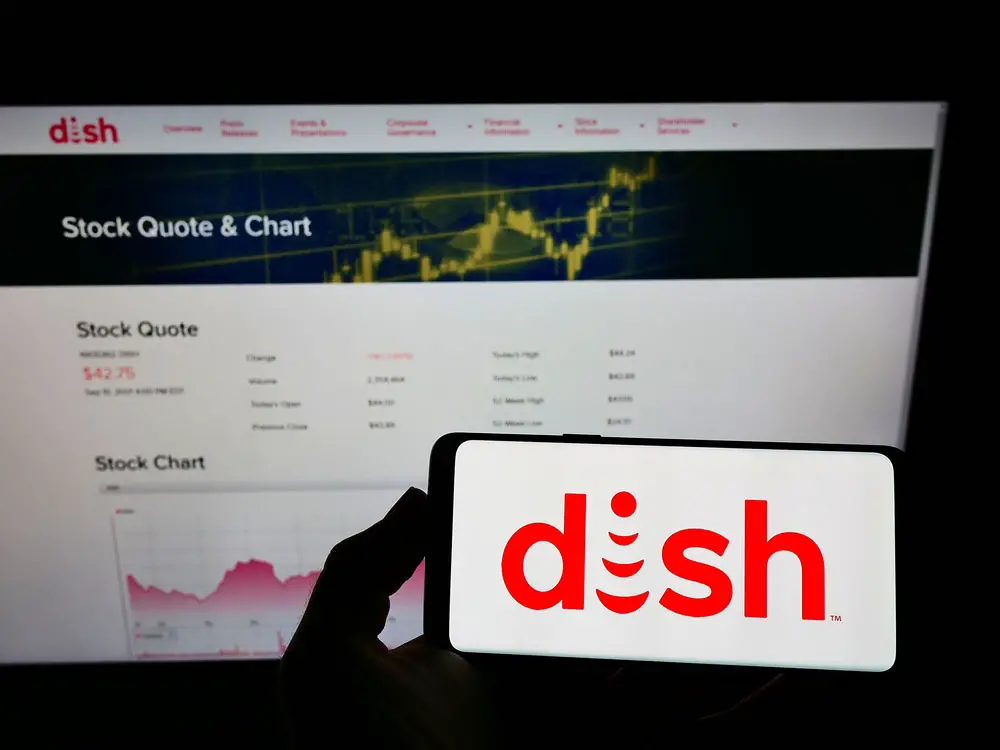 (Someone enjoying Dish Network service on a smartphone)
Generally, a Joey allows you to extend your service in different rooms without using several DVRs.
You need to connect Joey to a Hopper DVR to achieve this. Here, you can use standard coaxial wires or a wireless connection.
However, it would be best if you had a Joey for every additional television you have. Below are common Joeys by Dish Network:
4K Joey 5
If you own a 4K ultra HD television, this Joey receiver is meant for you. This device is designed to support Bluetooth connectivity.
Additionally, you can search channels with your voice. Furthermore, customizable buttons enable you to access YouTube and Netflix. 
Joey
This is the original Joey receiver, and it employs a coaxial cable to link your TV and DVR.
Remember, you can only connect one Joey per television. Additionally, the DVR has a compact design for easy storage. 
Wireless Joey
This Joey employs wireless technology to connect your television and DVR. Also, it features a compact design, thus making it easy to carry and store. We're sure you'll enjoy its user-friendly interface. 
Super Joey
The Super Joey lets you record a maximum of eight channels simultaneously. Also, it features two built-in tuners to fine-tune everything to your liking.
Finally, it comes with a compact design and user-friendly interface. 
Dish Network Remotes
The Dish Network remotes put power and control in your hands. You can use them to surf TV channels or even stream Pandora stations.
Just say a word, and the remote will comply with your command. 
Additionally, Dish Network remotes are designed to serve as universal remotes. Apart from controlling the television, you can also use them on your DVD player and other auxiliary devices. 
Finally, even if you can't remember where you left the remotes, there is the Hopper Remote Finder to help you locate them. 
Smart Technology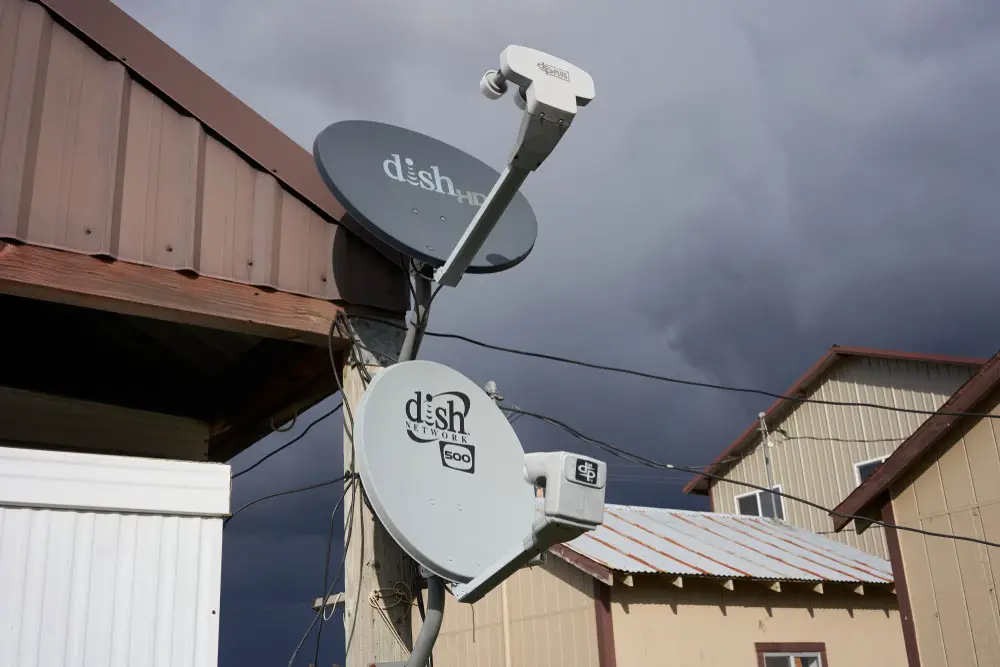 (Dish Network dish)
Dish Network employs high-level technology and features to make customers feel comfortable. If your TV receiver gets any problems, support can log in and restore functionality thanks to Smart Connect Tech Support. 
Dish Network enables you to use your television to view Google Nest Hello video doorbell. And you can view this without having to pause your show. Additionally, you'll interact with premium features like AutoHop, Primetime Anytime, and remote finder. Also, they have a technology that allows multiview and storage of up to 2,000 Hours. Furthermore, you'll get a chance to interact with Pandora, Netflix, and YouTube. 
Finally, there are standard Hopper features like parental control and Bluetooth. 
Does Dish Network Offer Internet Access?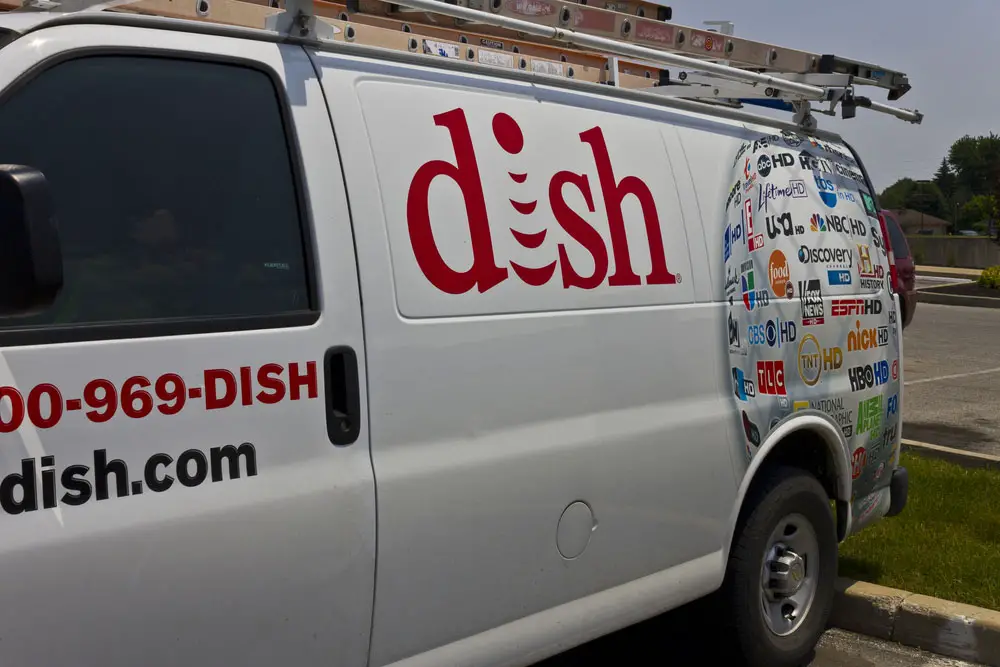 (A Dish Network service vehicle)
Dish Network doesn't offer internet services. However, the company has partners that provide cable, fiber, and internet.
The most notable partners include AT&T, Viasat, and HughesNet. Some of these partners can offer you speeds of up to 5 Gbps. 
FAQ
Is Dish Hopper worth it?
Yes! With Dish Hopper, you can watch different shows, channels, or your schedule. Also, you'll have a remote locator, integrated search, and AutoHop.
Furthermore, you'll interact with a user-friendly interface affordably. 
How reliable is Dish Network?
Dish Network is very reliable. This doesn't mean you won't get service interruptions in bad weather. However, such interruptions are rare and aren't very severe when they happen. 
How long will Dish Network receivers last?
Generally, Dish Network receivers are designed from high-quality materials. Therefore, expect your receiver to last for about 10-15 years.
However, the receivers can last much longer with great care and maintenance. 
Conclusion
If you're using Dish Network television service, you understand how quality their accessories and equipment are.
The company has high-quality digital receivers, remotes, and DVRs to ensure you access quality service.
Additionally, they employ high technology to ensure you keep up with the ever-changing technology space. 
You'll interact with features like AutoHop, Primetime Anytime, and remote finder. And if you encounter any challenges with your DVR or receiver, support will log in and restore functionality thanks to Smart Connect Tech Support.