A trusty kayak GPS device is essential for any kayaker looking to create a beautiful memory at sea. But with so many options, it can be challenging to determine which GPS device or app best fits kayaking needs. 
This guide explores the essential considerations for choosing a GPS device and helps you identify the best kayaking GPS for your needs. 
Table of Contents
Navigating the Waters: Should Kayakers Invest in a Dedicated GPS Device?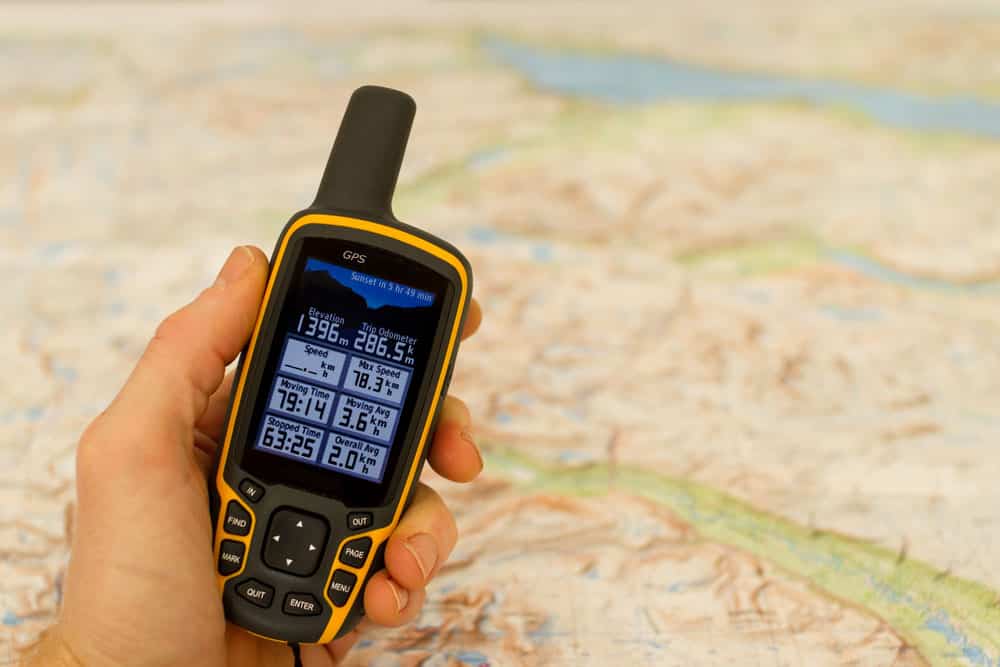 A GPS device
From tranquil streams to tumultuous seas, kayakers seek new experiences and uncharted territory. Essential to such journeys is a reliable navigation system. With its precise navigation capabilities, kayakers can chart their course, avoid obstacles, and track their progress.
But is a dedicated GPS device necessary?
The answer lies in the examination of precision, reliability, and safety. With the advent of smartphones, kayakers may think they have all they need.
But a GPS device specifically designed for kayaking can provide essential information that can distinguish between a safe, enjoyable trip and a difficult journey.
Navigating the Waters: A Comprehensive Guide to Choosing the Perfect Kayak GPS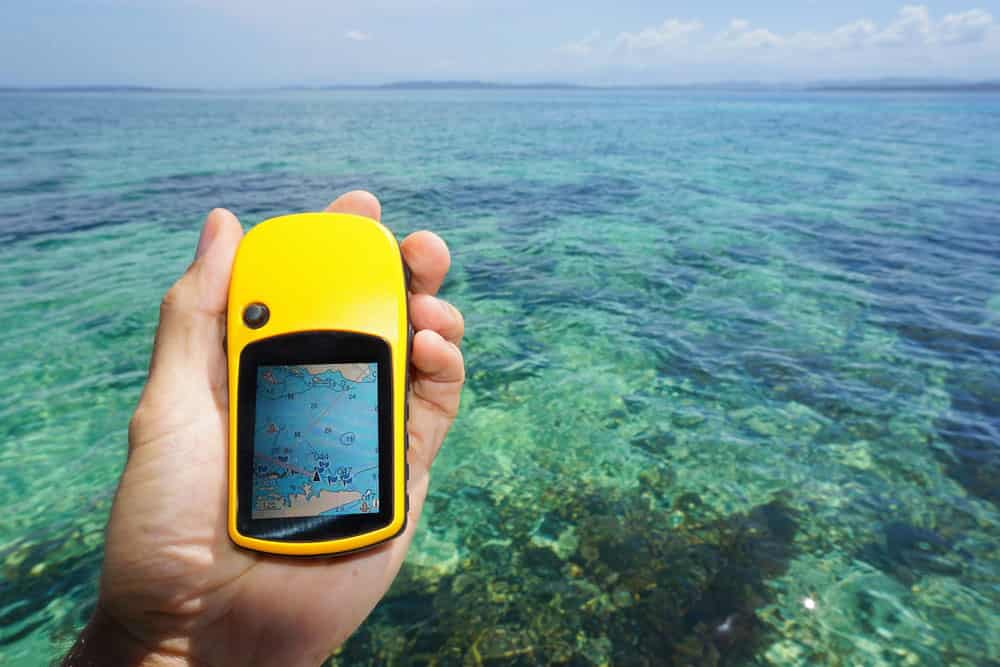 Holding a GPS navigator
To assist in the selection process, consider the following key factors when evaluating a kayak GPS device:
GPS Unit Design
Consider the design of the GPS unit in terms of its mounting options, overall durability, and ease of use. A GPS unit mounted on the deck or in a hatch is ideal, as it allows quick and easy access. The GPS unit should also be rugged enough to withstand the rigors of kayaking.
Accuracy and Coverage
The accuracy of a GPS navigation device is crucial in navigating unknown or unfamiliar waters. Ensure that the device you choose has a high degree of accuracy and covers the geographical area where you plan to kayak.
Battery Type and Life
A long-lasting battery is essential when kayaking. Consider the type of battery used in the device and its battery life to avoid running out of power during a journey. Lithium-ion is ideal, as it is a rechargeable battery and lasts several hours between charges.
GPS devise out of battery
Internal Memory
Look for a GPS device with large internal memory, allowing you to store detailed maps and navigation data during your kayaking trip. A large internal memory also will enable you to download detailed maps of your destination, which you can use offline during your trip.
Water Resistance/Waterproofing
Kayaking often involves exposure to water and moisture, so choosing a GPS device with high water resistance and the ability to withstand harsh environmental conditions is essential. The measurement of water resistance is meters; the higher the number, the better.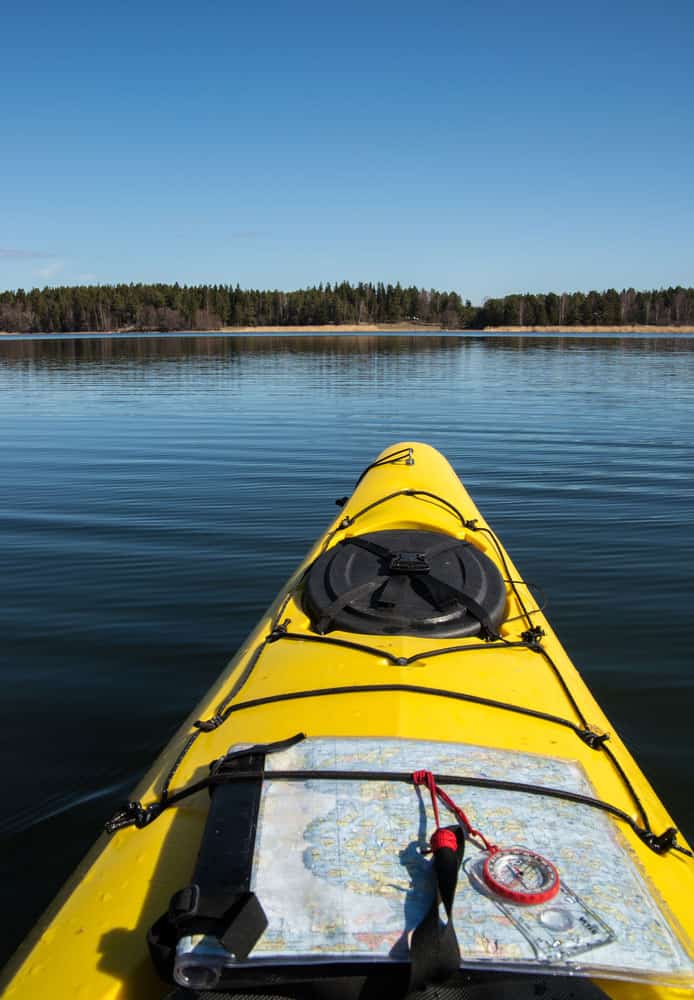 Waterproof GPS on a Kayak
WAAS Capability
WAAS (Wide Area Augmentation System) is a satellite-based navigation system that provides highly accurate location data. If you plan on kayaking in remote areas, then a GPS device with WAAS capability would be ideal. The device will provide more accurate coordinates, even when no satellite signals are available.
Detailed Mapping
Look for a GPS device that offers detailed maps of the areas where you plan to kayak, including topographical information and contour lines. It will allow you to plan your kayaking route and ensure it's safe for navigation.
Screen Size and Readability
The screen size and readability of a GPS device are essential factors in navigation. Choose a device with a larger screen and a backlit display, making it easier to see your route during the day and at night.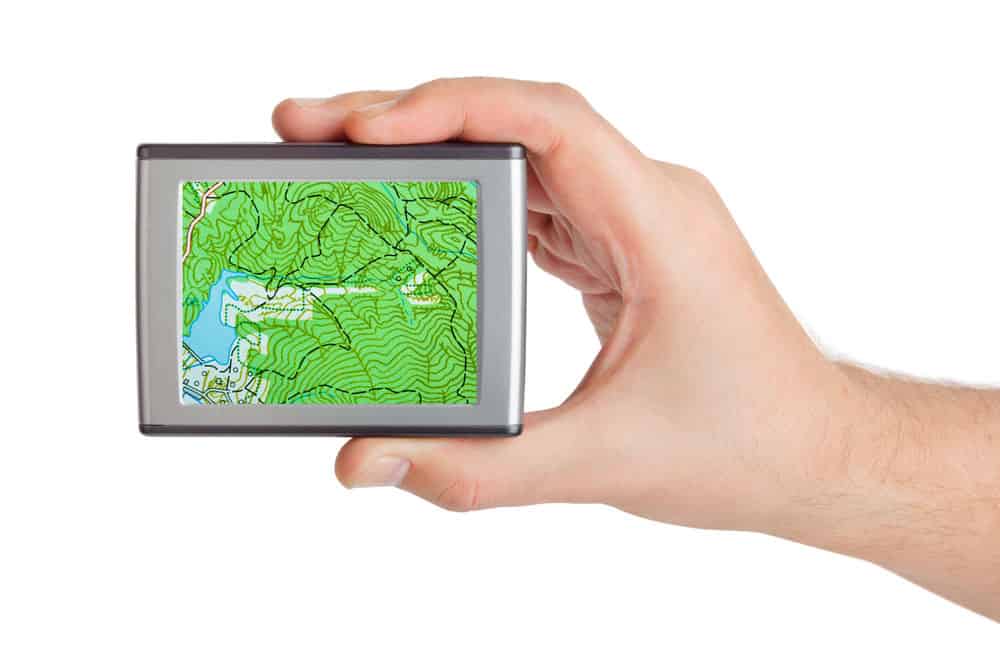 A GPS screen with a clear view
Device Size and Portability
The size and portability of a GPS device are crucial when it comes to kayaking. Choose a device that is compact and easy to carry and mount on your kayak.
Additional Features
Ability to store and play music.
Track the weather.
Share your location with others.
Prices
The cost of GPS devices for kayaking can vary significantly, so it is vital to set a budget and look for a device that offers the extra features you need at a price you can afford.
The Best GPS for Kayaking
A kayak GPS device
A suitable GPS device can distinguish between a safe, successful journey and a challenging, frustrating trip. With this in mind, here are some of the best kayak GPS devices—each one is a leader in its own right.
The Garmin GPSMAP 66i is a top-performing device designed for kayakers and outdoor enthusiasts. With its large 3-inch sunlight-readable color display, the 66i ensures easy viewing even in challenging conditions. The 66i's ability to send an interactive SOS in an emergency is one of its standout features, but this only works if you subscribe.
Pros:
Accurate and reliable navigation
Water resistant/waterproof
BirdsEye Satellite Imagery
Long battery life
WAAS capability for enhanced accuracy
Cons:
Requires a satellite subscription for two-way messaging and cellular connectivity
Higher cost compared to other GPS devices
Kayakers who want to explore their favorite waterways can rely on the Garmin eTrex 22x, which provides advanced GPS technology ideal for this sport.
This handheld GPS is small, rugged, and durable for use during extended kayaking trips. It supports GPS and GLONASS satellite systems, ensuring a reliable and accurate way to navigate treacherous waters.
Pros:
Reliable handheld GPS
Preloaded with Topo Active maps
Sunlight-readable color display with improved readability
It has excellent internal memory and an extra micro S.D. card slot
Long battery life of up to 25 hours in GPS mode
Cons:
Lower display resolution compared to other handheld GPS devices.
The Magellan eXplorist 510 is the ultimate GPS device for kayakers, featuring a 3″ touchscreen display and a 3.2-megapixel camera that lets you capture your adventures with vivid detail. With support for the GPX file format and seamless connectivity to a P.C., kayakers can easily save files and share their adventures with online communities.
Pros:
It is preloaded with 12,000 Lakes for the U.S. making navigating a wide range of areas easier.
It has a long battery life of 16 hours.
A realistic shaded relief background for a comprehensive mapping experience.
Cons:
Less durable
The lack of support for satellite systems other than GPX may limit the device's functionality.
The Garmin GPSMAP 78sc Waterproof Marine GPS is a compact and resilient navigation tool designed specifically for marine environments. 
At the heart of the device lies a 3-axis compass and barometric altimeter, delivering precise navigational data even in challenging conditions.
Pros:
It has a 2.6-inch color display LCD that provides clear visibility.
It also preloaded the worldwide base map, and there is a micro S.D. card slot for optional mapping.
The floating and buoyant design make it easy to retrieve if dropped in water.
Cons:
Limited internal storage space.
Water-resistant (rather than waterproof) design.
The Garmin Montana 680 is a top-notch GPS device designed for kayaking enthusiasts.
Its high-sensitivity WAAS-enabled GPS receiver, equipped with advanced satellite prediction and GLONASS support, can provide quick and precise positioning in even the harshest terrain.
This GPS device can easily track your route, manage your waypoints, and record your tracklogs.
Pros:
High-sensitivity GPS receiver
Advanced digital camera with an 8-megapixel sensor and geotagging capabilities
1-year Birdseye Satellite Imagery subscription offers a detailed view of the surroundings
Comes with tracking functions
Cons:
It may be expensive for some users
Challenging to navigate for users unfamiliar with advanced GPS technology
The Best Kayak GPS Apps
A lady setting up a GPS app
With the advent of GPS technology, kayakers now have access to many GPS apps, making navigation safer, simpler, and more efficient. Here are three of the best kayak GPS apps:
Navionics Freshwater Navigator
This app is excellent for exploring freshwater lakes, rivers, and streams in their kayaks.
It provides detailed maps of over 42,000 lakes worldwide with information on contour lines and points of interest such as campsites, beaches, marinas, and more.
Users can also access tide charts and weather forecasts for any given destination to plan their trip accordingly.
The Navionics app user interface is intuitive and works well on most smartphones and tablets.
Pros: Detailed charts, tidal and wind forecasts, extensive coverage.
Cons: It is a subscription-based service.
I-Boating: Marine & Fishing
I-Boating offers comprehensive features, including detailed charts, weather forecasts, tides, and wind data. It is available in over 30 countries, providing kayakers with the ability to navigate coastal and inland waterways. The app's interface is intuitive, and its offline mode allows kayakers to continue using it even in areas with poor connectivity.
Pros: Comprehensive set of features, available in multiple countries, offline mode.
Cons: Some users report a slow refresh rate of maps and subscription-based services.
Crew Nerd
Crew Nerd is a kayak GPS app explicitly designed for kayakers and is packed with features to help kayakers navigate their expeditions.
The app offers real-time tracking and detailed charts and provides weather updates, tides, currents, and wind patterns.
It can work offline, which is ideal for kayakers in remote locations with limited connectivity. The app is available for iOS and Android devices and is known for its ease of use, reliability, and accuracy.
Pros: User-Friendly Interface, Real-time route tracking, Offline mapping
Cons: Limited Mapping Options, Battery drain
Summary
The realm of kayaking GPS offers numerous options, each with its advantages and drawbacks.
From the highly detailed maps of Garmin Montana 680 to Crew Nerd's crew-tracking capabilities, a kayaker can significantly enhance their experience using the right GPS app.
The best option depends on the kayaker's needs.