Are you looking for the best DSL modem?
DSL modem routers stand out due to their fast and stable connection in a setting of multiple users.
They also reduce the hardware footprint needed making it an efficient solution for those with limited space. 
After conducting enough research, here is a list of the best DSL modems of 2023.
Table of Contents
Types of DSL Modems
DSL modems come in three common types. Each is distinguishable due to its functionality, connection mode, and service providers.
These include:
ADSL (Asymmetric Digital Subscriber Line): These modems best suit slower internet connections.
The data speed is asymmetrical, meaning it is faster in one direction than the other.
SDSL (Symmetric Digital Subscriber Line): These modems are efficient enough to deliver maximum internet speeds.
They are perfect for heavy internet usage making them an excellent choice for businesses.
VDSL (Very High-speed Digital Subscriber Line): These modems come in two types – VDSL and VDSL2 modems.
They are faster than ADSL modems, with faster transfer rates and better wireless speeds.
Additionally, they are compatible with most internet service providers and are cheaper than cable modems.
The Right Connection Is Important for Optimal Performance
How Do DSL Modems Work?
DSL modems help users access high-speed internet through traditional phone lines.
The technology converts analog signals from phone lines into digital signals that computers can understand.
Users must then connect their devices to the modem via an Ethernet cable or Wi-Fi to access the internet.
For it to work, the modem initiates contact with the Internet Service Provider (ISP) via the phone line.
The ISP responds with the internet connection request in analog format.
The modem converts analog signals into digital form, and vice versa, then sends them back down the phone line.
This process happens quickly, allowing users to access high-speed internet in seconds.
DSL Modems Can Be a Great Option for Those Living in Rural Areas
What About a DSL Modem/Router Combination?
A DSL modem/ Router combination makes sense if you want a space-saving solution for your internet needs. However, there are some downsides to this combo.
For example, you must replace the entire unit if the router or modem stops functioning.
It makes troubleshooting challenging, as determining which component is causing the issue is often difficult.
Additionally, upgrading to the latest router technology becomes problematic if no modem advancements exist.
Guide to Purchasing the Top DSL Modem for Your Internet Connection
Internet Modem
Some of the factors to consider when choosing the best DSL modem for your home network include the following:
Compatibility With Your Network
Your DSL modem should be compatible with your current ISP network and deliver a stable connection.
Confirm this, as some modems are only compatible with specific types of networks.
Available Ports
Modem ports are what allow devices to connect to the internet. Therefore, get a DSL modem whose number of ports equals your devices.
Additionally, use a modem with USB and Ethernet ports to benefit from more flexibility.
Additional Features
Every DSL modem has unique features that make it stand out.
Go for modems with additional features like parental controls, guest networks, and automatic payments.
Also, look out for modems with a built-in firewall and VPN. These features will prevent unwanted intruders from accessing your network and data.
Bandwidth Capacity
The data speed between a modem and the ISP's network depends on a modem's bandwidth capacity.
If you're a heavy internet user, select a high-bandwidth modem for seamless streaming, fast gaming, and quick file downloads.
Small internet users can get away with a lower-capacity modem.
The Best DSL Modems of 2023
After conducting an in-depth analysis of the current DSL modems in the market, we've narrowed our list down to 8 options.
Best Choice for Avid Gamers: AC1900 Nighthawk VDSL/ADSL Modem Router
Every gamer dreams of a fast internet connection, and the AC1900 Nighthawk router delivers just that.
The router is fast and reliable, featuring a built-in VDSL2/ADSL2+ modem delivering high-speed DSL connectivity.
It also provides dual-band Wi-Fi up to 600 + 1300 Mbps.
The modem's dual-core processor boosts wireless, wired, and WAN-to-LAN performance.
It also features Beamforming+ technology that plays a role in its high-speed Wi-Fi coverage.
Pros:
Strong wireless range
Supports both DSL and cable internet providers
Easy to set up and manage
Delivers ample bandwidth for gaming
Cons:
Best Choice for households using the CenturyLink DSL service: CenturyLink Prism TV Technicolor C2100T
Every homeowner's joy is fast internet, with good coverage and reduced dead zones. With the CenturyLink C2100T, you can get all that plus more.
This all-in-one device is a game-changer for users that rely on landline phone networks.
It features the latest antenna and cable technology, providing ample bandwidth for data-intensive activities like HD streaming and online gaming. 
Pros:
It is compatible with CenturyLink Prism TV
Also, this modem has a built-in 4-port dual-band Wi-Fi router eliminating the need for multiple devices
Supports both wired and wireless connections
It has parental controls and guest networks
Cons:
Not compatible with other internet providers
Limited to DSL speeds
Best Choice for Folks Looking for An All-in-One Unit: C4000BG CenturyLink Bonded Line DSL Router
The bonded DSL router may be the solution you need for faster speeds.
It uses two DSL lines to double the maximum speeds available, making it an excellent choice for heavy internet users who require superfast internet.
It has three gigabit Ethernet ports, allowing you to connect multiple wired devices, and supports wired and wireless connections.
Pros:
Bonded DSL lines for faster speeds
Reliable internet connections
Cons:
Limited to CenturyLink DSL providers
Expensive
Best Choice for Verizon Fios Customers: Actiontec Verizon High-Speed Internet DSL
The Actiontec Verizon High-Speed Internet DSL modem is what every Verizon Fios homeowner needs.
It features a three-in-one bundle consisting of a Wireless N router, an ADSL modem, and a 4-port switch.
The Actiontec Verizon High-Speed Internet DSL undergoes repeated testing to ensure high performance and compatibility.
Pros:
An excellent option for families with multiple devices
It provides a dual-band Wi-Fi signal
Built-in router with parental controls and guest networks
Compact design
Cons:
It is only compatible with Verizon Fios
Best Choice for Bandwidth-Intensive users: TP-Link N300 ADSL2+ Wireless Modem Router (TD-W8960N)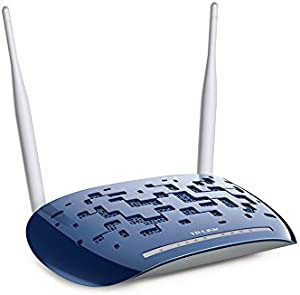 The TP-Link N300 Modem Router is a 3-in-1 device. It includes an ADSL2+ modem, 300Mbps wireless router, and 4-port 10/100M switch in one robust device.
The modem has a downstream bandwidth of up to 24Mbps, meeting most home and office service plan needs.
With two detachable antennas and MIMO technology, the TD-W8960N delivers up to 300Mbps for a fantastic wireless experience.
Pros:
3-in-1 device for a clear desk and budget-saving
Plus, it provides two work modes – ADSL Modem Router Mode and Wireless Router Mode for flexibility and investment-saving
IP-Based Bandwidth Control for secure Quality of Service
Cons:
Not ideal for high traffic volumes in large businesses.
Netgear Nighthawk Cable Modem Wi-Fi Router Combo C7000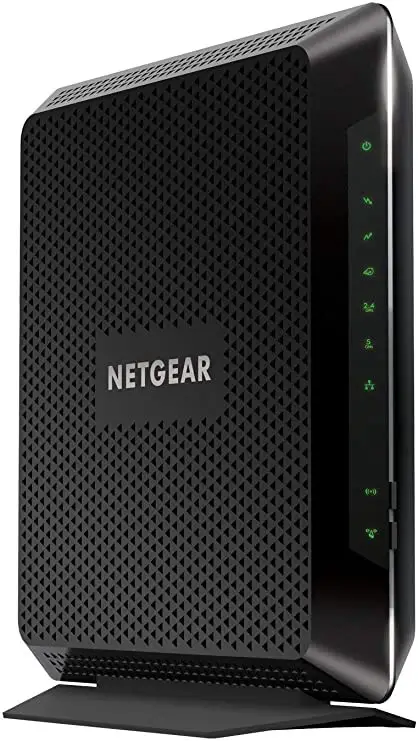 If internet speed is what you want, you cannot do wrong with the Netgear Nighthawk modem router combo.
This router utilizes the latest DOCSIS 3.0 technology to deliver internet speeds up to 400 Mbps.
The Wi-Fi coverage is good enough to cover 30 devices and a distance of up to 1800 sq. ft. Purchasing this model will save you about $150 in rental equipment per year.
Pros:
Provides high-speed internet connection
It has 24×8 channel bonding
It has four Gigabit Ethernet ports and two USB ports
Cons:
Motorola MG7700 Modem Wi-Fi Router Combo
Internet users should purchase the Motorola MG7700 Modem Wi-Fi Router Combo for many reasons.
The router is cost-friendly, uses the latest technology, and delivers high-speed internet.
The modem has DOCSIS 3.0 technology 24×8 channel bonding, which can provide internet speeds of up to 1000 Mbps.
The Motorola MG7700 does not hold back on security. It features a Broadcom cable Modem Chipset that protects your devices from denial-of-service attacks.
Pros:
Provides high-speed internet connection
Four Gigabit Ethernet ports
Cons:
It may not be compatible with all internet service providers
ARRIS SURFboard SBG10 DOCSIS 3.0
The ARRIS SURFboard SBG10 is an economical router option for the low-bandwidth user.
The modem/router combo features DOCSIS 3.0, facilitating a high-speed internet connection.
Using this modem will automatically save you $168 in rental fees. Users also benefit from high-speed Wi-Fi of up to 1.6 Gbps and wire speeds of up to 686 Mbps.
The Wi-Fi can cover an area of Up to 1,400 sq ft. Moreover, it's easy to set up and customize your network.
Pros:
Affordable option
Provides decent internet connection
Cons:
Only two Gigabit Ethernet ports, which may not be enough for some customers
Summary
With so many DSL modems on the market, finding the right one can be overwhelming.
However, once you understand the obstacles facing DSL modems, you can make an informed decision when choosing your modem.
Invest in a high-quality DSL modem that will elevate your internet experience and bring you one step closer to achieving digital nirvana.