Finding a handheld golf GPS that suits your golfing purpose may be hectic and sometimes even frustrating.
The reason is that we all have individual preferences and would like devices that have specific features. 
Most golfers may prefer top-tier golf GPS devices to improve their game.
However, some golf GPS devices have exorbitant price tags that don't match their features.
Today, we are making your work easier by going through five of the best handheld golf GPS in the market.  
Table of Contents
What's a Handheld Golf GPS
(A handheld golf GPS)
A handheld golf GPS is a small, portable gadget that gives golfers precise distance readings and other course data.
The gadget uses GPS to determine the distances between the golfer's location and essential course features like the green.
Moreover, they are robust and water-resistant since most golfers use them for outdoor golf sessions.
Top 5 Handheld Golf GPS
(Golfer analyzing a golf course)
The Garmin Approach G10 Golf GPS is a reliable GPS device with many helpful features for golfers.
First, the device is compact with a screen size of 1.3 inches and has clips you can use to attach to your bag or belt.
Additionally, the entry-level GPS device has over 40,000 course maps from all over the world. 
Other features include a GPS receiver that picks satellite signals to show distances to greens and hazards accurately.
The GPS accurately shows course data even when the section is under tree cover. 
The SkyCaddie SX550 Tourbook Golf GPS is a feature-rich golf device ideal for serious golfers.
It features a 5.5-inch LCD Color touch screen with a bright display even under the sun.
Moreover, the SkyCaddie SX550 gives accurate distances to the course's green and other essential points.
It's also straightforward to use due to its user-friendly interface that's easy to navigate and read. If you're a serious golfer, you can enjoy over 35,000 preloaded course maps that come with the device.  
The Garmin Approach G80 GPS is a top-tier device that excels in accuracy and quality. It is waterproof and has over 15 hours of battery life in GPS mode.
Moreover, you can benefit from over 41,000 international course maps that come preloaded.
The GPS device shows distances to hazards and even to the front, middle, and back. 
A fantastic feature that comes with the Approach G80 is the launch monitor.
The launch monitor monitors your swing details, like the smash factor and ball speed.
On the downside, the GPS device is quite costly and sophisticated for beginners. 
(A boy follows his hit using a rangefinder)
The Golfbuddy Voice 2 Golf GPS/Rangefinder is an easy-to-use handheld golf GPS that suits all golf players.
Its compact design lets you clip it to your belt or bag while golfing. Additionally, it has a voice assistant that reads your gaming distances when you activate it. 
It also focuses on player gameplay with an on/off slope feature. The feature gives you slope-adjusted information to improve your accuracy.
Moreover, you'll benefit from the device's 18 hours of battery life in golf mode. 
If you need an excellent handheld golf GPS at a lower price, go with the Phantom 2 golf GPS.
It is a compact, user-friendly tool that gives golfers of all skill levels precise distance readings.
Also, it provides accurate tracking of the hazard/layup distances for every hole making your work easier.
You can also benefit from features like Auto Hole Advance and the ability to recognize a golf course automatically. 
Common Features of Handheld Golf GPS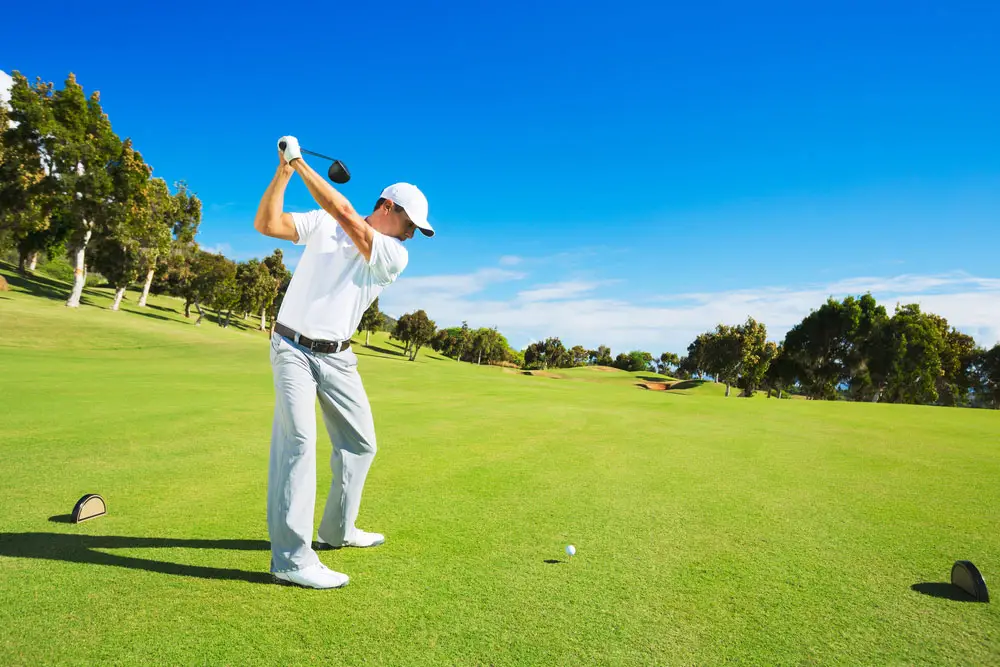 (Man playing golf on a golf course)
GPS technology has become an integral part of our daily lives. We use it for activities like navigation and fleet management to improve efficiency.
Over time, technology has found its way into the game of golf. But what features differentiate handheld golf GPS from other GPS systems?
Here are common features you'll find in most handheld golf GPS units.
Distance Measurement
Handheld golf GPS devices use mapping data to determine your distance from any part of the green.
Additionally, it automatically shows how far you are from hazards without your calculations or input. 
Auto Hole Recognition
The best handheld golf GPS devices have an auto-hole recognition feature. The feature automatically recognizes the hole you're aiming at and provides crucial information.
As a result, you can know the distance to the hole and other crucial information that may improve your game.
Course Mapping
(A beautiful golf course)
Most handheld golf GPS devices have thousands of maps showing the layout of each hole.
Furthermore, they offer the locations of bunkers and hazards on the course. Consequently, it gives you better course knowledge to plan your shots better. 
Digital Scorecard
The digital scorecard is an excellent feature that keeps track of your scores for each hole and round.
Consequently, you won't strain to look for scoreboards as you have one with you.
Shot Tracking
Most premium-quality golf GPS devices can track a golfer's shot.
As a result, you don't have to strain determining the distance and accuracy of your shot. In the long run, the shot-tracking feature helps you identify mistakes in your game.
You'll then make the necessary adjustments to overcome your flaws. 
FAQs
Is a handheld golf GPS better than a Golf watch?
The choice between a handheld GPS and a golf watch depends on usage and personal preference.
If you need a portable device with thousands of maps, go with a handheld golf GPS.
However, if you need a smaller and easily accessible device, go with the golf GPS watch.
Additionally, golf watches are more user-friendly and simpler than handheld golf GPS devices. 
What are alternatives to handheld golf GPS?
Alternatives to golf GPS include smartphone apps and laser rangefinders.
Also, you can choose a more traditional approach by using course maps and golf caddies.
Popular smartphone apps like Golfshot have functionalities that rival those on some golf GPS. 
Which handheld golf GPS devices don't require a yearly fee?
Having golf GPS devices that don't require a yearly fee is beneficial for learners and seasoned golfers.
Therefore, they usually go with models from reputable manufacturers and get access to over 35,000 global course maps. Moreover, handheld devices that don't require a monthly fee include the following:
IZZO Golf Voice Clip 6000
Garmin Approach G10
GolfBuddy Voice 2 
The Takeaway
Different golfers have preferences towards specific golf GPS devices. Finding a one-fit-for-all may be challenging, especially when considering the aspect of cost.
If you need a golf GPS, consider the parts of your game that you want to improve.
Afterward, look for a device with features tailored to overcome your shortcomings. Finally, feel free to leave a comment below.