The Best Golf GPS Watches Review, The latest advances in watch and GPS technologies mean you can have all information about the golf course on your wrist.
You can track your shots and other statistics without having to strain much. Additionally, some golf watches come with additional features, including smartphone notifications and heart rate monitoring. 
However, there is no fit-for-all criterion for these golf watches' features. Taking time to find a good value-for-money golf
A GPS watch is important. And that's what we have in today's article. Let's dive in as we look at the best golf GPS watches. 
Table of Contents
Best Golf GPS Watches
(Male golfer wearing a golf GPS watch)
Below is a list of the best golf GPS watches in the market. 
The Garmin Approach S62 is arguably one of the best golf GPS watches you can use to track your golf performance. It has a lot of unique features, including being able to track your shots. Furthermore, you'll enjoy a clear 1.3-inch display even under the sun. 
Other functionalities include a PinPointer feature that informs you of the pin's location even when you can't see it. If you need a high-end golf watch with the most excellent features while being durable, go for Garmin Approach S62. 
Golf Buddy's Aim W11 Golf GPS watch packs excellent new features. Some include shot distance measurement and automatic zoom-in/out view of the holes. Additionally, its 1.3-inch full-color screen demonstrates to you in great depth all the important course details. These include pin placement and hole layout, among others. 
The Aim Golf GPS watch has a long-lasting battery that lasts up to 10 hours in golf mode. The watch can last for more than a week in daily life. On the downside, some golfing features may not be available in some preloaded courses.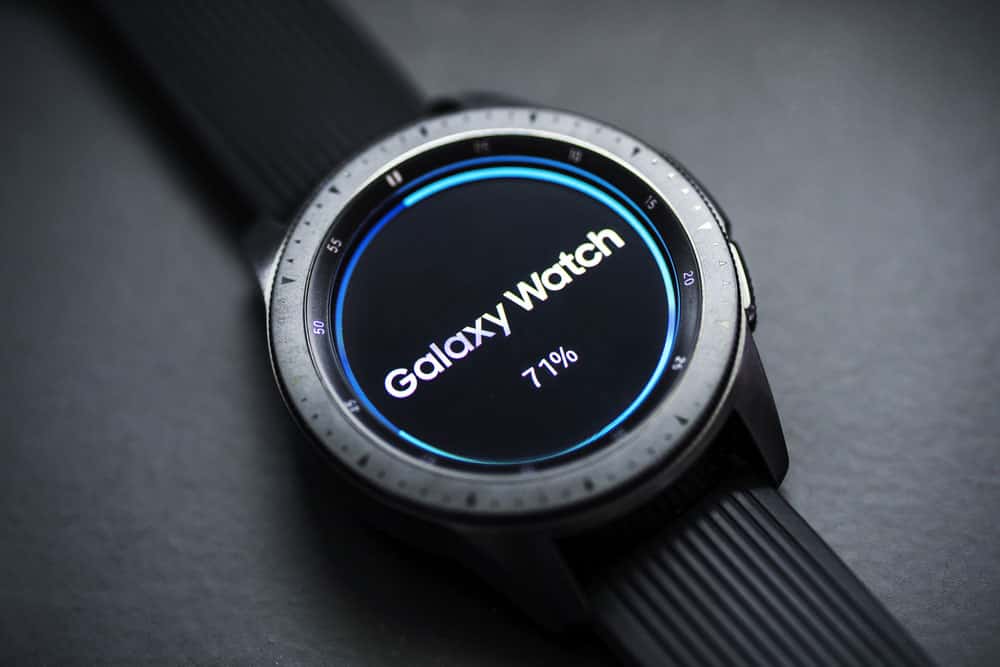 (Samsung Galaxy watch installs software)
Packing a larger 1.4-inch screen is the Samsung Galaxy Watch 5 pro. Unlike the standard version, the Pro watch is "toughened" for outdoor usage. Physically, it features a titanium watch casing, a sapphire glass screen, and a substantially bigger battery. According to Samsung, the water-resistant watch answers most golfers' outdoor concerns.  
On the downside, the golf GPS watch has a manual GPX method and an inactive skin temperature feature. 
(A golfer looking at his watch)
SkyCaddie has been producing amazing golf GPS watches for years, and the LX5 is no exception. The watch has thousands of accurately mapped golf courses, eliminating the guesswork from your gaming routine. 
Furthermore, the LX5's touchscreen is one of the best I've ever seen. It can compete with some premium high-end golf watches in brightness and clarity. If you're striving for a watch with a superb screen and precise distances, go with the SkyCaddie LX5.
The stylish and waterproof A2 Hybrid Golf watch is a true masterpiece from Voice Caddie. The golf watch has impressive modes you can select using the touchscreen or four corner buttons. In other words, you can swipe or press the buttons to move up or down a list. 
Moreover, the watch has an auto-brightness feature that wakes the display when you lift it, conserving battery life. The A2 Hybrid also provides accurate yardage and allows you to select pin positions effortlessly. On the downside, the A2 Hybrid's automatic course selection lags slightly and may take close to a minute before updating.
Best Golf GPS Watch Buying Tips
(Close-up photo of a golfer wearing a golf GPS watch)
Here are the primary factors you should consider when buying a golf GPS watch. 
Accuracy
Having the right course information is crucial when playing a game of golf. An inaccurate golf GPS watch will cost you critical points leading to a low overall score. Consequently, go with the most accurate watch that you can find.
Quality of Display
A golf GPS watch has an interactive display that's pleasing as you'll spend a significant chunk of time looking at it. When buying a watch, go for one that's clear and bright enough. You must ensure you can read game information and statistics even when playing under the sun.
Brand Reputation
You won't come across a golf GPS watch as much as you would a standard wristwatch. Therefore, you're better off sticking with a reputable brand. In that way, you're sure to get a tested and proven product. 
Water Resistance
(Lady golfer watched by partner)
Golf is an outdoor sport. Buy a water-resistant watch if you play golf in all weather conditions, especially when it's raining or the ground is wet. Also, go for ones with tempered scratch-resistant glass screens. 
Compatibility
Some golf GPS watches may only pair with certain smartphone operating systems. Therefore, go for a golf watch that's compatible with your smartphone. 
Customer Support
As golf GPS watches are devices that improve the game of golf, having active customer support is important. Also, consider any warranty covers that come with the watches.
Cost
Cost matters a lot when going for a golf GPS watch. And, unless you're buying a premium golf watch, checking cost versus features will direct your choice. Generally, go for a golf GPS watch that ticks all the above boxes while being an excellent value-for-money device.
FAQs
Which is the most accurate golf GPS watch?
The Garmin Approach S62 is one of the most accurate GPS golf watches. However, it can be difficult to determine the most accurate golf GPS watch, as accuracy can depend on several factors. Factors like the type of device and environmental conditions can significantly weaken the reception of GPS signals.
Is buying a golf GPS worth it?
Absolutely. You can track game statistics with a golf watch, including greens in regulation and fairways hit. Moreover, some golf GPS watches have additional features such as music storage and heart rate monitoring. Such information is crucial to you if you want to improve your game while still enjoying it.
Can I use my smartphone as a golf GPS?
You can install a golf GPS app on your smartphone as an alternative to golf watches. Some of the best golf GPS apps, like Golfshot, provide real-time distances and recommendations. 
Final Remarks
Some of us prefer using golf GPS apps for the sole reason that they are cheaper than watches. But unlike the apps, golf GPS watches are very advanced and designed to improve your golfing experience. They are specific-role devices that you can also utilize for your daily use. 
However, manufacturers add different features to their watches to improve market share. Do enough research on the ones we've gone through to find one that serves your purpose. Finally, reach out to us for any clarification or suggestions.