About Starlink Bridge Mode, Starlink broadband Wi-Fi targets remote areas lacking fiber and cable connections.
So, it may not suit most people with infrastructure supporting faster speeds and better connectivity. 
But does that mean that Starlink Wi-Fi is insufficient?
The answer is no. Starlink Wi-Fi will revolutionize broadband connectivity in the days to come. 
Yet, the system has shortcomings that force users to Bypass its routers in favor of third-party routers.
If you're one of them, today's article is for you. We're highlighting how you set the Starlink bridge mode and why you should do so. 
What's Starlink Bridge Mode?
Starlink Bridge mode is a feature that gives you the freedom to connect your router to a Starlink modem.
Consequently, you'll bypass and disable the Starlink router in favor of a third-party router managing your network.
Additionally, the mode allows your devices to connect to your router, thus giving you more control over network settings. 
How to Set Your Starlink Router to Bridge Mode
Setting up the Starlink Bridge or Bypass mode requires some expertise. Luckily, we've simplified the process to give you easy-to-follow steps.
First, ensure an Ethernet adapter if you have the rectangular Starlink system.
Alternatively, if you have the older circular system, you're good to go, as it has an in-built adapter.
How to Enable Bypass Mode from Starlink App
(Using the Starlink app)
After connecting your router to the system, you can enable Bypass mode from a Starlink app.
To do this, go to the Starlink support page to ensure that your model has an Ethernet port. Remember to connect your router's WAN port to Starlink's LAN port if it does.  
Afterward, follow the following steps to Bypass your Starlink router:
First, connect your device to Starlink system Wi-Fi.
Second, open the Starlink App and wait for it to connect. You'll confirm your device has access to Starlink Wi-Fi once the app displays Online. 
Third, access the Settings option and select Wi-Fi configurations.  
Fourth, select Advanced under the Wi-Fi configurations option.
Fifth, click on the Bypass Starlink Router option.
Click Save, and you can use your third-party router for internet connectivity. The Starlink router will reboot and enter Bridge mode. 
However, bypassing the Starlink router can be useful in certain situations and dangerous in others.
For instance, disabling it means you won't profit from security features like Starlink network firewall.   
How to Use the Ethernet Adapter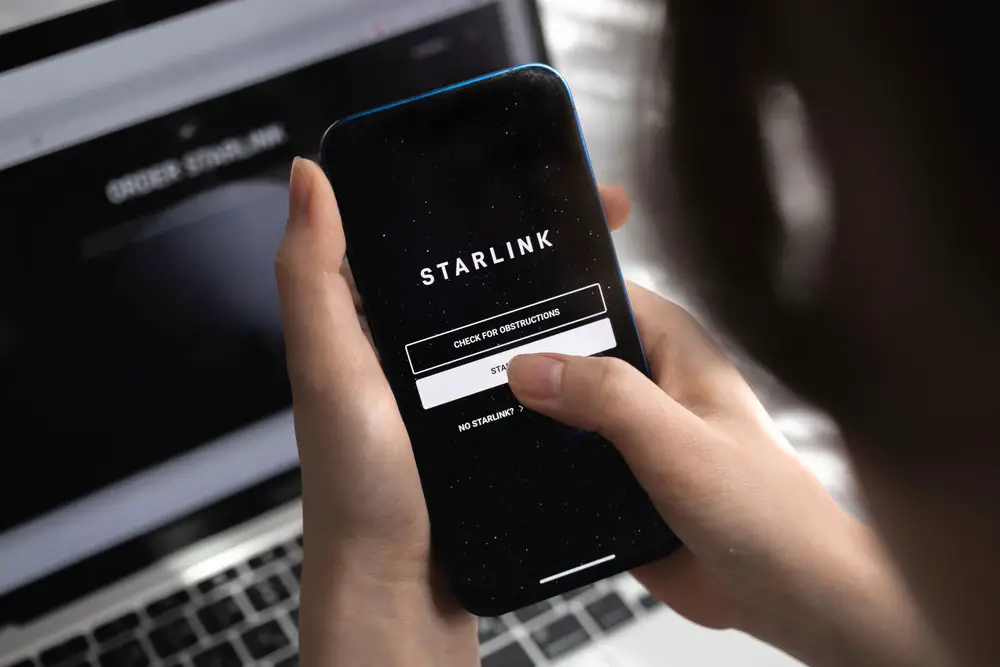 (Woman uses a phone near a rectangular Starlink dish)
Newer Starlink routers don't come with inbuilt Ethernet adapters; hence you'll have to buy one.
The Ethernet adapter bridges the Starlink dish and the router in a plug-and-play arrangement.
You don't need the expertise to connect an Ethernet adapter between the two devices.
Also, you don't have to power the adapter externally, as it acts as a link between the two devices. 
Hence, connect the Starlink router's LAN port to your third-party router's WAN port. Next, set the Starlink router in Bridge mode and configure your specific router. 
Remember, every router has configuration processes that may differ from other routers. Moreover, most routers need configuration to ensure they work well with certain hardware and software.
In such a case, refer to the user manual or open your web browser and access your router's web GUI.
Next, follow the instructions to configure your router to work with the Starlink modem.  
Why You Should Avoid the Starlink Router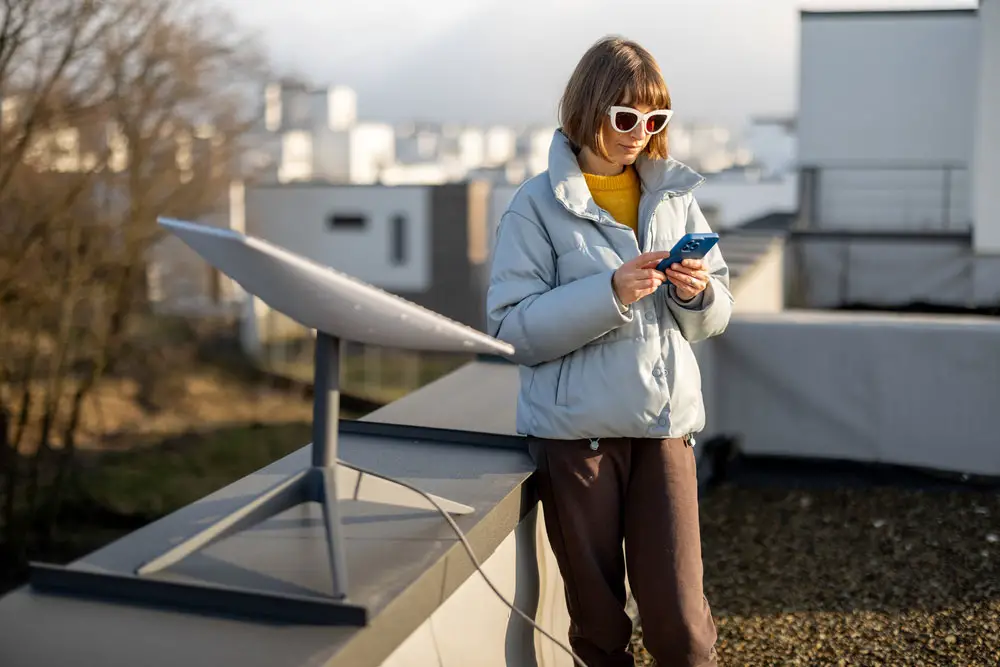 (A person using a third-party router in an office)
If you have noticed that your Starlink router is malfunctioning or underperforming, you can replace it.
Surprisingly, Starlink routers have their limitations that may be frustrating to some people.
Consequently, they may prefer to use third-party routers instead of the Starlink one.
Here are some reasons why you should avoid Starlink routers in favor of better third-party routers.
Starlink Routers Don't Support Wi-Fi 6
Starlink modems and routers lack Wi-Fi 6 support capabilities, meaning they aren't the fastest in the business.
They still use Wi-Fi 5 (802.11ac) chipsets and technology, which is slightly slower. On the positive side, the routers still support all other previous standards, including 802.11n (Wi-Fi 4). 
Limited Customization Options
The Starlink router is a simple, easy-to-use router that doesn't require much customization before use.
Surprisingly, the router lacks the customization options that come with most third-party routers.
Therefore, it may be unsuitable for most users who need specific router adjustments before using the network. 
No Onboard Controls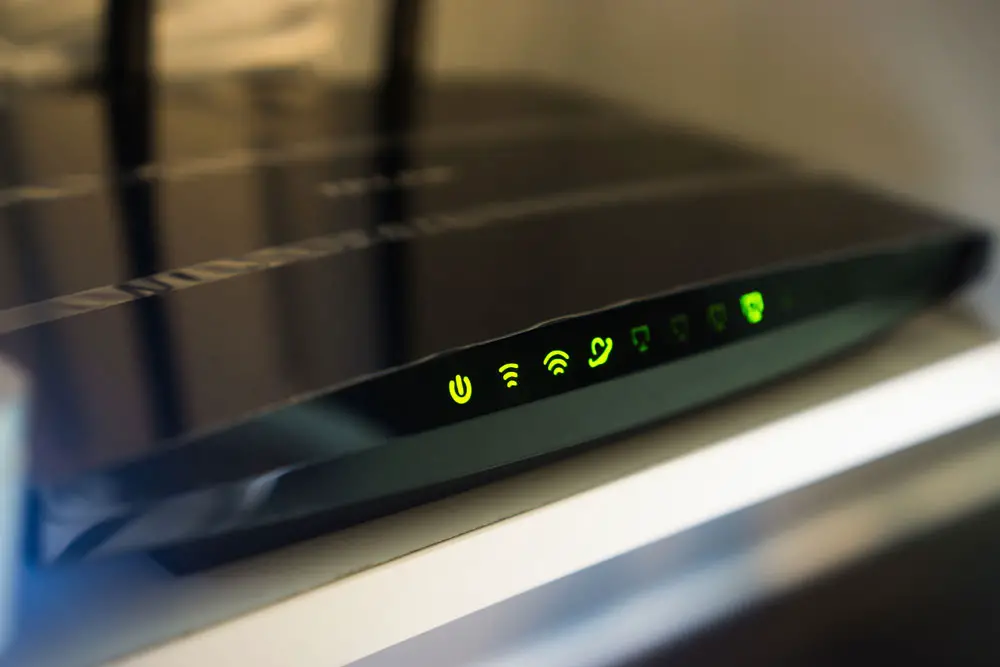 (Close-up photo of a router)
Most routers have onboard controls but not Starlink routers. Additionally, the Starlink routers lack noticeable status lights and LAN ports.
So if you want to connect multiple devices to your router, you'll have to do so wirelessly. Besides, you can only control the router using a smartphone Starlink app.
Thus, it can be frustrating when both devices malfunction and you have no way other than to reboot the router.
Limited Wi-Fi Coverage
The Starlink router has a coverage of 2,000 sq. ft. In contrast, most third-party routers have 3,000 to 6,000 sq. ft coverage.
If you need a standalone router, it is better to use one with broader coverage. Alternatively, you can set up a mesh system by adding more Starlink routers to increase Wi-Fi coverage. 
Monthly Fee
SpaceX targets areas lacking other viable connectivity options, including remote locations. If you have a local internet supplier of reliable internet, going with the Starlink system might not suit you as you'll pay a monthly fee. 
FAQs
Is Starlink Gen 2 compatible with my router?
The Starlink Gen 2 router is compatible with most routers out here. However,  remember that the Starlink mesh system has routers that work best together.
Therefore, you can still use your router for Wi-Fi, whereas the Starlink Gen 2 receives satellite signals. 
Why should I use Starlink's Bypass mode?
Most people would prefer using other routers since Starlink has some shortcomings. Therefore, bypassing the Starlink router allows you greater control over your network.
After that, you can customize certain features, such as parental controls. Furthermore, a high-performance router allows you to connect more devices to your Wi-Fi systems. 
Does Starlink Bypass mode save battery?
It depends. Bypassing a Starlink router and connecting a third-party one won't improve battery life.
The reason is that power consumption depends on the router rather than how fast its network is.
Generally, a powerful router will consume more power than a weaker one. Moreover, power consumption will depend on the router's processor and configuration. 
Final Remarks
Starlink systems are revolutionizing connectivity across the globe. The reason is that they don't need complex infrastructure.
You need to confirm whether its network coverage is available in your region.
If it is, then you can go on to install the dish and router. Afterward, subscribe to the service and enjoy high-speed satellite-based internet. 
However, as we've seen, the system's routers lag compared to other third-party ones.
Consequently, some users prefer Bypassing the router to access faster speeds and more ports. Finally, reach out for any comments or clarification.