Most truck drivers now use GPS to help them find their way. But most of the time, they choose a navigation app like Waze or Google Maps that is made for regular people.
The best truck GPS goes above and beyond the capabilities of a standard consumer navigation system by accounting for the specific needs of heavy-duty vehicles on the road.
Table of Contents
What is Truck GPS?
Truck GPS is a program that calculates the most effective route from your present (or planned) position to your intended destination while taking into account the special needs of a truck.
Which is the Best GPS for Truck Drivers?
Using a GPS navigation device has become integral to driving, especially if you travel long miles as a truck driver! However, a lot of people need to figure out what's the best GPS for truckers. 
So, here is a list of truck GPS comparisons based on the category that will assist you in purchasing the best truck GPS depending on your truck
Best Truck GPS
The following are the top five best truck GPS devices in each category.
Rand McNally TND 750: Best Overall
TomTom Trucker 620: Best Smartphone Compatibility 
OHREX GPS: Best Multi-Use
Garmin Dezl OTR800: Most Versatile
Garmin Dezl 580 L MT-S: Best Accessories
Rand McNally TND 750
The Rand McNally TND 750 has a huge 7.0-inch screen making it extremely simple to read. Its live traffic warnings are excellent for truck routing and give on-screen notifications for traffic pattern changes. 
TND750 also includes dynamic weather overlays, 3D building, landmark monitoring, and fuel cost and mileage calculation.
Truckers can understand the 750s because of its contemporary UI. It has unique hardware, is durable, and is appropriate for regular driving.
The Rand McNally TND 750 is ideal for any trucker who needs a smooth interface,  dependable navigation, and precise driver data monitoring. 
(GPS tracking system map on the device screen)
Pros
Rand Navigation 2.0 provides for truck-specific route configuration.
Drivers may see real-time traffic and weather conditions.
The price point in the segment that is competitive
On-screen warnings for speed changes, abrupt corners, and other hazards
Cons
In comparison to Garmin GPS, the build quality could be better.
Because of the weak magnet, mounting is challenging.
TomTom Trucker 620
TomTom MyDrive customers may plan routes on their smartphone, laptop, or tablet and transfer them to their TomTom Trucker 620. 
Additionally, It boasts a 6.0-inch display, lifelong truck maps, real-time traffic updates, and over 1,500 truck-related places of interest preloaded.
Siri and Google Now can be used with the Trucker 620 to make calls and send messages without using your hands. It reads incoming texts loudly so drivers can focus.
TomTom Trucker 620 also works nicely with other smart devices. Drivers who wish to connect their smartphones to truck GPS systems should use it.
(A truck driver planning routes on her tablet)
Pros 
Customizable navigation depending on size, weight, and cargo
Google and Siri connectivity on a smartphone
A large database of important sites of interest
High-quality and durable hardware at a reasonable price
Cons
It doesn't have the more advanced features that its competitors do.
Some users complain about poor route settings.
OHREX GPS
The OHREX GPS is the most affordable choice in our evaluation, serving as a truck and automobile GPS that can quickly convert between modes of transportation. It can route trucks, cars, RVs, ambulances, buses, and even taxis.
Moreover, OHREX has Bluetooth for hands-free calling while driving. It may provide verbal instructions and intelligent notifications for traffic risks like weight restrictions.
If you're looking for a basic, easy-to-use truck GPS, the OHREX GPS is the way to go. It helps navigate, particularly if you regularly swap between a truck and a personal car.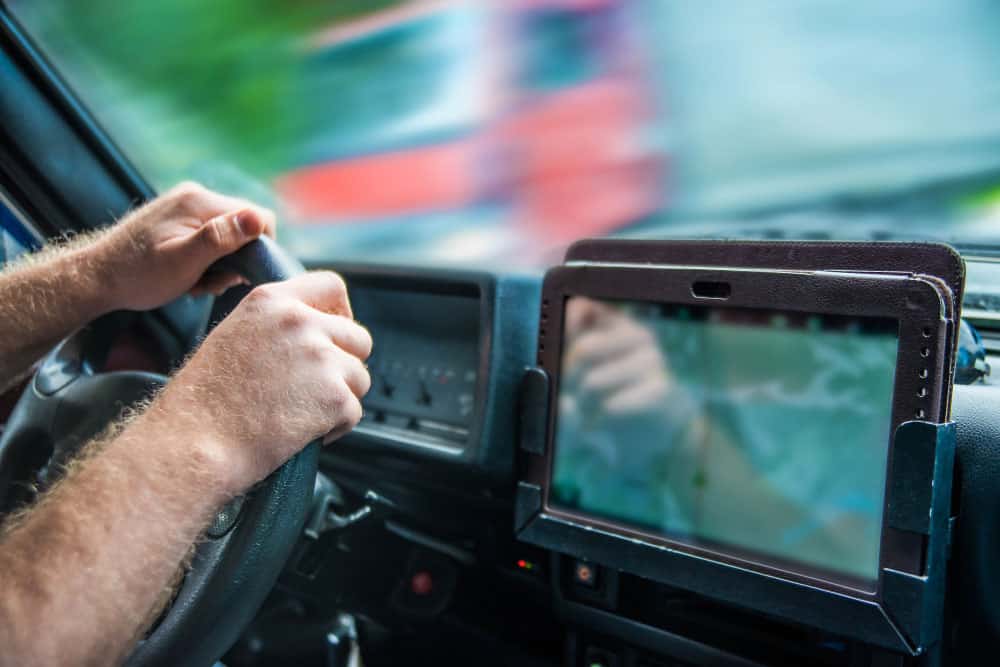 (A truck driver holding a mobile phone GPS application)
Pros
You won't have to worry about your GPS becoming obsolete over time.
Truck-specific: Customize your route to your truck's weight, size, and contents.
Easy to use: Includes everything you need to get started.
Cons
There are no traffic warnings to help you navigate through busy regions.
Garmin Dezl OTR800
The Garmin Dezl OTR800 is one of the most dependable truck GPSs, delivering great quality in a high-functioning design. 
Besides, this GPS gives you real-time updates on traffic, bridge heights, and even where sharp bends can arise on the route, among other things. It may also identify truck-friendly parking along routes, prospective loading zones, or storage facilities.
One of the essential aspects of the OTR800 is custom truck routing. Truckers may use this to locate safe routes and examine common routes drivers use to make the best-informed selections when selecting a specific route.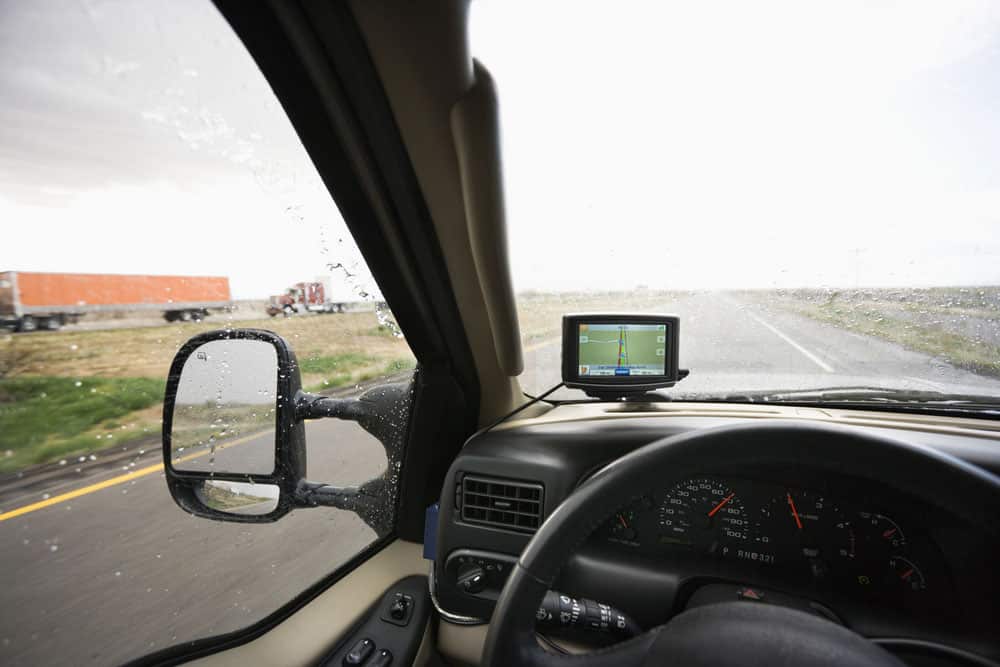 (A view of a truck dashboard GPS via the windshield)
Pros
It displays all of the information you need to go easily.
It has a touchscreen and a voice assistant.
Designed for trucks and has truck-specific pauses
Cons
One of the more expensive choices on our list
Garmin Dezl 580 LMT-S
If you're fatigued after a long journey, the Garmin Dezl 580 LMT-S can help locate rest breaks, petrol stations, and more. 
Also, It is Bluetooth®-compatible with most smartphones for hands-free dialing and can even show text messages. Because it includes built-in WiFi, the LMT-S immediately updates when connected to the internet for exact mapping. 
Furthermore, owing to its preloaded easy truck monitoring, drivers may send and receive messages using the LMT-S, which is useful for quickly communicating addresses.
The Garmin Dezl 580 LMT-S WiFi connection is suitable for easy installation and maintenance with the best performance.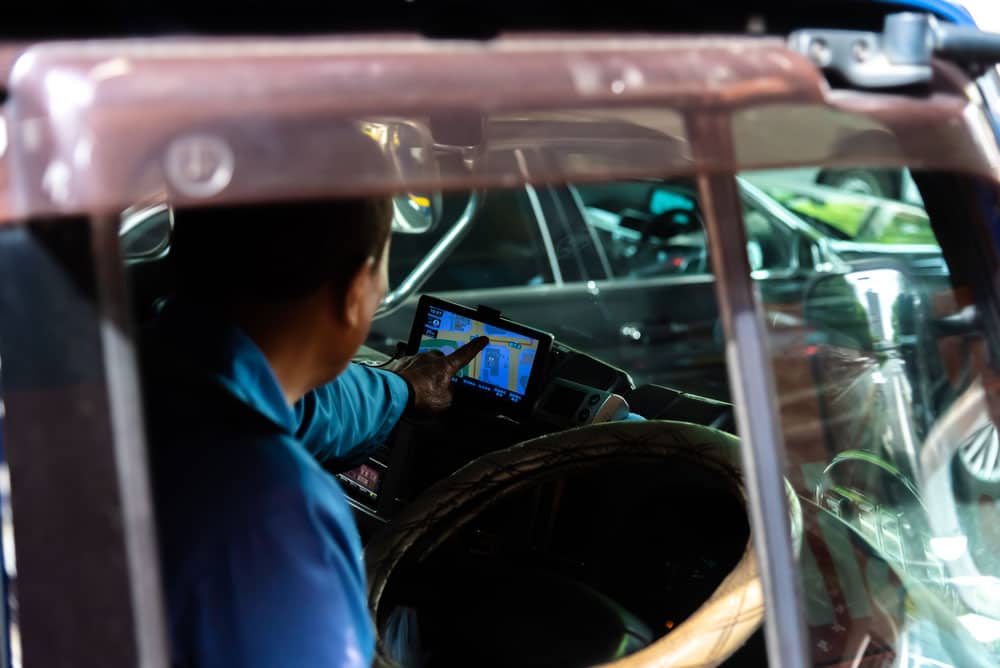 (A trucker using a windshield-mounted GPS)
Pros
You won't have to worry about your GPS becoming obsolete.
You can choose the best route for your truck.
It comes complete with break planning to make your travel smoother.
Cons
Smaller screen: some clients prefer a larger screen.
FAQ
Do truck GPSs come with maps preloaded?
Most truck GPSs come preloaded with maps of Canada and North America. Certain GPSs will enable you to download extra maps depending on the country.
Can I use my truck's GPS and dash cam simultaneously?
You certainly can. They will not interfere with one other's performance. Some truck GPS alternatives connect directly to dash and backup cameras for improved driving vision.
Can my phone be connected to my truck's GPS?
Most GPSs connect to smartphones like iPhones and Androids to allow for hands-free calling and, in some situations, messaging, and combining the two to prevent talking or texting while driving is a good idea.
Conclusion
If you are a truck driver, it is not suggested to use a regular GPS. This is because ordinary GPS versions were created with considerably smaller vehicles in mind, such as automobiles and RVs.
Consequently, a regular GPS will guide you down roads that you may not be allowed to go down due to weight or height limits.
Instead, please choose one of the best GPS for truckers, which we have examined in detail above. These have been developed with trucks in mind, so you can be certain that they will locate you in the best route possible.