How to block GPS tracking on iPhone? Apple's iOS operating system has various built-in features that help in the safety of your iPhone against tracking and other unpleasant activities. 
However, you should always investigate requests for access to extra information because your phone might be tracked by various individuals, businesses, or entities for their reasons.
Alternatively, if you're worried that your location data may be uploaded or sold to the highest bidder, you've come to the right place. This blog article will guide you through blocking GPS tracking on an iPhone.
Table of Contents
GPS on the iPhone
Although an active GPS connection is required for applications that provide navigation and mapping capabilities, their usage raises privacy issues. 
As a result, the iPhone has various complementary technologies that operate with the GPS chip to control the phone's location as follows:
Gyroscope and Accelerometer:
The iPhone contains a modest six-axis gyroscope/accelerometer chip. The gyroscope tracks phone orientation, such as upright or sideways, while the accelerometer captures phone movements, large and small, for the phone and applications.
Wi-Fi tracking:
Thu tracking replaces GPS inside and amid towering structures. Wi-Fi tracking triangulates the phone's location by triangulating several Wi-Fi signals from a global database.
Compass:
The iPhone's motion-tracking chip also includes a digital compass. The compass works with other motion technologies to orient maps on the phone.
Barometer:
The barometer uses the GPS chip to provide precise elevation and elevation-change measurements.
M-series Motion Coprocessor:
The iPhone's motion coprocessor chip continually collects accelerometer, compass, gyroscope, and barometer data. The coprocessor offloads tasks from the main processor to save electricity.
(How the phone's accelerometer, compass, gyroscope, GPS, barometer, and light sensor work)
How to Block GPS Tracking on iPhone?
There are many levels at which you may prevent your iPhone from tracking your location. So, If you're worried that someone could track your location, you may use the following guide to block access from certain applications or even Apple's services.
Disable the location tracking completely.
Disable location tracking for specific apps.
Disable the iPhone's location tracking.
Stop your iPhone, and remember where you parked.
How to Disable Location Tracking Completely
This sounds excessive since turning off location tracking implies that even Apple Maps cannot provide reliable readings. You'll also be unable to use Find My iPhone. But here's how it works:
Open the Settings app.
Scroll to the bottom and tap "Privacy."
Select Location Services.
Untick the Location Services checkbox at the top of the next menu. 
Alternatively, you can disable Share My Location. This useful feature allows you to send your exact location to friends via Messages if you believe you're in danger or want to show someone where you're. Share My Location also works with some of the Home app's automation.
(How technology is used for navigation and location-based applications on iPhone)
How to Disable Location Tracking for Specific Apps
Certain applications may benefit greatly from location tracking. You don't need it for every app, and you don't need location tracking enabled all of the time. 
If an app accepts location tracking data, Apple normally asks you during installation whether you want location tracking set on all the time, just when using the app, or never.
Fortunately, you're not bound by these decisions, and altering them is as straightforward as follows:
Click the Settings app.
Scroll down and click on Privacy
Choose Location Services
You'll find various choices here for completely disabling Location Services.
To stop location tracking for a particular app, scroll down and choose it from the list. You'll be presented with three options: Never, While Using the App, and Always. Certain applications also use this option to explain how they utilize your data.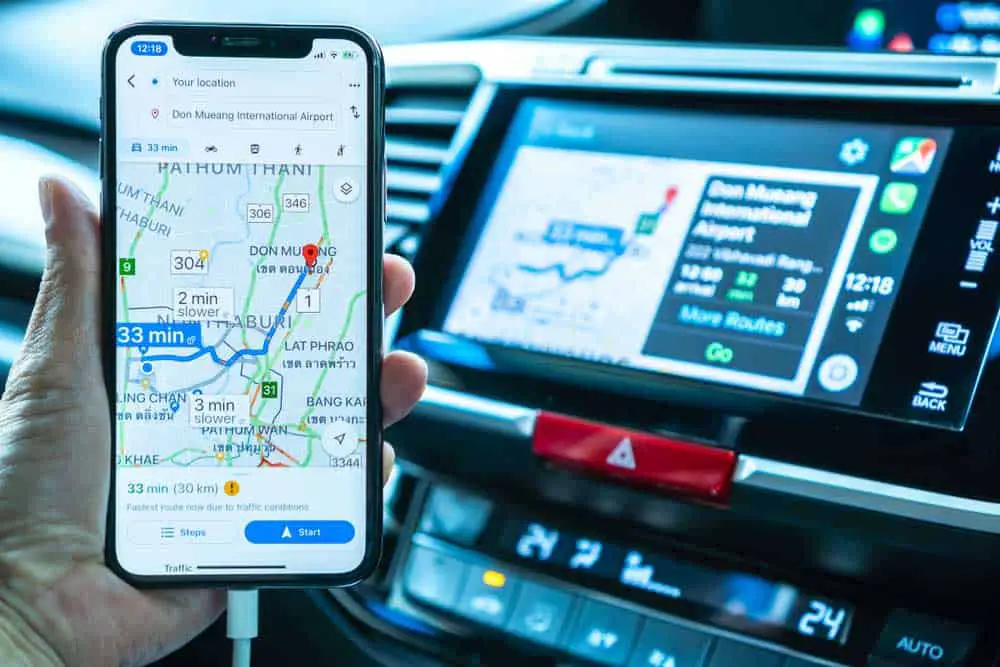 (Google Maps on the Apple CarPlay app for iPhone
However, if you want to turn it off permanently, choose Never, you may also change these settings for as many applications as you like. 
How to Disable Location Tracking Used for iPhone Itself
However, if you want to turn it off permanently, choose Never. You may also change these settings for as many applications as you like. 
How to Disable Location Tracking Used for iPhone Itself
It's more than just apps that can find out where you are. Your iPhone also keeps track of the "significant locations" you go to the most. 
This is mostly so that Siri and other features can make suggestions based on your location. This information is encrypted, so it stays on your phone and never leaves it. 
Still, you should turn it off, especially if a close friend can still get into your phone, even with the other security measures. Here's how to disable location tracking used for iPhone Itself:
Go to the Settings menu.
Scroll down and select Privacy
Click on the Location Services button.
Scroll to System Services. It should be at the bottom and press it.
Scroll down and choose Significant Locations. You'll then be prompted to enter your password or enable Touch or Face ID.
You can disable the feature completely by turning off the Significant Locations switch at the top.
You can also delete the most troublesome entries one at a time by pressing each one individually. When you do, you can delete each entry by clicking the Edit button in the upper right.
(On an Apple iPhone, the Google Navigation app leads to a destination location)
How to Stop Your iPhone from Remembering Where You Parked
If your iPhone is connected to your CarPlay or car's Bluetooth, Apple Maps can remember where you parked your car. This is one of the app's best features. But if you want to turn it off, it's easy to do.
Open Settings.
Scroll down until you see Maps. Click it.
Scroll down until you see "Your Car."
Refrain from showing where the car is parked.
(iPhone with navigation through Google Maps on the Dashboard)
Conclusion
It's important to know how to disable location tracking on an iPhone for security-aware users since even while Apple proudly promotes Privacy as one of its key principles, it doesn't mean it won't follow you.
This is logical – your iPhone wouldn't operate effectively with Google or Apple Maps features.
However, given the possibility that your phone's location data is being shared and sold, you can use the above guidelines to block the GPS tracking on your iPhone completely.