With so many GPS mapping apps on the market, it can be hard to decide which is right.
Whether you're looking for a mapping app that uses real-time navigation or provides detailed information about your destination, there's something out there to fit your needs.
This blog post will look at 10 of the best GPS mapping apps available for Android and iOS devices, so you can make an informed decision before hitting the road. 
Table of Contents
With the incredible power of Google Maps, users can tap on the profile icon and select Offline Maps to store regional maps for offline use. The downloaded map cannot exceed 2 GB in size, equivalent to 200 x 120 miles. You should delete any saved map after a month if you have no connection to the internet so that you don't waste storage space.
Pros:
1- Accurate arrival/departure timings, real-time ETA updates, and multi-transportation support.
2- Predicts traffic and reroutes.
3- Accessible offline.
Cons:
1- Lacks social media sharing.
2- Incorrect/missing next-turn directions reported.
Google maps icon
Google acquired Waze, but they still operate differently. Waze is community-driven, like Wikipedia of GPS apps. Wazers help each other avoid traffic jams by pinpointing crash locations in real time. Waze is the best app for avoiding traffic. The app also has a fun feature where users can see and interact with other Wazers on the road.
Pros:
1- Real-time notifications about accidents, police action, construction sites, and road closures let you quickly change routes.
2-Skilled community editors regularly update the maps to ensure accuracy and maintain relevance.
3- Helps you find the best route based on traffic, saving you time.
Cons:
1. Map may become cluttered with icons, making it harder to see.
2. Constant notifications with sounds in the social aspect of the app may be distracting. 
3. Using the app frequently can lead to fast battery depletion due to constant updates of new information.
The Waze icon is isolated on white background
MAPS. It is a free GPS app that works offline. It offers full-featured search, voice navigation, rerouting, and public transportation details. Users can also share their location, add bookmarks, and make hotel bookings online. Alternatively, you can use Android's native "Find My Device" feature as a GPS tracker. Maps are updated by OpenStreetMap and are open-source. Developers promise to keep all features free forever, but it is ad-supported.
Pros:
1- A convenient auto-follow mode, allowing you to search offline for restaurants and ATMs while providing turn-by-turn directions with accurate real-time traffic updates.
2- Real-time location sharing with friends or family.
Cons:
1- Businesses featured on the maps often do not reflect recent changes or additions.
2- Slow loading speeds and an intuitive interface.
Apple Maps has improved greatly with added details and traffic lights in select locations. However, some areas outside the US remain incomplete. Improved traffic data and new features like speed limits and lane guidance enhance the user experience. Integration with indoor maps for airports and malls would further increase convenience.
Pros:
1- Boasts crisp vocal commands and step-by-step navigation.
2- Offers the quickest route to your desired destinations based on real-time traffic.
3- 3D map involving buildings.
4- Gives traffic and destination-based lane advice.
5- Provides a flyover tool to tour your destination.
6- Maps show the destination's weather and air quality.
Cons:
1- Users complain regarding exit directions and business information.
2- Maps may lack points of interest compared to other apps.
3- No offline maps.
4- The street view feature is limited to only five countries and doesn't cover the entire US.
Apple maps on the table screen.
OsmAnd is a famous offline map and GPS app for Android, which also works online. The most useful features are spoken directions, lane assistance, arrival time estimates, night vision, and cycling routes. In many countries, an offline map shows information about stores, like when they open and what kinds of payments they accept.
Pros:
1- This app works offline.
2- Easily upload a GPX file and utilize it as the path for your journey.
3- Get voice, lane, and cycling route instructions alongside the estimated arrival time.
4- A ski resort route plug-in for renowned winter destinations.
5- Multiple map types and vehicle route-planning
Cons:
1- Users struggle to locate the app's features.
2- The address search feature could be better.
MapFactor
MapFactor is a GPS application for Android with no online map function. Instead, it provides access to over 200 individual maps, 56 of which cover Europe and 53 covering the Americas. Plus, all of these can be sorted by country or sub-region. The recent feature includes Android Auto compatibility and maps from OpenStreetMap.
Pros:
1- OpenStreetMap data provides the latest maps and extensive points of interest information.
2- Current maps of 200+ nations.
3- Get multilingual, step-by-step voice navigation.
Cons:
1- Doesn't update traffic information.
2- Voice navigation sometimes fails.
Vector illustration world map
CoPilot GPS is used for navigation in a car. It has three route options with +52 waypoints, +1000 offline locations, and a 14-day free trial of premium features like 3D maps and voice-guided navigation. After the trial, you can only use the offline 2D maps and graphical turn-by-turn directions.
Pros:
1. Wide, overhead-clearance roads for all sorts of vehicles.
2- Available offline.
3- The premium edition offers 3D maps, audio navigation, and traffic information.
4- Get worldwide premium content.
Cons:
1- Large cars cannot use certain routes, the search feature needs improvement, and the app could open faster.
Map GPS navigation app
The TomTom Go Navigation app is popular among users due to its attractive base map and advanced camera notifications. However, it requires a subscription fee after 75 km of travel and access to the user's contacts, phone numbers, and photos.
Pros:
1- Get real-time traffic updates, voice commands, and offline features.
2- Warns about speed cameras.
3- A 150-nation map collection. 
Cons:
1- Monthly free guiding is set to 50 kilometers. 
2- Rare updates make the app outdated.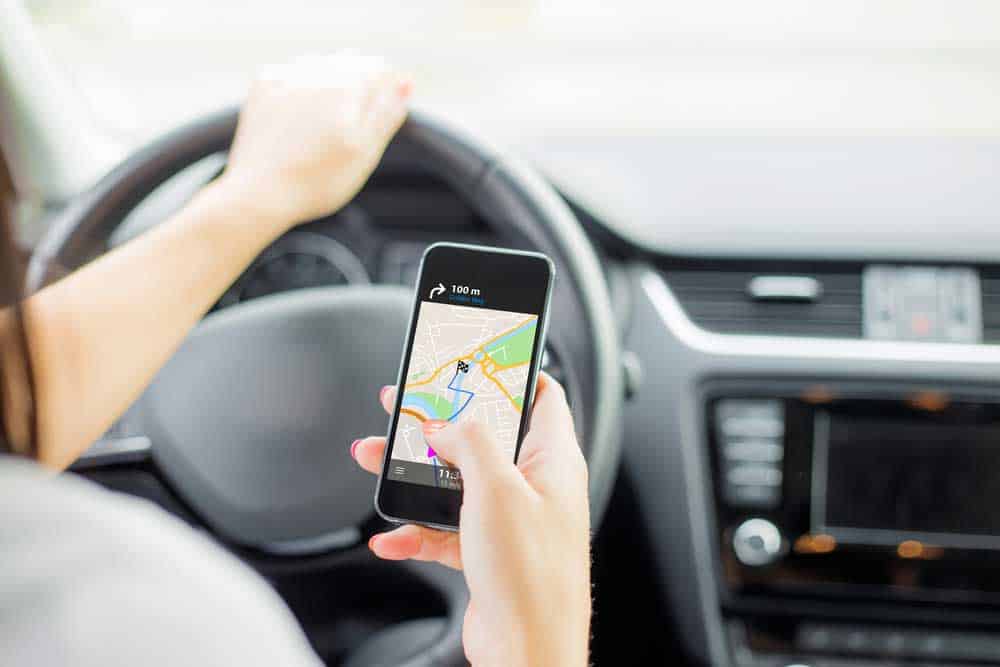 Navigation app on mobile phone
WeGo is an offline GPS app with over 100 countries' maps, including directions, public transport info, car-sharing, and train/bus schedules. It finds the fastest and cheapest route using a car, bike, pedestrian, taxi, and public transport. It provides public transport info for over 1,300 cities worldwide and allows you to add shortcuts.
Pros:
1- Available for offline use.
2- The ability to group your favorite destinations for easier access.
3- Traffic updates.
Cons:
1- Maps can't fill some cell phones' screens.
Regarding offline GPS apps, Sygic has the largest user base on the Google Play Store. It uses TomTom maps for offline navigation in every country. It offers a live-view function, free map updates, voice-guided GPS navigation, pedestrian GPS, alerts for cheap parking and gas stations, and speed cameras. Has both free and paid versions and offers a seven-day free trial for the paid version.
Pros:
1- Offline maps for all the countries.
2- The app offers pedestrian and driving voice navigation.
3- Live traffic updates.
4- Has lane guidance, speed-limit alerts, and a night drive display.
Cons:
1- Poor search and navigation features.
GPS Mapping App FAQ
What is the best navigation app?
Navigation apps depend on the user's preferences. Popular apps include Google Maps, MapFactor, CoPilot, TomTom Go Navigation, HERE WeGo, and Sygic.
Does GPS require Internet access?
GPS does not require an internet connection to provide basic map information, such as readable directions. Still, you will need an internet connection for more detailed information, such as traffic updates and live navigation.
Are navigation apps free?
Some navigation apps are free, and some require a fee or subscription. It depends on the app you choose. Popular free navigation apps include Google Maps, MapFactor, CoPilot, HERE WeGo, and Sygic. The TomTom Go Navigation app requires a subscription fee after 75 kilometers of travel.
Summary
Choosing a suitable GPS mapping app may appear difficult at first. However, it becomes much easier once you've taken the time to investigate the various available options to pick a suitable solution based on your specific requirements and budget constraints, too! Hopefully, this guide has given you insight into how each option can help you. If you have more questions, please get in touch with us.