Unlock the mysteries of the night sky with a telescope equipped with GPS technology. Whether you're a beginner, an amateur, or a seasoned stargazer, our guide will help you find the top-rated models.
The article will also help you consider the essential features you need to consider when acquiring a telescope to view distant objects.
From advanced tracking systems to easy-to-use software, we've covered you in our best telescopes with GPS guide. 
Table of Contents
Leading Telescope Models with GPS Technology
If you're in the market for a top-of-the-line computerized telescope to view night sky objects, go for the CPC 1100 StarBright XLT GPS Schmidt-Cassegrain. It's consistently ranked as one of the best in Celestron's new CPC Series due to its features, such as a large aperture. 
Other key properties are as follows: 
An 11-inch telescope like this one is great for viewing distant nebulae and galaxies in detail.
Its long focal length allows you to see bright solar system objects easily. The CPC 1100 has a feature called the GoTo system, which makes pointing and tracking objects in the sky very easy.
It also has "SkyAlign Alignment Technology," which makes setting up the telescope a breeze once it is mounted.
Additionally, the telescope has a high-quality nine times magnification, which allows you to center objects perfectly in the eyepiece. It makes your stargazing experience even more enjoyable.
The CPC 925 GPS Schmidt-Cassegrain Computerized Telescope is one of the favorites among visual observers and astrophotographers. Its other features include the following: 
The telescope ensures a perfect viewing session thanks to an ergonomic Schmidt-Cassegrain optical design. Also, it is comfortable to move it from one location to another.
Additionally, CPC 925 GPS Schmidt-Cassegrain Computerized Telescope has a 9.25-inch aperture, an objective diameter of 235 mm, and a maximum magnification of 59 times. These features allow it to gather a significant amount of light and produce sharp, detailed images.
Moreover, its computerized GoTo system lets it automatically locate and track celestial objects with great precision. The GoTo system relies on a proven NexStar technology, making it easy to use and reliable.
This top-of-the-line computerized telescope offers serious astronomers an array of advanced features.
With its 8-inch aperture Schmidt Cassegrain telescope, you'll be able to see deep-sky objects in fine detail. The telescope also has a 2032-millimeter focal length, which provides you with a wide field of view.
The telescope also features an aluminum optical tube, ensuring both lightweight and durability.
Further, the StarBright XLT telescope offers exceptional image clarity and brightness thanks to its high-performance optical system.
Additionally, it has a built-in holder for the remote hand control, which allows for hands-free operation while using the telescope.
The CPC 800 XLT has SkyAlign technology for easy alignment and object pointing in the sky. The package also includes a 9×50 finderscope to help you accurately find objects.
Some of the key features of the telescope are as follows: 
This telescope offers powerful deep-space viewing and astrophotography. It boasts a 90mm aperture and 1200mm focal length, dramatically reducing chromatic aberration compared to refractor counterparts.
Secondly, Its ultra-compact and lightweight design make it perfect for travel. In addition, the built-in GoTo GPS and LCD screen make it easy to navigate the night sky.
Moreover, the telescope also supports USB and is powered by 8 AA batteries.
Finally, the Astro blue color gives it a sleek look and makes it suitable for various activities such as astronomy, camping, photography, and tracking.
This telescope is perfect for beginners in astronomy. Its top features are as follows:
It's compact and easy to use. Also, thanks to the computerized mount, the telescope allows you to locate over 40,000 objects easily. You can see sharp details of the Moon and even deep-sky objects like nebulae and galaxies.
The telescope is lightweight, manual focus, and battery-powered, and it comes with a StarPointer red dot finderscope for easy object location.
Fourthly, the telescope is compatible with StarSense and SkyPortal Wi-Fi for even more convenience.
The Celestron NexStar 4SE Telescope has a 102-millimeter objective lens diameter, perfect for capturing clear and detailed images.
It has an Altazimuth mount and is 32.4″D x 27.2″ W x 13.4″H in dimension.
The telescope has a manual focus feature, it's battery-powered, and it requires 8 AA batteries.
This telescope design offers a high-quality viewing experience. With a 127mm objective lens diameter, you'll see deep-sky objects in great detail. Other features include:
The altazimuth mount makes it easy to move and find the perfect viewing angle. The telescope measures 15″D x 38″ W x 54″H, and it's lightweight and easy to set up and transport.
The Celestron NexStar 127SLT telescope features a manual focus and is battery-powered, so you can carry it wherever you go. The reflex finderscope will help you align and locate objects quickly and accurately.
It also has an auxiliary port that connects additional accessories like a GPS. And with a weight of 20 pounds, it's easy to move around and transport.
If you are looking for a compact and lightweight accessory for GPS to add to your telescope, SkySync Telescope GPS Accessory is an excellent choice. Features of the GPS accessory are as follows: 
The SkySync GPS is small and weighs 0.2 pounds, making it easy to transport and use in the field.
In addition, this telescope provides accurate GPS location and time. In particular, the SkySync GPS connects to a GPS satellite network to determine the user's precise location and time. The GPS alignment helps the telescope improve its pointing accuracy. The GPS information enables the mount to point to objects with much higher accuracy, creating a better observation experience.
Another feature we need to pay attention to is its ability to work with your existing telescope. If you have any non-GPS Celestron digital telescope, plug this telescope into any AUX port on your telescope mount.
Factors To Consider When Selecting the Most Suitable Goto Telescope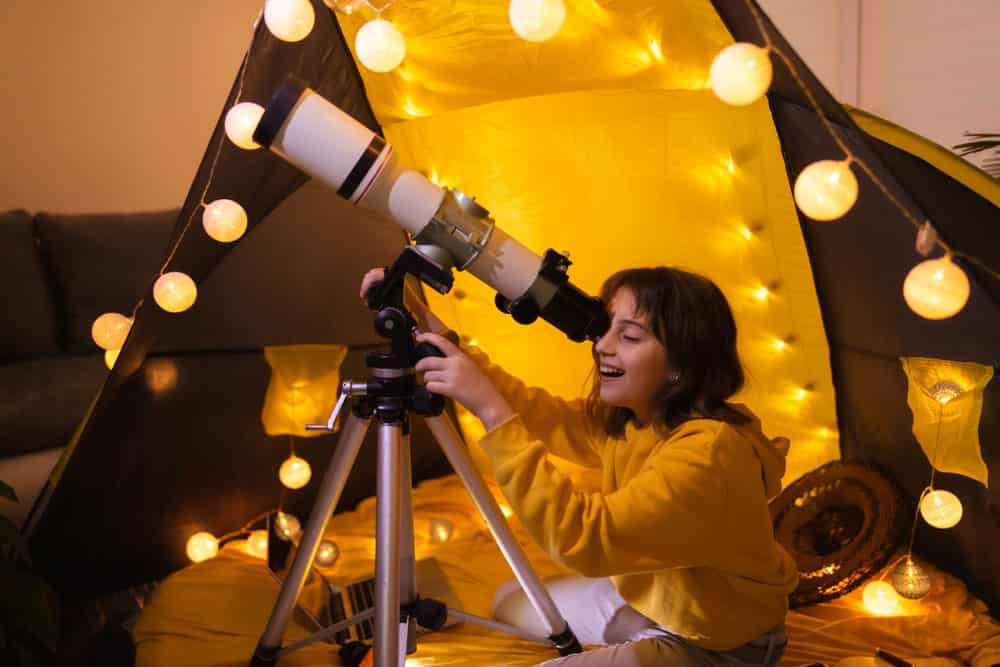 A young girl uses a telescope from a tent. 
When choosing a GoTo telescope, there are a few key factors that you should consider to ensure that you get the best one for your needs. They include:
Best Telescopes with GPS: Select a Big Aperture
The aperture is the front opening of the telescope through which light enters. A larger aperture will result in brighter and clearer images. The aperture is key when choosing a telescope. A bigger one, like the 203 mm on the Sky-Watcher GoTo, lets in more light for clearer images.
Best Telescopes with GPS: Choose a wide focal length.
 Focal length is essential. Longer focal length means bigger magnification for small objects. A bigger focal length and aperture are ideal in a telescope. But if you have a tight budget, prioritize aperture over focal length.
Best Telescopes with GPS: Good scope magnification
When buying a telescope, magnification is likely the first thing on your mind. But remember that higher magnification is sometimes better if the telescope can deliver a clear image. So don't just focus on magnification; consider other factors too.
Best Telescopes with GPS: Great electronic controls
Gone are the days of manually operating telescopes! Now, with GoTo telescopes, you can easily focus on any object in the sky with just the push of a button. So, you should ensure a telescope with great electronic control when buying.
Best Telescopes with GPS: Great mount
A good mount is essential for the telescope to function properly. When choosing a telescope, consider getting a mount that allows you to move it easily and holds it steady when locked.
Is Investing in a Computerized Telescope a Good Decision?
A girl with a telescope. 
A computerized telescope has more features than a non-computerized one, so the former is worth the investment.
But, there are several factors to consider when purchasing a computerized telescope.
One important consideration is the person's experience level, as computerized telescopes can be more challenging for beginners.
Additionally, computerized telescopes can be more expensive than manual ones, so weighing the added cost against the benefits is essential.
Nevertheless, it's worth considering a computerized telescope if you want to make your observing sessions more efficient and you have the budget for it.
Summary
If you find a Telescope with a GPS like those we've covered above, go for it over another without the feature. It is primarily because computerized telescopes are the way to go in the future. Also, you may opt to add the SkySync telescope accessory to your device if it lacks the inbuilt GPS property. That's all, and hopefully, you're well-guided on the top telescopes with GPS in the current online market.