Using WiFi in big houses can be a big challenge, especially with the limited network coverage. Starlink Mesh Router is the answer to this problem. This state-of-the-art mesh network technology is here to improve WiFi coverage in your home.  What is it, and what can it do? This article covers everything you need to know about Starlink Mesh Router.
Table of Contents
What Is A Mesh Network?
A mesh network is a multitude of wireless access networks connecting and communicating. This type of network setup broadens the coverage. The wireless access networks involved in the mesh network are known as mesh nodes.
What Is The Starlink Mesh WiFi Router For, And How Does It Work?
A close-up view of a Wi-Fi router
Having one Starlink WiFi router was a problem for people with big houses. Starlink Mesh Router was made available to the public in June 2022 to solve this menace. And although the router is only compatible with the second-generation Starlink kit, the coverage is now broader and better.
The router works as a mesh node, a plug, and a play device. Once plugged into a power outlet, the WiFi router will pair with the mesh router through your phone. It is that simple.
Starlink Mesh Router Setup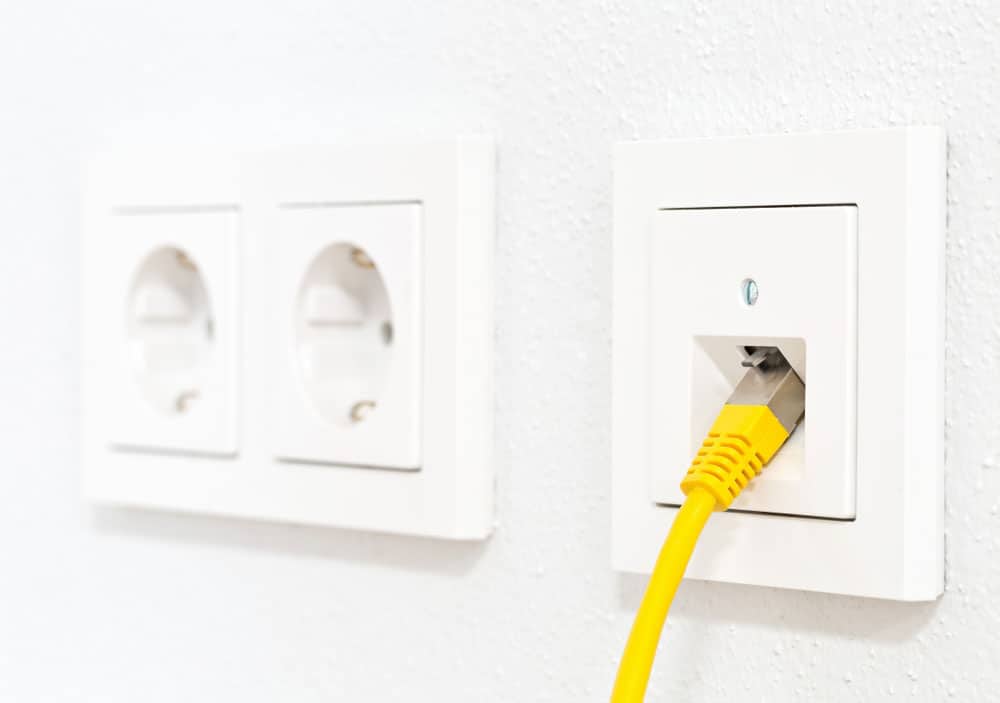 A network cable in a wall outlet
After buying the mesh router, here's what you need to do to set it up.
For starters, unpack the Starlink kit, then assemble the rectangular dish as directed in the box. 
Install the dish on your roof or at an elevated position. It should be open to the sky to give it enough exposure to the satellite.
Once done, set up your WiFi router and WiFi network (and the Ethernet Adapter if you have one).
Next, connect your Starlink Mesh Router to the power supply, one or two rooms away from the main router at ground level.
Power it on, then open the Starlink app on your phone. 
Give it a minute or two, and a PAIR NEW MESH NODE notification will appear. Click PAIR to start the pairing process.
Once done, the node will be visible on the Network screen along with the signal strength.
If there are any additional nodes, you can repeat the process.
In case the notification doesn't appear on your phone, try the following:
Move the router slightly such that no obstacles are blocking it.
If the mesh router is too far from the primary router, look for a place closer to it.
Switch your mesh router off and then switch it back on at least 3 times with a 3-second interval between resets.
Also, remove the third-party router already in place, if any.
What Are The Limitations Of The Starlink Mesh Nodes?
While Starlink Mesh WiFi routers are excellent, they also have their limitations.
You can't change the node names to what you want. Here are a few: 
Usage statistics for the nodes are not viewable, which is a big downside for those who like to keep everything in the loop.
Configuration of traffic limits and bandwidth priority is not available. However, these are firmware problems, and Starlink may fix them with a few firmware updates.
Lack of WiFi 6 support and a dedicated 5GHz channel for communication, which are readily available on other third-party mesh systems.
Using A Third Party Mesh Node With A Starlink Terminal
radar on house roof night sky
You can still use a 3rd party mesh system instead of the Starlink mesh nodes. Third-party mesh nodes offer advantages that Starlink doesn't. For one, parental controls are available, which allow for subtle monitoring of children's online activities. You can also restrict what your kids can access.
Apart from that, the third-party mesh has triple band systems meaning they have a dedicated channel for faster connectivity. This is unlike the dual bands that the Starlink kit offers. 
The best recommendations include: (source)
Banish WiFi Dead Zone— Mesh WiFi system with unique antenna placement delivers strong WiFi to every corner of your home, providing a total wireless speed of 5400Mbps.
Hassle-Free Control – 3 steps setup and easy management with ASUS Router App
AiMesh Supported – Mix and match ZenWiFi with AiMesh-compatible routers to form a powerful, flexible whole-home WiFi system.
Brand-New 6 GHz Band – Experience the latest frequency of WiFi, eliminating interference from all legacy devices. 
True Tri-Band Speed – All three WiFi bands work together to unleash your network's total speeds of up to 5,400 Mbps for 200 devices
Works with all internet service providers, such as Comcast, Charter, ATandT, Verizon, Xfinity, Spectrum, RCN, Cox, CenturyLink, Frontier, etc.
Coverage up to 5,000 sq. ft. and for up to 40 devices. 
Connects to your existing cable modem and replaces your WiFi router. Compatible with any internet service provider up to 2Gbps, including cable, satellite, fiber, and DSL
Frequently Asked Questions
Will Mesh WiFi Speed Up Internet?
Once you install the mesh system in your home, you'll widen the network coverage and increase your connectivity speed marginally. While mesh Wi-Fi gives you broader internet coverage, it will not improve your internet speed.
How Far Away Should My Mesh Node Be From The Primary Router?
Starlink recommends placing the mesh nodes one to two rooms away from the primary router when using a wireless connection. There shouldn't be any major obstacles between them. But if the connection is wired, you can put it as far as the cable routing kit goes. 
Does A Mesh System Replace A Router?
A mesh system is designed to complement a router, not replace it. The mesh node is a WiFi extender and cannot function without the primary router. 
Conclusion
In conclusion, Starlink is taking the internet game to the next level. Its mesh router gives you broader internet coverage. Plus, it's easy to use and install. And while it's not perfect, it goes a long way in improving home internet connectivity. But if you're still stuck on ethernet, check out our article on everything you need to know about the Starlink Ethernet Adapter.