Are you looking for the best cable replacement service? 
Cable enthusiasts could wonder why this is necessary as cable TV is a reliable news and entertainment source. 
However, we'll highlight the service's remarkable shortcomings in this discussion. We'll also provide you with top-rated cable network alternatives. So for more on this, read on. 
Table of Contents
Why Switch from Cable TV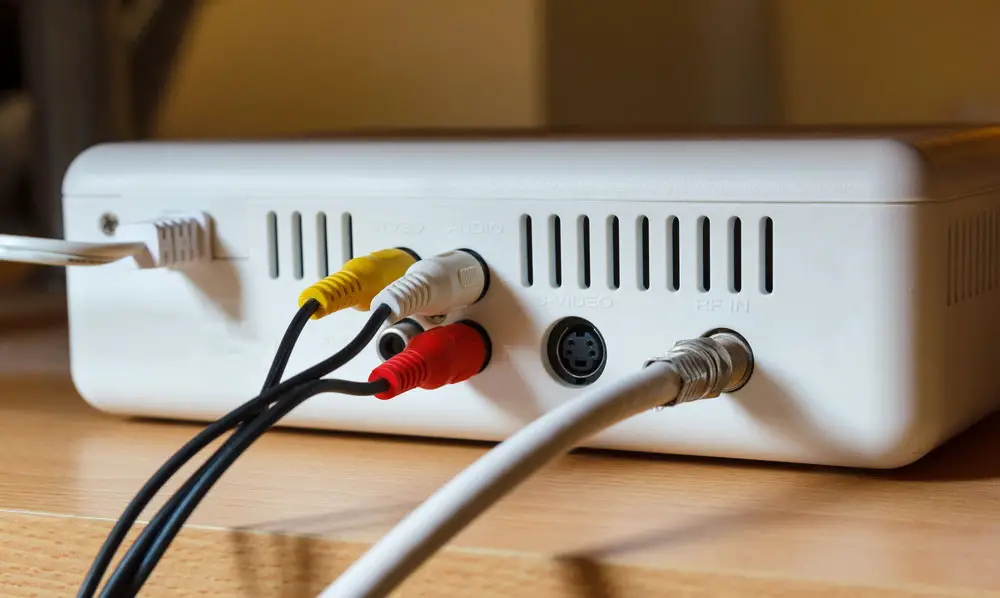 A Cable TV Box. 
What are the reasons you should opt for cable alternatives? 
High Cost
Some alternatives to cable TV are cheaper, yet they provide access to premium content such as Showtime and HBO. Hence, the cost of getting such services from the conventional cable box is one of the reasons you may think of opting for cable TV alternatives. 
Lower Quality
Many cable TV customers cannot access their HD channel lineup in high quality. Primarily this is because most of the demand channels are of lower quality.
Hence, when the providers give access to HD content, they compress numerous channels in one bandwidth, compromising quality. 
Limited Variety
Most cable providers don't provide a wide variety of channels as other alternatives, such as satellite TV.
For instance, cable channels provide a limited variety of live broadcasts as most are limited to local channels. 
Also, some services, such as simultaneous streams, are unavailable on cable TV.  
Package Deal Limitations
Most Cable TV services come in a bundle that further includes internet and phone services.
However, failing to pay for the TV subscription means the provider switches off your internet connection. 
Hence, bundling is a problem of cable TV that you don't encounter with alternative streaming TV services. 
10 Best Cable TV Alternatives
Here are the 10 best streaming options for switching from your Cable TV service. 
Sling TV
A young couple watches TV. 
This video streaming option comes at the top of our list as it's cheap and allows you to customize services to suit your preferences. There are three main packages offered. 
It's the lowest and the cheapest package, limited to 31 channels, and allows only one subscriber at a time. However, it doesn't offer broadcast TV. 
It is similar to the Sling Orange package, as both services are available at the same access cost.
However, Sling Blue has more entertainment and news-based channels than the former. 
This package is also a more lenient streaming platform, simultaneously allowing up to three devices.
However, despite offering reliable streaming performance and more channels than sling orange, it doesn't bring ESPN. 
It's an amalgam of the previous two streaming services by Sling. It goes at a higher monthly rate and has more channels at 47.
However, the maximum number of streaming devices depends on whether you were formerly on the Blue or Orange Package. 
Philo
Watching Stream TV. 
The streaming platform guarantees access to up to 70+ programs. Its basic package is $25, granting access to cable channels and several original series shows. 
Furthermore, the streaming service allows unlimited cloud DVR storage for the basic package.
Moreover, the TV allows you to share your favorite show with a friend and facilitate streaming service for three simultaneous users. 
You can also make up to 10 different user accounts. Even so, Philo is not a great option for news and sports enthusiasts as it doesn't bring such content.
But if you're a movie lover, this should be your go-to cable TV alternative. 
Hulu + Live TV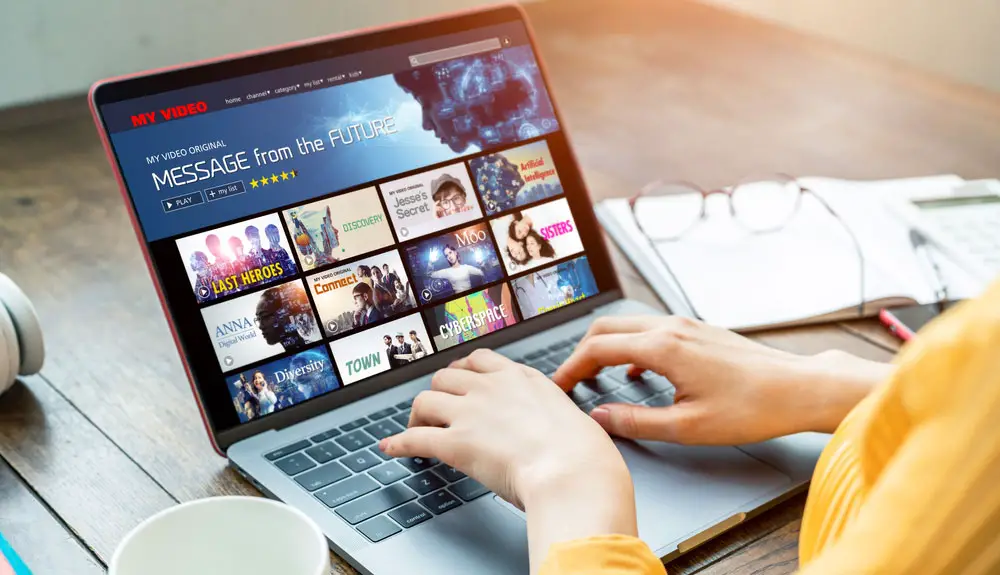 Subscription Stream Service. 
Hulu Live TV allows you to watch videos with or without ads. For just $69.99 per month, you can access up to 85 main broadcast channels with ads. 
Thanks to Fox Sports and CBC Sports channels, the Hulu Plus Live TV stream is also the perfect fit for sports enthusiasts.
Hence, you can conveniently access NFL Network and other sports-based content. 
Again, up to 6 individual users can create profiles, although simultaneous streaming is just available for two users.
Also, the Hulu Live TV stream service has a parental control option that enables users to restrict the content their kids can view. 
Finally, a basic package provides demand content if you're on a lean budget. 
YouTube TV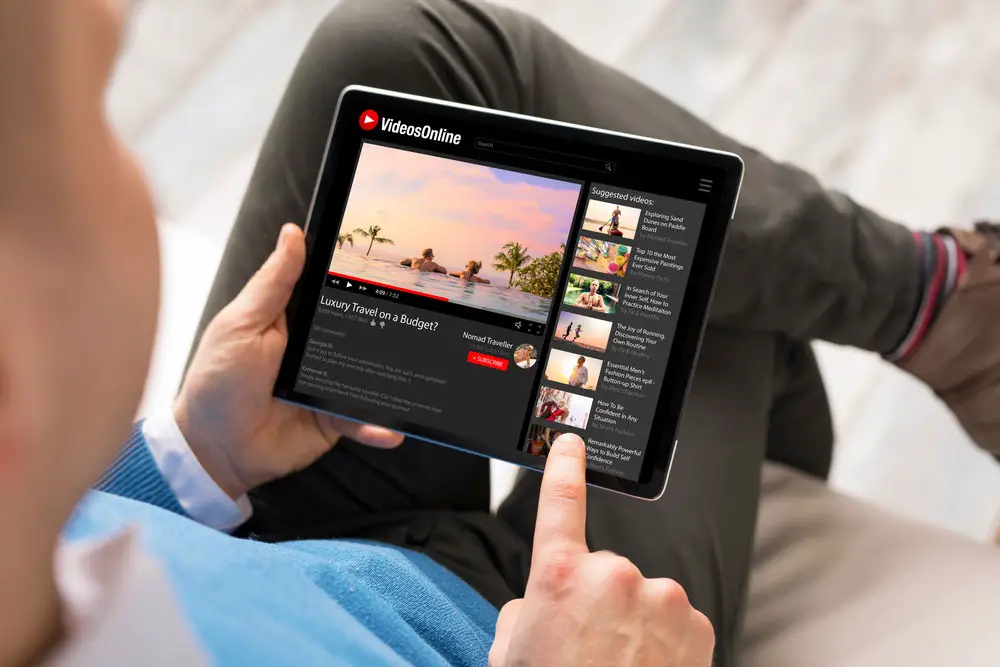 A man watches videos online. 
It comes with a $10 off offer for the first three months after subscribing to the service's base plan.
After this period lapses, for just $64.99 per month, you have access to more than 100 news, original content, sports, and movie channels. 
The service provides access to the NFL network, and other sports live streams such as MLB. 
You can access the Youtube TV stream service from anywhere, and it grants access to up to three simultaneous users at a time.
Also, YouTube TV comes with unlimited storage for content in the DVR for up to 9 months.
FuboTV
Stream TV concept. 
FuboTV does not require you to sign a contract to access their streams. This feature favors the subscriber as you can opt-out anytime.
Again, the TV service brings a wide range of channels. For instance, subscribers on the Elite Package can view at least 210 channels, and that's not all. 
FuboTV enables you to access additional demand content like the Regional sports network.
You only need to subscribe to the Premium plan, enabling you to stream in 4K quality. 
Again, you can archive your content in the cloud DVR storage for 1000 hours. 
But is FuboTV affordable? The basic pro package is $74.99, so you may consider it quite expensive.
Nonetheless, it's a worthwhile investment, given the extensive range of channels and watches quality. 
DirecTV Stream
DirecTV stream ranks among the best cable replacements thanks to its attractive packages and offers.
For instance, for just $74.99 (entertainment package), you can stream content to over 75 channels and access Live TV. 
Next, there's the Choice package for NBA and MLB enthusiasts with a monthly fee of $99.99.
You can stream more than 105 channels on a limitless number of devices.
The package also comes with unlimited cloud DVR storage space, and you can access regional sports networks free of charge. 
If you want to go for it all, DirecTV has a customized ultimate package. This one goes for a monthly charge of $109.99, granting access to more than 140 channels. 
Paramount+
Watching TV. 
Are you looking for a cheap and reliable streaming performance? Look no further than Paramount Plus.
The basic package is $4.99, and you'll have access to Paramount Pictures' content. 
Also, the Essential Package will be your dependable aide if you are a soccer or NFL fan.
The streaming plan lets you watch extensive sports content, including the UEFA Champions League. 
Moreover, if you hate ads (most people do), Paramount Plus covers you.
The streaming service charges an annual fee of $99.99 for the premium package, which grants you unlimited access to ad-free content. 
Lastly, if you want access to SHOWTIME on the premium package, you must pay $119.99 per annum.
Hence, it'd be best to subscribe to this newly launched service, especially if you love movies and sports. 
Best Cable Replacement Service: Peacock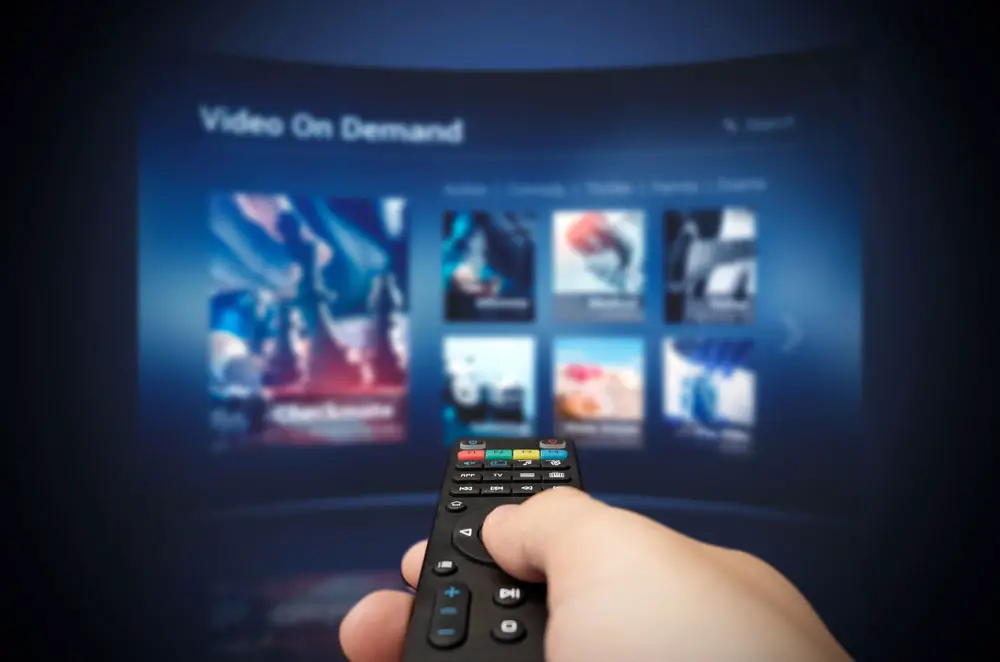 Watching videos on demand. 
Is it possible to access stream service free of charge?
This is impossible for most providers highlighted above, but we now have an exemption in Peacock.
The streaming service provides free access to movies from renowned studios like Dreamworks and Universal. 
You can also opt for the premium plan at a monthly rate of $4.99. This package has exclusive access to entire seasons of TV shows, and NBC sports live streams. 
Finally, Peacock has a Premium Plus Package (for ad-free content), which is cheaply available at a monthly fee of $9.99. 
Best Cable Replacement Service: Netflix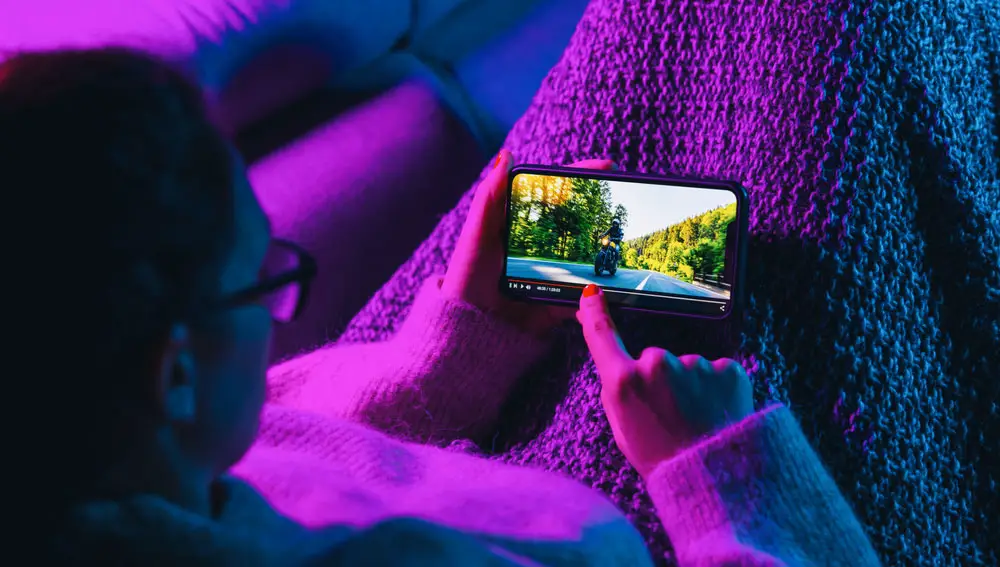 A Young Woman Streams a Movie on the Phone. 
Netflix is arguably the most easily accessible stream service considering you can access it from any device.
It's also cheaply available with a basic plan at a monthly fee of $6.99.
This package allows you to stream content in 720 pixels, but you cannot download it. 
Its primary advantage is that it offers access to an inexhaustible array of top-rated movies. 
You can also make two simultaneous streams if you're subscribed to the Standard plan ($15.49) and up to 4 for the Premium package ($19.99). 
These packages also allow you to download unlimited content for future use. 
Notably, the higher the subscription, the better the content resolution with the Premium package enabling Ultra HD streaming. 
Best Cable Replacement Service: ESPN+
A group of men watching soccer on TV. 
If you are a sports enthusiast looking for stream service packed with numerous television channels, ESPN plus must be your go-to option.
ESPN Plus is a standalone service that guarantees access to numerous live sports, including NBA, NFL, and NHL Network. These are available at a monthly access fee of $9.99. 
And it is more than just a sports channel, as it allows you to access others through providers like Disney Plus and Hulu at a monthly rate of $12.99.
Also, if you're keen on saving Cable TV costs, this service allows you to go on a $99.99 yearly plan.
Summary
You can never go wrong with the above cable replacement services, as we've picked the best for you if you're in the US.
So why watch Disney Channel and other favorite shows from the limited cable service when you have such great alternatives?
Pick the one that best suits your preferences from the above list and cut your cable service.