The most notable difference when comparing Starlink round vs. square dishes is shape.
But there are more variations under the hood.
The second-gen square/rectangular dish is newer and more advanced than its predecessor.
But is it better? Let's look at the two Starlink antennas to see which one wins.
Table of Contents
Starlink Round vs. Square Dish: Size and Weight
Starlink introduced the second-gen dish in 2021, and besides shape, the other notable difference was size.
The circular dish model was 23.2 inches in diameter with a 1.4-inch mast diameter and an overall height of 25.4 inches.
But the rectangular option only measured 19 x 12 inches with a 1.3-inch mast diameter and an overall height of 24 inches.
Also, the first-gen Starlink dish was heavier (16 lbs.). The rectangular antenna only weighs 9.2 lbs.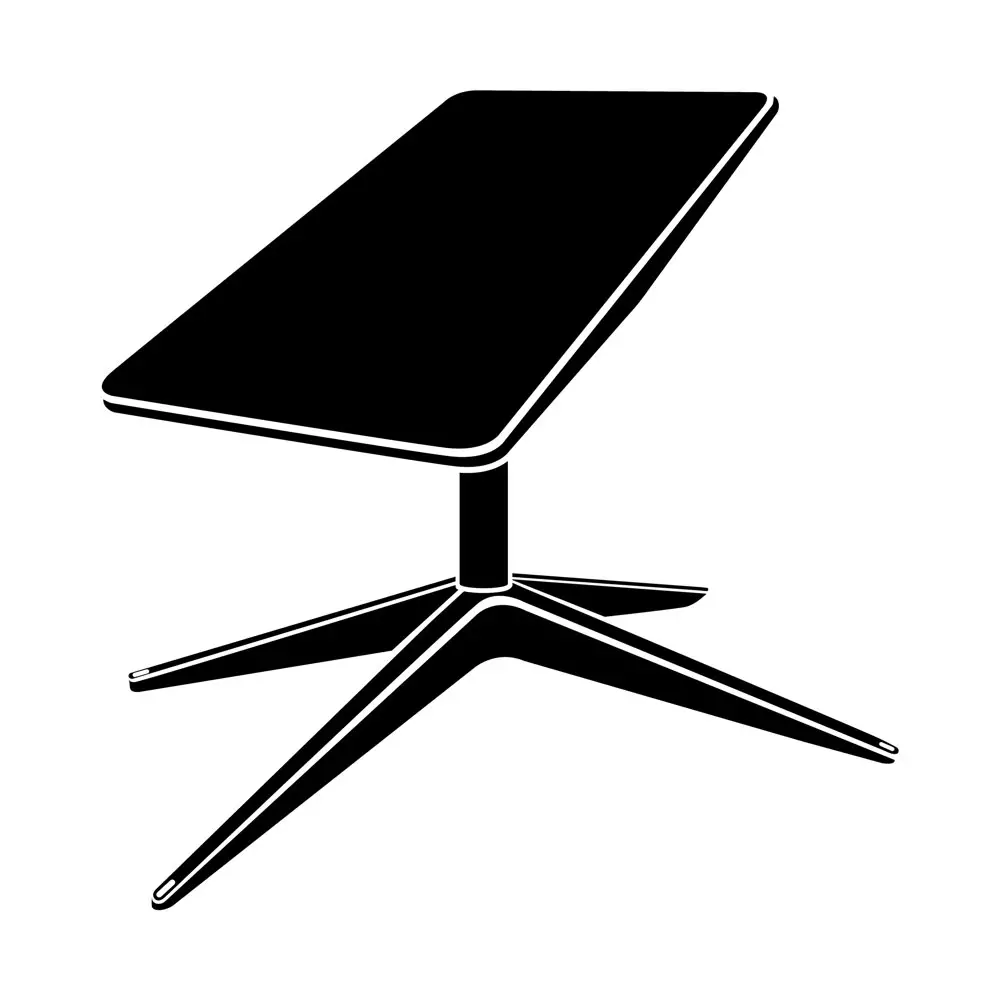 A vector image of the rectangular Starlink dish
The smaller, lighter design has several benefits for Starlink and its customers. They include:
Cheaper production/manufacturing costs
Lighter shipping in tinier packages
Easier installation
More mounting options
Overall, the Starlink round dish kit box weighs 30 lbs. and measures 33 x 26 x 9 inches.
On the other hand, the rectangular design dish comes in a 23.5 x 14 x 10.6-inch box that weighs 18.7 lbs. So it is easier and cheaper to ship the product.
Starlink Round vs. Square Dish: Router
This router is part of the kit, and the second-gen unit had minor changes. But first, we'll look at the similarities.
Both options support IEEE 802.11a/b/g/n/ac standards and are dual-band routers that operate in the 2.4GHz and 5GHz frequencies.
Most customers hoped the updated Starlink router would at least be tri-band to support more devices and offer better performance when streaming 4K content or playing online games.
So that was a disappointment.
A modern Wi-Fi 6 router
Where the New Router Wins
But the Wi-Fi router had a few improvements, such as using 3×3 MU-MIMO (the previous version had 2×2 MU-MIMO).
This addition enables the device to transmit data using three spatial streams, meaning it can communicate with more devices simultaneously.
So it decreases the signal wait time for each device, resulting in faster network speeds.
The second-gen rectangular dish
Although Starlink does not state this new dish design (and router) gives better speeds, you can get up to 50Mbps more in download speeds.
But this difference is not easily noticeable with the Standard Dishy kit.
Only the high-performance Business Dish kit can show this increase.
Both routers have an IP54 rating (water resistant but configured for indoor use).
The round and square Dishy McFlatface antennas also have IP54 water-resistant ratings but with configurations for outdoor use.
However, the new router has a broader operating temperature range (-30°C/-22°F to 50°C/122°F).
The older one could only tolerate 0°C/32°F to 30°C/86°F.
Where the Old Router Wins
Where the new-gen router loses is in the wired connection. The old router has a built-in ethernet port, but the new one has none.
So you cannot directly connect it to mesh nodes or third-party routers.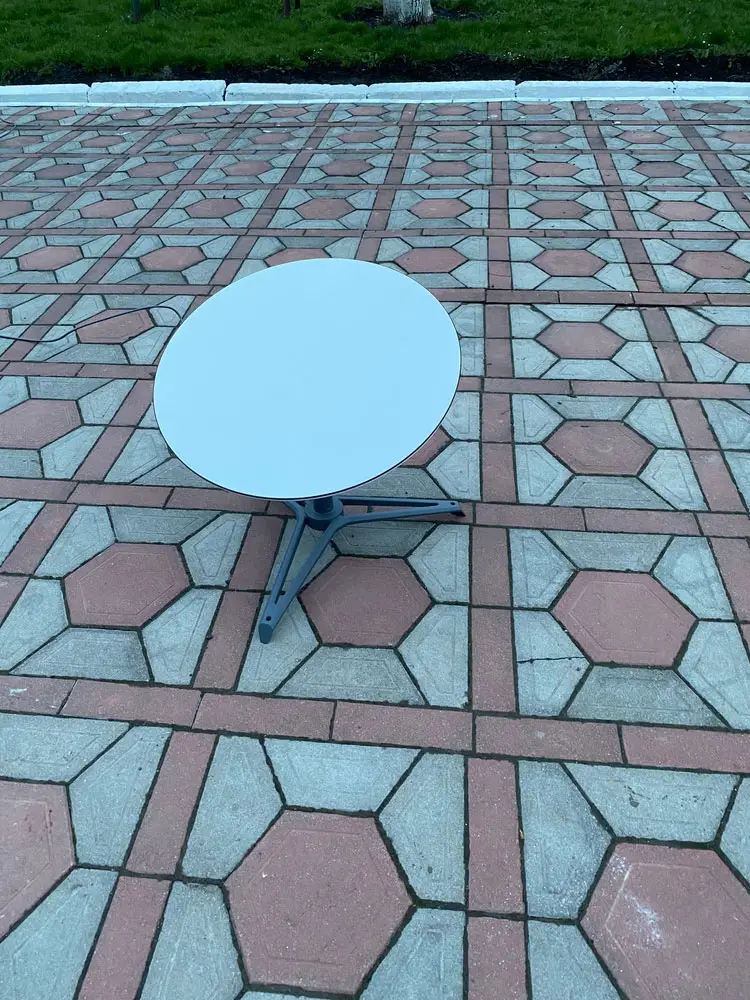 The first gen round Starlink antenna
Also, you cannot wire your 4K TV or gaming console to the internet.
Remember, ethernet cables are ideal for 4K streaming and online gaming because they give a more stable connection than Wi-Fi.
However, you can buy an ethernet adapter to introduce an ethernet port to the setup. So you'll have to pay more to get a feature built into the first-gen dish router.
It is vital to note that eliminating the ethernet port might not make sense to the customer.
But it makes sense to the company because it helps generate more revenue from ethernet adapter sales.
So we can only wait to see how far Starlink will go to get every extra dollar with future Dishy generations.
Starlink Round vs. Square Dish: Power
Since it is smaller and more efficiently built, the second-gen dish has a lower average power consumption ranging between 50-75W. The old one consumes 65-100W.
Another advantage of the new dish is it comes with a 50 ft. detachable power cable (power-over-ethernet), which you can replace when damaged or buy a longer internet cable to reach the antenna.
A power-over-ethernet adapter
However, the shielded CAT5e power-over-ethernet cable uses proprietary connectors on each end, not the regular RJ45 connectors.
The old circular dish came with a longer 100 ft. cable, but it was not detachable. So any damage meant replacing the antenna and cable.
This cable and the router's 6.5 ft. standard CAT5e cable connect directly to the power brick.
The rectangular dish has no external power brick. It integrates its brick with the router, so the router powers the antenna using a power-over-ethernet cable.
But both have a six ft. (1.8m) AC cable.
It is vital to note that this 50 ft. detachable cable option is only for residential and RV hardware kits.
Business and high-performance kits come with an 82 ft. cable, while Maritime and Flat High-Performance have 26.2 ft. cables.
These dishes have no CAT cable extensions.
Starlink Round vs. Square Dish: Mounting
The round Dishy mount options include ground pole, flashing, volcano, and pipe adapter mount.
With the rectangular satellite broadband dish, you get three more official mounting options: long wall, short wall, and pivot mount.
A J-pipe wall-mounted satellite dish
Starlink Round vs. Square Dish: Cost and Future Improvements
Despite being cheaper to manufacture, the new rectangular Dishy costs the same as the old kit ($499). 
But the company is working to develop cheaper terminals that provide the same performance.
The goal is to lower the cost to about $250 or $300 while enhancing quality.
For instance, heat tolerance is one feature it aims to enhance.
The current dish goes into thermal shutdown when internal temperatures hit 122°F (its operating temperature range and that of the router match).
A Starlink antenna mounted above a roof
This issue is critical for people living in hot areas like Arizona because it can cause internet outages for several hours when outside temperatures peak.
Remember, the dish must stay outdoors under the sun for direct line of sight with the satellites in LEO.
Wrap Up
Considering the Dishy hardware, Starlink is still a young company, and we can only expect it to make better devices to serve its customers with reliable, high-speed internet.
So while the second-gen Dishy is better than its predecessor, it only has slight improvements.
Maybe the third generation might introduce significant performance enhancements.
Comment below to let us know what you think about these round vs. square Dishy differences and what the future might hold.