About Starlink installation, The internet has revolutionized previously rigid industries such as education, banking, and entertainment, among many others. It has allowed people to communicate and work with partners from across the globe without having to avail themselves physically.
As more and more industries innovate online, it is becoming increasingly crucial to have a fast and stable internet connection to access their products and services. 
Most internet service providers have struggled to keep up with the demand and still provide a reliable connection for their existing customers. Starlink identified this gap and has so far been able to take full advantage of it.
Table of Contents
What is Starlink?
Starlink is a company that provides internet services via low-orbit satellites supplied by its parent company SpaceX. Satellite technology enables Starlink to offer a fast and reliable connection where it was previously expensive, unreliable, or expensive. 
Space satellites orbiting the Earth
Using the Starlink app, users can set up and install their devices without the help of a technician. The app helps to identify a location in the premises where the satellite connection is most vital, providing the best quality service.
How Fast Is Starlink?
According to Ookla, a data analytics and internet data firm, Starlink is one of the market's best and most reliable internet providers. Most internet consumers, however, judge the quality of a company based on the upload and download speeds they offer. 
With speeds of up to 87.25 megabits per second (Mbps), Starlink is the fastest in the market. Competitors such as Hughesnet offer 19.30 Mbps speeds, while Viasat offers 18.75 Mbps. 
Starlink also provides higher upload speeds than its competitors. While the broadband threshold is 3 Mbps, Starlink offers 13.54 Mbps, way above the threshold. Hughesnet delivers upload speeds of 2.54 Mbps while Viasat is 2.96 Mbps.
High-speed internet on networking telecommunication
Starlink seems to be a cut above its competitors in providing fast and reliable internet that fixed broadband providers can only rival. However, a recent report by Ookla found that as the company continues to expand, the speeds they provide seem to slow down in some areas. In response to this, the company also plans to launch more satellites to cover for increased demand. 
Pros and Cons of Using Starlink
Pros of Using Starlink
Here are a few pros of using the Starlink network and how it can benefit you.
A Fast Connection
Compared to other internet providers, Starlink provides a much faster connection, enabling you to do much more online. Seamless streaming on Starlink is a non-comparable experience.
Speed global internet connection concept
It Is Available Globally
Because of the low orbit satellite technology, Starlink can provide a stable connection to customers in every part of the world, including over the high seas and the deserted poles. This is ideal for customers constantly moving from one country to another.
Cons of Using Starlink
Although Starlink is a cut above its competition, a few disadvantages come with being a customer. Here are some of them.
Self-Installation
Starlink installation might be an exciting part for some customers who prefer DIY. It's a challenge to many customers who prefer not to go through installation guides, not to mention the physical aspect of finding the best location. It also means you won't have to free your time for a technician to come home, apart from the installation costs.
The Weather Element
The weather provides a challenge to all internet providers. Elements such as lightning storms and fluctuating humidity levels charge the air particles differently, thus affecting the signal propagations over long distances. These factors might sometimes lead to outages. Some Starlink customers have, however, reported an improved signal during heavy rains.
Increased Demand for Starlink Services
Because Starlink provides such a fast and reliable connection, more and more customers would inevitably jump on board. The company is, however, still in its beta phase, and many customers will have to wait for it to launch more satellites to cope with this demand while maintaining the quality of connections with existing customers.
How You Can Get Starlink
Getting Starlink installation service at home is not a complex process. Once you visit the Starlink website, check its availability by entering your service address. If you're within range, you are free to sign up.
Sign-in Sign-up Application 
The whole Starlink setup costs $599 for the hardware plus an additional $50 in handling costs. It might seem expensive initially, but it is relatively cheap in the long run compared to other internet providers who rent out their hardware to customers. It means there are no recurrent expenses on the hardware. You will then need to pay $110 monthly for the internet connection.
What's in the Starlink Installation Kit?
Once you receive your kit, you should find inside it a Starlink dish, a dish mount, a router, and its power cable. A cable connecting the word from the router measuring 75 feet is also attached.
How To Install Starlink
Getting started is simple. Here are the Starlink installation instructions to follow to get the best out of your device.
Download the Starlink App
The first step when installing is downloading the app. It is available to most new customers. There is both an Ios and an android app. It would help if you had it for the initial setup and to manage the subscription and hardware.
Check for the Best Location
Using the app, you should look for the best location to mount your Starlink dish. The app will help you find the best place away from obstructions such as trees and other tall buildings that might interfere with signals from the satellite. The most vital signs will guarantee the most reliable connections.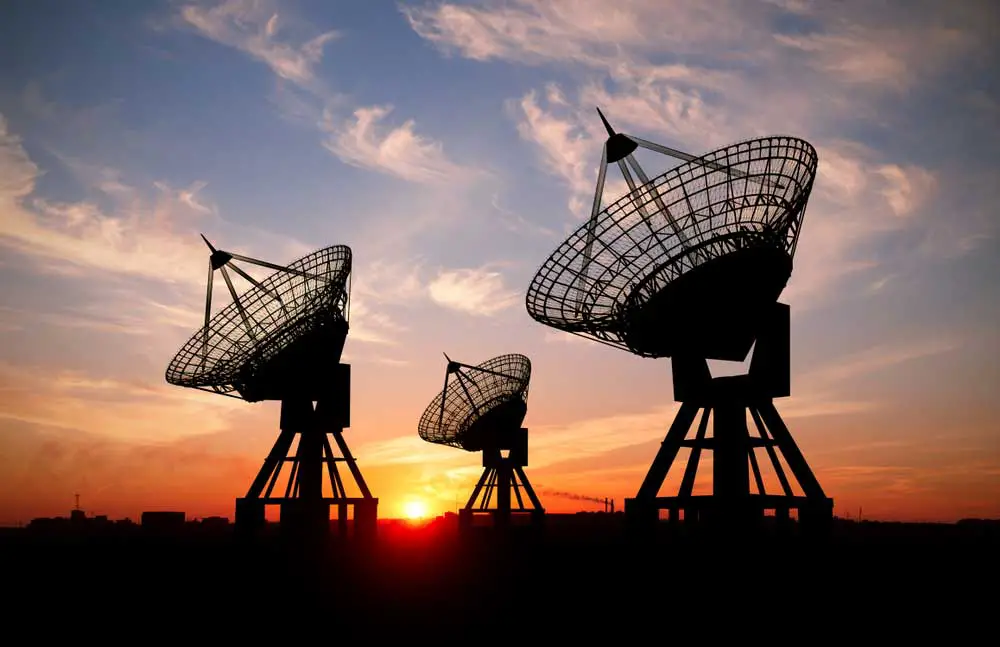 Three satellite dishes at sunset
The app will use the camera on your phone to detect potential obstructions and map out the general area, helping you to pick the best spot to mount your Starlink dish.
Unbox Your Starlink Kit
The next step after finding the best spot for your dish is unboxing your Starlink kit. Inside the box, you should see a word and its mount, a wireless router, its power cable, and a 75-foot connecting cable.
Dish Assembly and Installation
First, connect the 75-foot cable to the dish via a provision near the bottom of the mast. The straight connector goes into the container while the other bent connector goes into the router. Ensure the connector is secure before you insert the base. The amount and base spring tabs help hold this connection in place.
The technician is installing the satellite receiver.
Plugging in Your Devices
The elbow or bent end of the 75-foot cable goes into your wireless router via a provision on its underside. If you are making a permanent connection, passing the line through a safe route from the dish mounted outside is best to avoid future damage. If you prefer to test your device first, you could run the cable through an open window or door.
Before connecting your wireless router to a power source, ensure the dish is mounted correctly, secure, and free to rotate. You can then power your router via the power cable provided in the installation kit. Once powered on, the dish should automatically rotate freely as it searches for available satellites in the region.
Starlink Installation: Connect to Starlink
Once the wireless router gets powered, it will automatically start its initialization. This process might take some time, depending on your location. After a few minutes, a new wifi network called Starlink should be available on your phone or computer. Connect to the web for the next step.
Go to your wifi settings and join the Starlink network using your newly set password. On connecting successfully to Starlink, you should set up your preferred network name and password. On saving these settings, you are now onboard the network.
Manage Your Starlink Devices on the App
Login to your account on the Starlink app to check your connection status. If it still shows offline, you might have to wait a few more minutes for the dish to find a secure connection from the satellites. If, after a while, the status still shows offline or the wifi network doesn't work, check the links on both the router and dish and try again.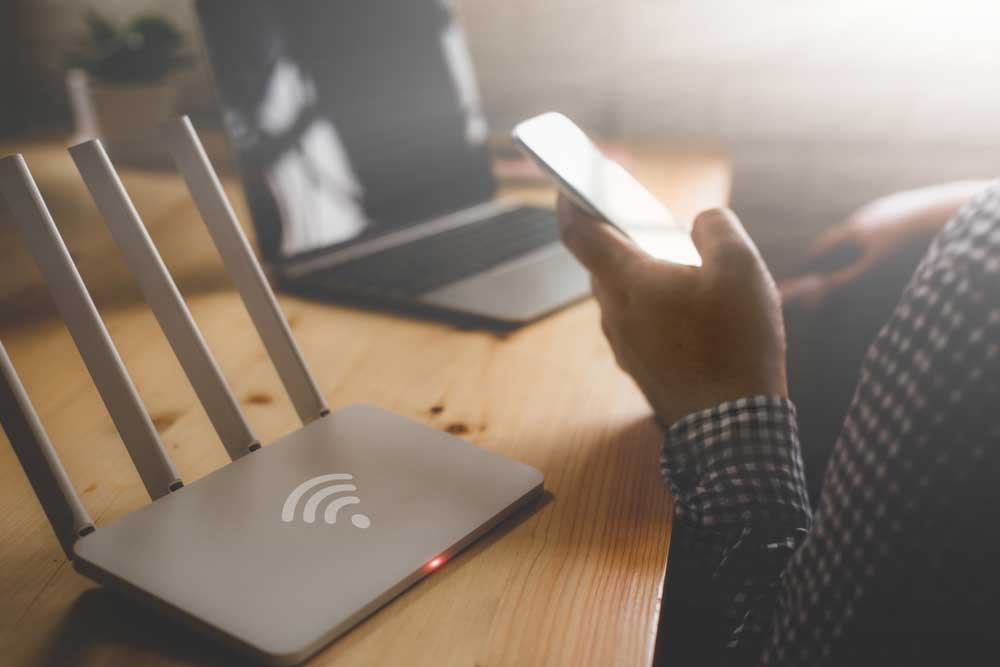 A closeup of a wireless router and a man using a smartphone
Starlink Installation: How To Get Support
Customer support is an integral part of any experience, especially after self-installation. If there are any issues with your Starlink, here are a few ways to go about it.
Official Starlink support: Go to the support page on the app, where you will find similar issues and how to sort them out. You can submit a ticket to the company if your problem is not on the list. 
The Starlink community: other Starlink users greatly help new customers. Online communities such as the Starlink subreddit frequently conduct online forums where they ask and answer each other's questions, complete with pictures, videos, and alternative suggestions that can help you deal with your issue.
Conclusion
Starlink, being a cut above its competitors in the internet provider space, is one of the best online experiences in the world today. If done right, you can enjoy fast and reliable internet for as long as you maintain your subscription with them. Follow all the instructions in this guide to get the most out of your Starlink. For more information, consult the Starlink installation manual or log in to the Starlink app.