Sonic labels itself as America's fastest and most affordable internet service, with PC magazine naming it the fastest and best gaming ISP in the US in 2022 after doing a Sonic internet review. 
The company has also built a reputation around its support for net neutrality, which most ISPs oppose for for-profit purposes. 
We will look at what the company offers to determine if it is the fastest and cheapest, plus the terms you need to know before subscribing to the service. Let's get right into it!
Table of Contents
A Brief Look at Sonic Internet
Sonic is a regional ISP operating only in one state (California), specifically in LA, Sacramento, and the San Francisco Bay Area.
The company began as an effort to bring internet access to students and staff at the Santa Rosa Junior College before officially getting into the internet business in 1994.
It rebranded to Sonic in 2014 after acquiring the @sonic Twitter handle and the domain sonic.com.
The company partnered with AT&T in 2015 to help expand its service using FTTN.
But this partnership meant Sonic customers had to follow AT&T policies, including agreeing to data access by the federal government.
However, you can use a VPN to avoid these policies.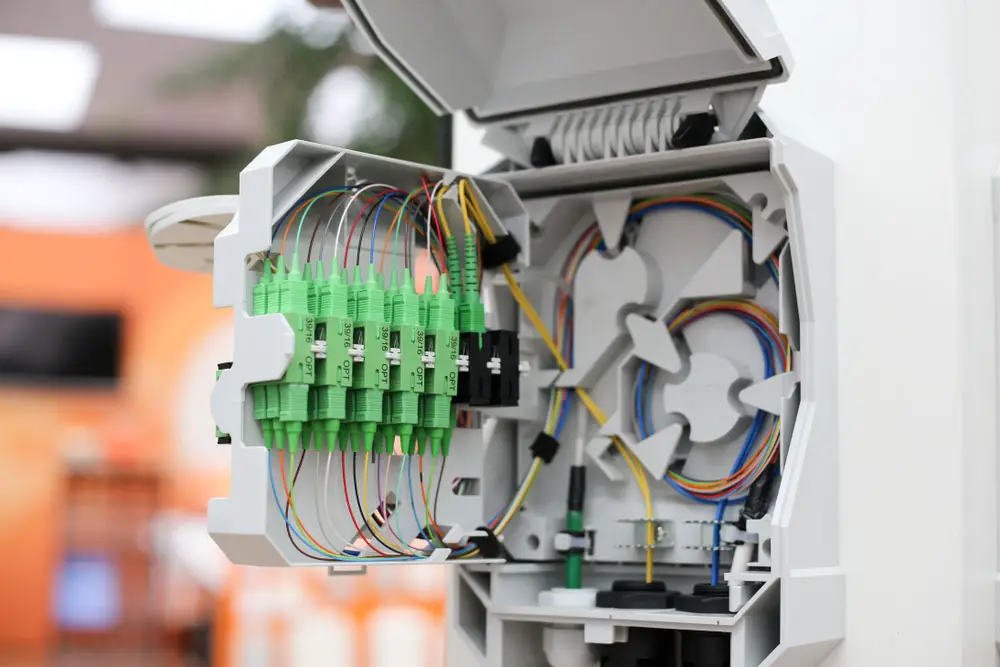 FTTH equipment in a cabinet
Sonic Internet Review: Plans and Prices
Although it partnered with AT&T, Sonic's internet plan is significantly cheaper than what AT&T's home internet offers.
Sonic's fiber internet service is two times faster (up to 10 Gbps upload & download speeds) and costs only $49.99.
On the other hand, AT&T's fiber connection maxes out at 5 Gbps for $180 monthly.
So you'll get double the speeds at less than a third of the cost with no throttling.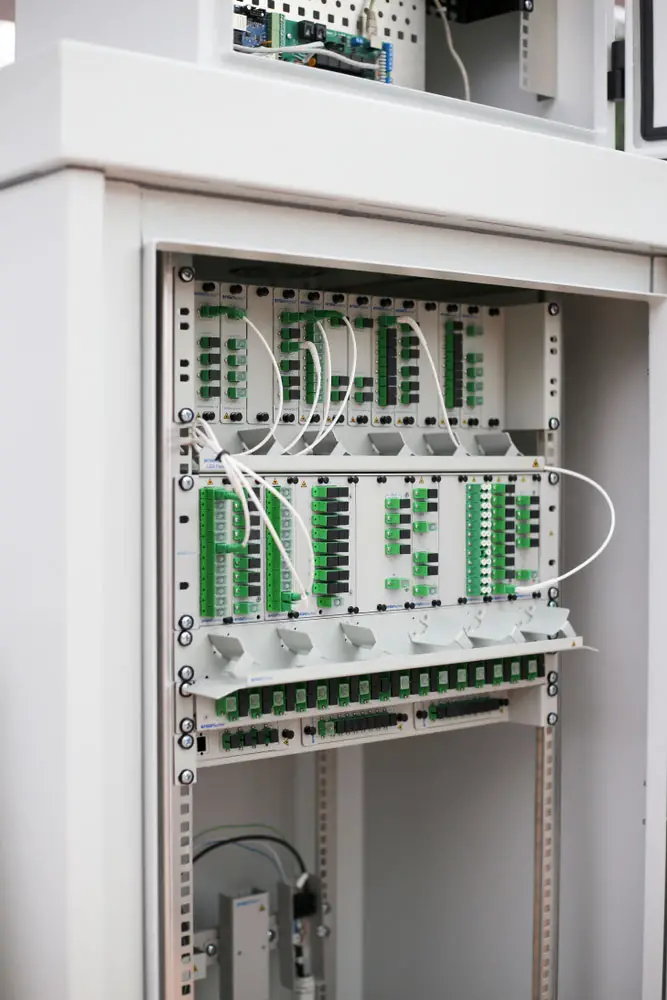 An FTTH equipment in a roadside Fiber distribution cabinet in a Fiber-ready area
And that's not all. Installation is free (AT&T costs $99), and the plan features unlimited data with no annual contract and a high privacy score of 5 given by the Electronic Frontier Foundation.
The company splits its internet into these two residential and business categories with slightly different terms.
Residential
Sonic provides symmetric speeds of up to 1 or 10 Gbps, depending on the available technology used in your area.
Some locations have access to Sonic Fusion, an internet and phone service package. The phone service gives you several benefits, including:
VoIP
Free unlimited calls to 70 countries
Spam call blocking
Call forwarding
Call waiting
Three-way calling
Maintaining your existing number

A summary of VoIP services in a phone service
Residential internet also includes a dynamic IP, free installation, and zero-cost self-installs at previously connected addresses.
And if you are currently under a contract with another internet provider, Sonic will settle the remaining contract fee (up to $200).
But this benefit is only available to new Fiber customers.
One more thing. Sonic partnered with Eero in 2018 to enhance Wi-Fi connectivity across the home using its Mesh Wi-Fi systems.
So the company offers an option of selecting the whole home Wi-Fi solution before installation if the service is available at your address.
A Wi-Fi router
But Sonic can't provide Mesh systems for free because they are costly.
So the company leases them for $8 monthly for the Eero Base tri-band system and $4 monthly for the cordless Eero version.
What If I'm a Property Owner/Manager
For residents, Sonic must be available in your area for you to get connected.
But property owners or managers with apartments can request a site evaluation to determine if bringing Sonic fiber to the building is a viable investment for the company.
A modern housing estate
The process involves these four steps to make your apartments Sonic-internet-ready.
Building survey
Installation proposal and agreement
Installation schedule
Fiber service installation
Business
The business package adds these extra services.
An edge-managed network (full network deployment, wiring options, etc.)
Web hosting
Cybersecurity
And new Fiber business customers can get up to three months free for those committing to a 36-month agreement.
Customers committing to a 24-month agreement get two months free, while those agreeing to a 12-month contract get a month off.
This offer does not apply to equipment fees and additional charges.
Sonic Internet Review: Net Neutrality
Sonic is one of the few (if not the only) ISP that strongly believes in an open and equally accessible internet for all.
Although the federal government repealed the net neutrality laws, Sonic still supports the principle of net neutrality and provides its customers with an open internet experience without throttling,
cost-cutting network management practices, censorship, sharing customer data, etc.
An image depicting net neutrality
Sonic Internet Review: Terms and Conditions
Unlike other ISPs, Sonic declares its terms and pricing openly, so there's not much to discuss.
But keep in mind the monthly cost ($49.99) does not include equipment fees and taxes.
And if you cancel the contract while renting the components and modems, you must return them within 30 days.
If not, you'll get a charge to your account. But Sonic will reverse the charges if the equipment arrives after the 30-day window and before 60 days are over.
Otherwise, the company won't accept the hardware.
But don't return the Optical Network Terminal (ONT). You get that device free of charge.
While still on the topic of cancellation, Sonic offers a 30-day free trial window to try if the company's contract-free service is good enough.
Sonic Internet Review: Other Features
Other Sonic service features include the following.
A fax-to-email service
15 email accounts with 1GB storage
A new domain for the web hosting service
Free VPN (for privacy and to avoid AT&T policies)
A laptop running VPN software
Also, we can't fail to mention the AFC and referral programs because they are crucial for subscribers who want cheaper internet.
Affordable Connectivity Program (AFC)
Sonic participates in the affordable connectivity program that helps low-income households afford to pay for an internet connection.
This long-term $14 billion program aims to help these households stay connected to work, healthcare, school, etc., and aligns with the internet provider's support for equal internet access.
Qualifying users can get a credit of up to $30 monthly, meaning they'll only pay $29 plus equipment fees and taxes.
Referral
Another way to make your monthly subscription cheaper is to share your referral link with friends and neighbors who have never been Sonic customers.
If they sign up for the Sonic Fiber residential service and pay for the first month, you will receive a $30 referral credit applied to your account.
This $30 is for each signup. So you can accumulate a lot of credit if you get many people on board.
And it should be easy to sell because Sonic offers the fastest speeds at low prices.
Conclusion
Sonic internet probably is the fastest internet provider with the most affordable prices, so it is not just hype. It is true.
And more importantly, the ISP is one of the biggest supporters of net neutrality. So you can expect fair treatment across the board.
That's it for this article. Comment below to let us know your sentiments or experience using this internet service.