In this Nextlink internet reviews, we will explain the internet service provider's different internet options, plus everything you need to know. 
Nextlink is available only in a few states and uses high-speed Fiber plus Fixed wireless networks to supply data and voice services to several customers.
They include residential, public sector, small business, healthcare, and education markets.
Let's take a deep dive into what the internet service offers.
Table of Contents
Nextlink Internet Reviews: Plans and Prices
As stated earlier, this internet provider offers Fiber and Fixed wireless internet, with the former reaching up to 1000Mbps, while the latter maxes out at 500Mbps.
Standard Fixed Wireless Internet
This option has these four internet plan options.
Next25: 25Mbps at $39.95
Next35: 35Mbps at $49.95
Next50: 50Mbps at $59.95
Next100: 100Mbps at $79.95
Two dishes for providing fixed wireless internet to a customer
Enhanced Fixed Wireless Internet
As the name suggests, this option delivers enhanced internet speeds and includes these packages.
Next50: 50Mbps at $59.95
Next100: 100Mbps at $69.95
Next200: 200Mbps at $84.95
Next300: 300Mbps at $99.95
Next400: 400Mbps at $114.95
Next500: 500Mbps at $129.95
Fiber
Although Nextlink's Fiber network is available in select areas, it offers the fastest and most stable speeds. The packages include the following.
Next50: 50Mbps at $49.95
Next100: 100Mbps at $79.99
Next500: 500Mbps at $89.99
Next1000: 1Gbps at $109.99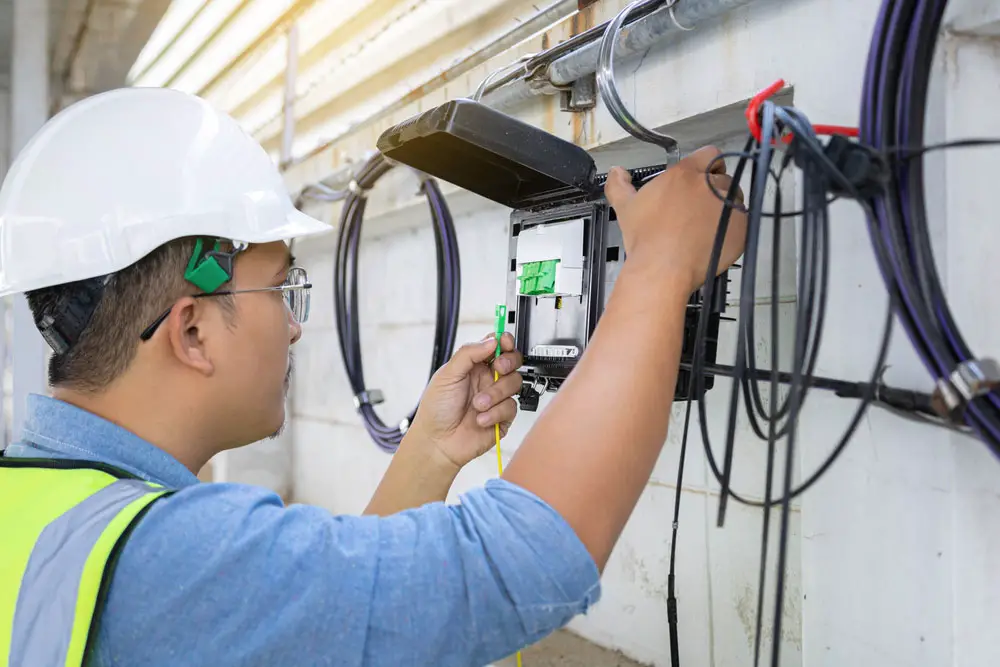 A technician checking fiber optic cables in an internet splitter box for FTTH
All these options have no data caps (zero overage fees) and include whole home Wi-Fi equipment plus 24/7 service monitoring to ensure customers get the best service consistently.
It is vital to note that the packages listed above are for residential customers. Nextlink provides other internet services, such as:
Business Service: Uses FCC-licensed spectrums with network redundancy to ensure high speeds and reliability.
Commercial Business Internet: Service Level Agreement (SLA) for large organizations requiring reliable high-speed internet at a lower cost.
Internet for Education: Also an SLA but for learning institutions. It includes a dedicated account manager and internet access with 5MB to 10GB speeds.
Nextlink is only available in Illinois, Indiana, Iowa, Kansas, Louisiana, Minnesota, Nebraska, Oklahoma, Texas, Wisconsin, and Wyoming, and it offers different services depending on the location.
So you'll have to enter your address to get the best service available in your area.
And keep in mind the prices above don't include fees, taxes, and additional equipment.
Nextlink Internet Reviews: Whole Home Wi-Fi Solution
Most internet providers lease gateways to customers to give them the best equipment to access their internet service, and Nextlink is no different.
The ISP provides a whole-home Wi-Fi solution, which includes a UPS to protect the hardware from lightning strikes and give you additional up-time when the power goes out.
A UPS
This hardware comes with a lifetime replacement warranty for manufacturer defects. But you will have to pay for damages unrelated to the manufacturer.
These costs include the replacement, dispatch, and shipping charges.
Nextlink Internet Reviews: Equipment and Installation Costs
The standard installation charge is $250, and you must pay it upfront before the connection process commences.
But this installation cost covers labor and standard equipment charges.
Depending on your house or area, you might have to pay more to cover additional installation requirements.
For instance, the whole-home Wi-Fi solution described above is ideal for large homes because it provides stronger wireless signals.
It costs $8.99 monthly, but you can use your router to avoid this charge.
A modern Wi-Fi 6 router
Areas with terrain or tall trees that block the line of sight from the wireless provider's communication towers require tripods to raise the dish by up to 20 ft. above the roof.
The tripod costs $5 monthly, which covers hardware repairs, maintenance, and replacement.
A more robust dish is essential for areas on the broadband internet coverage's edge or densely forested areas.
This dish costs $10 monthly, but you'll only pay that amount for the first year, and that's it.
Several robust internet dish antennas
Nextlink will assess and inform you of the required equipment and fees before installation, and you have no obligation to agree to the extra charges.
Also, you can cancel the installation process at no cost.
But you will not need this additional hardware with Fiber internet. The only equipment you might need is the whole home Wi-Fi set.
Nextlink Internet Reviews: Net Neutrality
One of Nextlink's core company values is supporting a free and open internet with the following principles.
Zero blocking of lawful internet content
No unreasonable discrimination
Transparency
Freedom for users to access non-harmful applications
User freedom to include third-party, non-harmful devices in the network
No paid prioritization for internet content
A keyboard with a net neutrality button
In keeping up with its transparency net neutrality principle, Nextlink discloses its "hidden fees" in its terms and conditions, which include the following.
A $99 residential fee for a 2-year agreement, which increases to $250 for the month-to-month agreement
2-year business agreement fee of $150 ($250 month-to-month agreement)
$5 late payment fee (7 days past the due date)
$25 reconnection fee 
$400 early termination fee or the remainder of the monthly plan (lesser of the two)
$70 for equipment re-installation
Up to $150 per equipment for replacement (due to damages)
$70 service call fee for a non-Nextlink-caused issue
An internet technician monitoring a customer's internet link
Nextlink Internet Reviews: Affordable Connectivity Program (ACP)
Nextlink participates in the Emergency Broadband Benefit Program that helps qualifying Americans get affordable internet.
Renamed the ACP, the $14 billion program provides a discount not exceeding $30 to eligible households and up to $75 for those in tribal lands.
These qualifying customers can also get a one-time discount to buy a computer (desktop or laptop) from participating providers.
So you can get some sweet deals from Nextlink as a new or existing customer if you qualify.
Wrap Up
Nextlink might be a regional ISP, but it is rapidly expanding its wireless and Fiber internet.
The provider currently excels in connecting remote areas using its vast fixed wireless internet. 
So rural customers in the covered states should consider this provider when comparing internet options.
And look out for the "hidden fees" terms because they can significantly increase your bill. 
That's it for this article. Comment below if you found it insightful. We would like to hear your thoughts and sentiments about this ISP.