Apple Maps/Google Maps and GPS have drastically enhanced our navigation abilities, eliminating the need to memorize city layouts & streets. Also, you don't have to carry physical maps before going on a road trip.
However, the conventional way of accessing these maps is via smartphones or car infotainment systems. And these options can be distracting when walking or driving, even though you can get the directions via audio.
So glasses with GPS might be the next big thing because they augment GPS navigation information on the real world you view via the glasses.
We will look at these wearable GPS-guided navigation systems in detail below, plus the best alternatives in the market.
Table of Contents
AR GPS-Guided Navigation Glasses Available in the Market
Some of the glasses with GPS glasses with displays for overlaying navigation information in the real world include the following.
Vuzix Blade
Vuzix Blade smart glasses are self-contained AR glasses with advanced waveguide optics that enable hands-free connectivity and mobile computing. The glasses run on an Android OS with WiFi and Bluetooth connectivity to a companion app on iOS or Android devices.
The see-through optics merge digital world instructions with real-world tasks using a 480×853 resolution transparent display with 24-bit color. Besides having full UV protection lenses, the Blade features glasses with an ANSI Z87.1 certification safety rating to protect your eyes. And it has an 8MP autofocus camera with 8GB internal storage and a micro-SD expansion slot.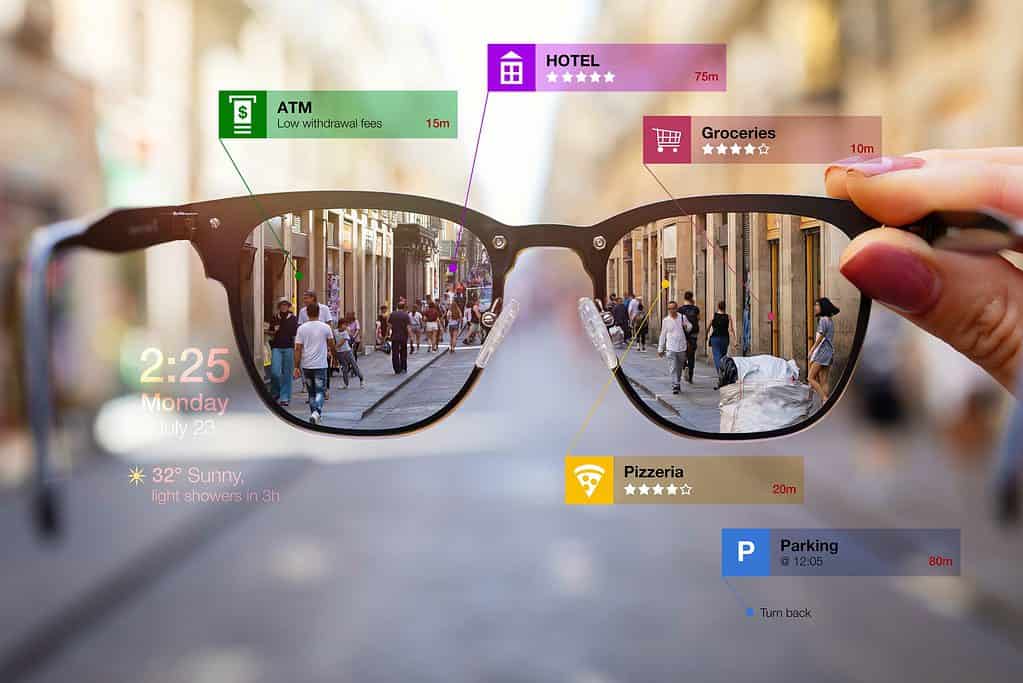 Smart glasses with augmented reality
You also get multilingual voice commands, head motion trackers, and a touchpad with gestures for control, plus built-in audio (stereo speakers) with noise-canceling microphones for audio.
Also, ergonomics is a significant part of the glasses design. The pair is lightweight and cushioned to give a snug fit.
Powered by SmartHinge Design, these navigation devices are not your regular sunglasses because they contain technology built by MIT scientists.
And although the pair of glasses is more inclined towards helping you with your fitness goals, you can use them for navigation. But this function requires you to connect them to your phone.
Sunglasses with navigation abilities
The sunglasses feature 9-axis, full-motion sensors to give voice guidance, motivation, and performance measurement. Additionally, the specialized mobile app solos AirGo features the latest AI technology for personalizing and monitoring fitness, posture, etc., to achieve your fitness goals.
Another notable feature is the Whisper Audio technology. It cancels ambient noise when giving you navigation directions for better clarity.
And the glasses have one of the longest-lasting battery life, with up to eight hours of phone calls, 11 hours of music streaming, and 2.5 days of standby time on a full charge.
Focals By North
Most smart glasses for navigation have a bulky design, but Focals By North glasses look normal. However, they still have powerful features, including GPS navigation, although the actual outdoor navigation occurs on your phone. The glasses only relay the data visually in front of your eyes, so you must connect the two. But they integrate with Alexa for easier use.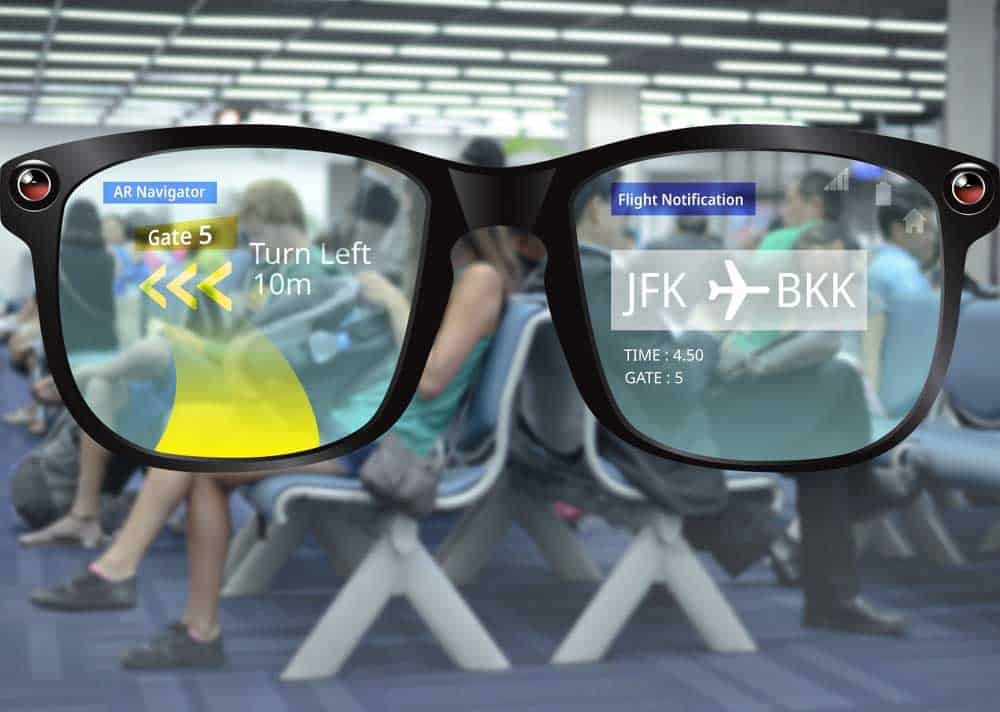 AR smart glasses with navigation capabilities in an airport
This wearable device has some downsides, though. First, it requires recalibration for different users for comfortable iris integration. Secondly, the glasses only enable navigational abilities when walking. They disable the feature once they detect driving. And they are expensive, as well.
Google Glass Enterprise Edition 2
Google Glass is a compact, lightweight, wearable computer with a transparent display to enable faster and smarter hands-free work. The device increases access to Google's productivity apps while giving you voice commands to activate any application, including Google Maps.
The company's AR smartphone navigation feature combines maps and street view to give users a better sense of direction. It is vital to note that their AR feature might not be the smoothest, but the glasses are ideal for navigation. This advantage is obvious because the product has the backing of one of the largest tech firms in the mapping industry.
Future of GPS Augmented Reality Navigation
AR navigation is advancing and has brought about a lot of interest because it offers the convenience of not looking away from the road ahead. Plus, augmented reality is the future.
But the technology has several challenges, such as short battery life. You can only pack a tiny battery into the glasses to limit their weight and size. And GPS plus the AR feature consumes a lot of power. So they are not ideal for everyday usage because they can only run for a few hours on a full charge. You can buy several glasses, but they are costly.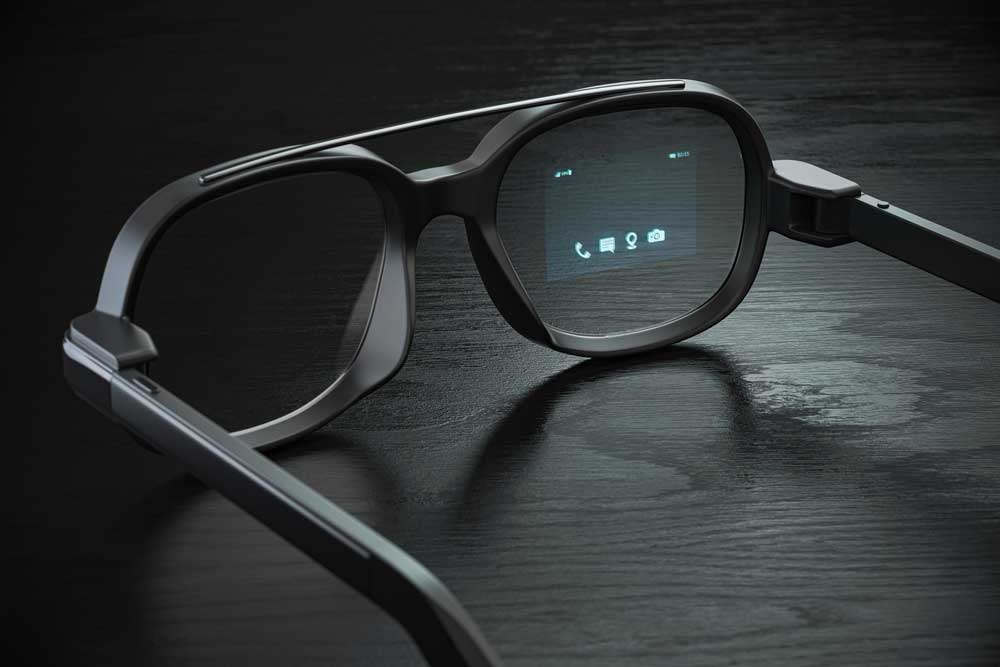 Smart glasses
Security is another issue. These glasses are hackable, so the AR tech might be at risk of malicious behavior, where a hacker can access personal information and track navigation data in real time.
Audio is also a challenge for visual navigation. The glasses provide audio, which complements the visuals, but providing it directly to the ear is risky. Picture you driving or crossing the street with your earphones on. It affects your situational awareness, which increases the chances of accidents.
So manufacturers should consider haptic feedback using minute vibrations. Not only is this option safe, but it can also be helpful for hearing and visually impaired persons.
Other GPS Navigation Options
There are alternatives to glasses with GPS that simplify navigation just as much. They include:
Bone Conduction Earphones
Unlike regular earphones, bone conduction earphones transmit audio through the skull. So you don't have to plug them into the ear canal, which leaves you with better situational awareness because you can hear sounds from the environment around you.
A woman wearing bone-conduction headphones
The devices can connect to your phone via cable or Bluetooth to receive the audio, but some units can have issues with sound quality or leakage. So always get the best-quality bone conduction headphones offering premium sound quality. You don't want to miss a turn when navigating.
Bluetooth Glasses
As the name suggests, Bluetooth glasses feature Bluetooth wireless connectivity and can play audio. So you can use them to listen to music or follow navigation directions given by the GPS and maps application on your phone.
But make sure the device supports A2DP (Advanced Audio Distribution Profile), which enables audio streaming from another device. However, these glasses still insert the earpiece inside the ear canal, which mutes sounds from the environment.
Google/Apple Maps & Car Infotainment Systems
Other options include using the traditional Google or Apple Maps on your smartphone or your car's infotainment system. Some infotainment systems have built-in maps with GPS navigation, while others feature Apple CarPlay and Android Auto to connect to your devices.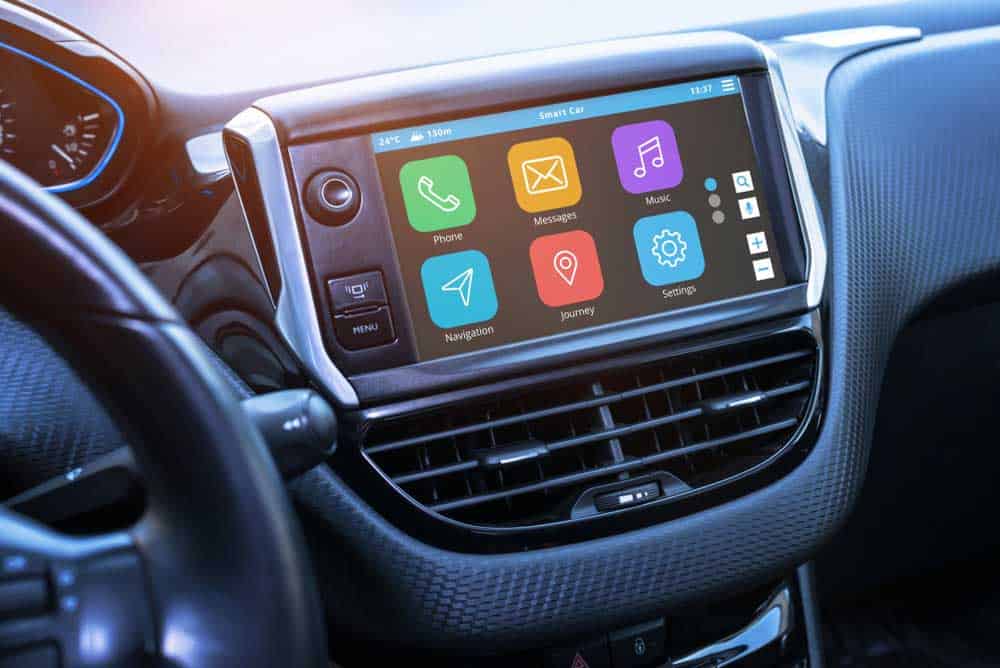 A car infotainment system with GPS navigation
The closest you can get to the AR feature on glasses with GPS is having a heads-up display in your vehicle with navigation because it lets you keep your eyes on the road.
A car with a heads-up display showing navigation information
Wrap Up
It is evident that glasses with GPS simplify navigation and their AR feature makes them more exciting to use. And there are several options in the market with more features than just GPS navigation. However, they can be costly, so compare their features to determine the best one for your needs. And take a look at the other GPS navigation options listed above. They might surprise you.
That's it for this article. Thanks for your time.