Does SCRAM GPS detect alcohol? Most DUI, repeat, or high-risk alcohol offenders get ordered to wear the SCRAM CAM (Continuous Alcohol Monitoring) bracelet to aid in their monitoring regimen.
However, the SCRAM CAM does not have a built-in GPS feature, so officers cannot track the offenders. But you can monitor these people using SCRAM GPS. So the question is, does SCRAM GPS detect alcohol?
Is it an all-in-one solution? Let's find out!
Table of Contents
What Is SCRAM GPS?
SCRAM GPS is an ankle monitor bracelet with built-in GPS to provide superior location accuracy when monitoring domestic violence, violence, or sex offenders.
A perpetrator wearing a tagged ankle bracelet 
The GPS feature enables real-time tracking, making the ankle bracelet the ideal alternative to incarceration when handling community corrections. Plus, it allows probation officers to supervise the offenders more effectively while ensuring public safety.
SCRAM GPS Features
This device has the following features to ensure effective location monitoring.
Anti-Tamper Technology
SCRAM GPS has a revolutionary anti-tamper technology consisting of a one-piece strap design that eliminates intermittent strap disruptions and false alerts. So the monitoring program will only receive genuine alerts with almost instant notifications to enable officers to act swiftly. 
Superior Location Technology
This SCRAM systems bracelet combines GPS for precise location tracking and A-GPS for faster location finding to deliver superior accuracy. Additionally, it features secondary location tracking using cell-tower triangulation, CDMA, and GSM.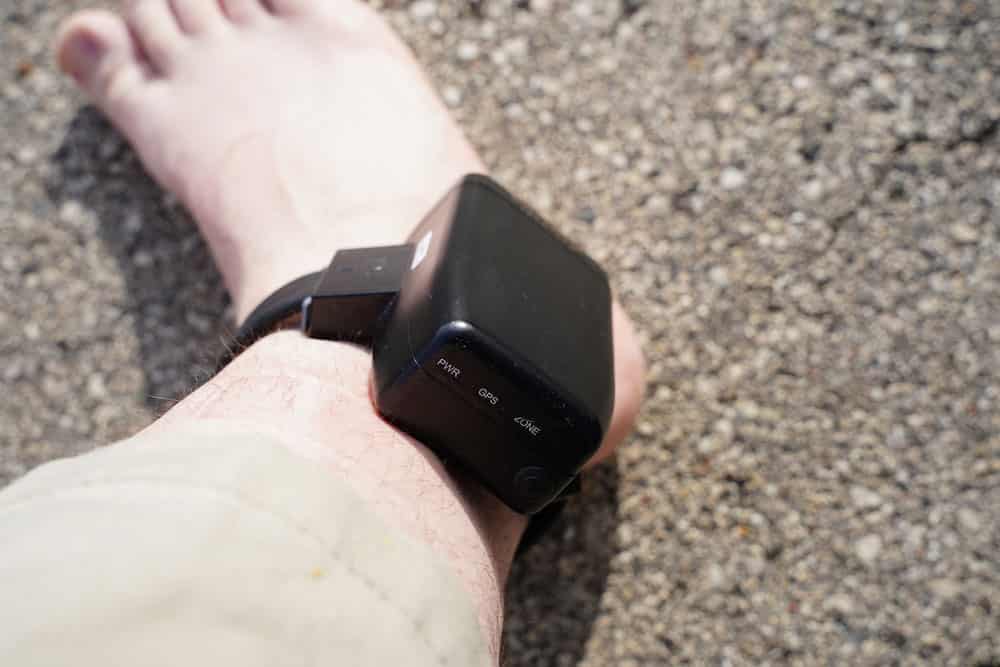 An up-close image of a GPS ankle bracelet
The new LTE (4G) tracker is even better because it adds on GLONASS GNSS system compatibility, bringing on board 24 additional satellites for better tracking.
Robust Design
With its slim, single-piece, waterproof, and shock-resistant design, the ankle bracelet is robust enough to resist damage from all fronts.
On top of that, it features a breakaway charger and a quick 30-second, tool-free installation procedure for easy installation.
Onboard Zone Storage
Server connections can go down due to network issues, but the ankle bracelet continuously monitors and records client movements in the onboard zone storage.
It resumes uploading once the internet connection comes back on.
A perp with an ankle bracelet
You can customize exclusion/inclusion zones to tailor the monitoring to suit the client risks and deliver optimal community safety.
Long Lasting Battery
Such a critical monitoring device should not die out after a few hours like a smartphone. This unit can last up to 40 hours on a single charge, which reduces low-power alerts and keeps the GPS receiver on when embarking on an aggressive tracking plan.
On-Body Charger
An on-body charger is essential because clients cannot remove the device from their ankles. So it helps promote compliance and charging on the go.
Optional Beacon
This optional beacon gives the bracelet an additional tracking layer using RF monitoring when in range. It reduces communication and location alerts using GPS to enhance battery life and performance.
How SCRAM GPS Works
The GPS analytics feature in this device takes the 1,440 location points the wearer generates in a day, refining them into easy-to-view information that officers can use to track movement and stop points.
Additionally, it integrates with Google Maps and Google Info. So it shows the wearer's exact location and plots the location points to put the movements into visual perspective.
How ankle bracelets do electronic monitoring
The map has options to view the plotted location points by day, week, or month, time spent at each location point, departure/arrival time, address, etc., for better analysis.
Also, officers can activate pursuit mode to track the wearer in real-time. This feature instructs the bracelet to transmit a location point every 15 seconds and plots the incoming data on a map to show the directional movement for faster apprehension.
Perpetrator electronic monitoring showing the person's location on a map
Since the device helps keep offenders away from victims, it would make sense if the victims received alerts if the offender came close. And it does so using the Scram Ally victim notification mobile app.
The victim needs to install this app and will receive a notification when the offender is in proximity. Also, the supervising authority will get this alert so that they come to the rescue.
Does SCRAM GPS Detect Alcohol?
No. From the device features listed above, you must have noticed that this ankle monitor lacks an alcohol monitoring program. If it would, there would be no point in having the CAM bracelet.
However, you can utilize both devices to have a continuous alcohol monitoring system with real-time tracking.
A GPS ankle bracelet providing real-time perpetrator tracking data
The SCRAM GPS ankle bracelet integrates with the alcohol monitoring program suite, allowing officers to access a client's CAM data with GPS tracking analytics and Google street view mapping.
How SCRAM CAM Detects Alcohol
SCRAM CAM tests alcohol levels through the skin. To understand how it works, let's take a step back to see what happens when you drink alcohol. Most of the liquor gets absorbed and metabolized in the body.
However, about 4% gets excreted via the kidneys and lungs, while 1% goes out through the skin as sweat.
The CAM bracelet conducts transdermal alcohol testing using an electrochemical fuel cell, which samples sweat every 30 seconds.
After each test, the device transmits the data to a wireless base station for storage and uploading to SCRAM Optix, the company's online monitoring software.
Electronic monitoring of alcohol levels using an ankle bracelet
Optix generates alerts for analysis if the alcohol levels are too high. The company's in-house trained analysts comb through the data and raise any violations to the supervising authority.
Conclusion
SCRAM GPS cannot detect alcohol. Instead, it handles SCRAM GPS analytics with Google mapping for continuous real-time tracking. However, the CAM bracelet does alcohol tests but without location-based services.
So you can combine the two to detect the location of drunkards for quick apprehension. Drop a comment below if you've used these devices, and let us know how they performed.