There's an extensive array of practical reasons boat internet is a must-have whenever you're sailing. 
For instance, it helps you find your way around the water body and communicate with people offshore. 
Hence, our guide today will discuss boat internet, its working principle, available options, and means of access. 
Table of Contents
Options to add internet to your boat
Let us find out which are the best options to provide boat internet. 
Boat Closer to Shore
Mobile Hotspot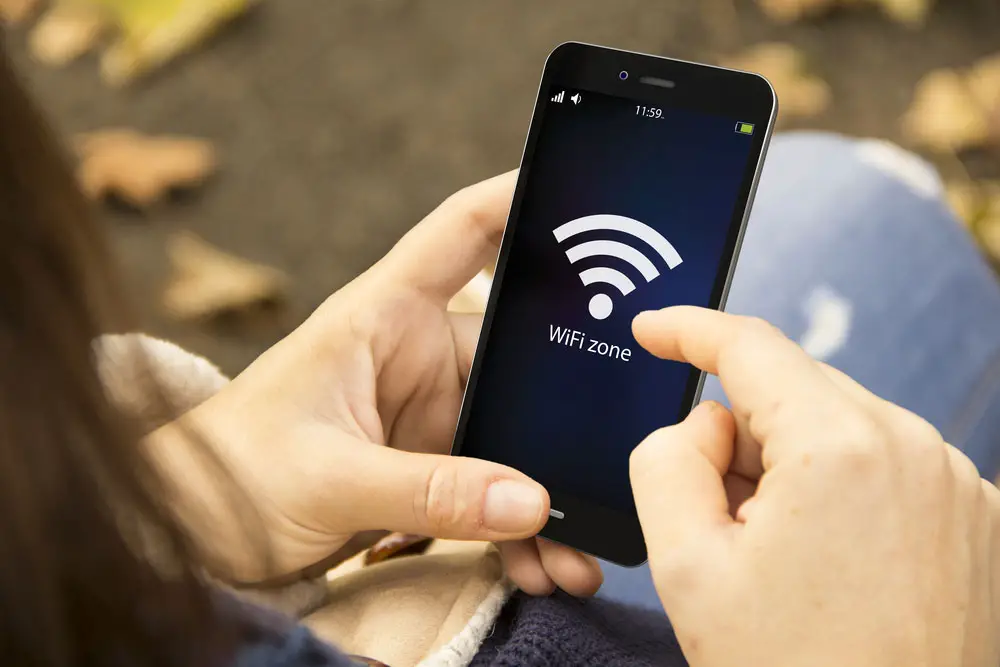 Mobile hotspot. 
Is your boat docked or close to the shore? You can conveniently provide internet for onboard devices by connecting to your phone's mobile hotspot.
In most areas, cellular internet is available near the coast, so you are guaranteed a strong connection when in your boat. 
The advantage of the mobile hotspot option is that it eliminates the reliance on land-based internet sources such as WiFi.
Also, mobile data is cheap, and if you're on a monthly internet plan, you can access internet services while in the sea at an affordable rate. 
But beware that your mobile hotspot network strength will depend on the service provider's signal quality. 
Public Wi-Fi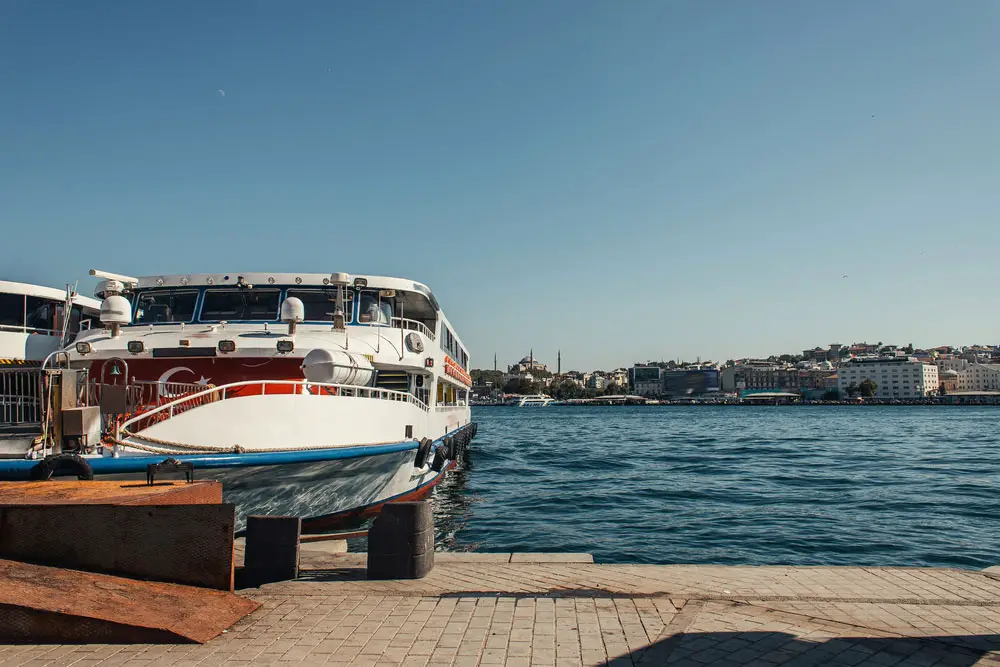 Accessing the Internet via WiFi. 
Again, if you're shore-boating or close to a resort, hotel, or marina, you can access the internet while on your boat by connecting to WiFi.
Nonetheless, most public WiFis have many people connected; hence the signal strength will be relatively poor. 
Hence, invest in a WiFi booster to improve the network quality. It will be useful if you move slightly further from the WiFi source. 
Boat on lakes and along shorelines
A vessel near shore. 
Cellular Data
You can also use cellular data to access the internet on the sea. 
Not to be confused with the mobile hotspot we discussed above, the cellular data option means you're accessing the web directly on your mobile device. Hence, you only need to buy internet bundles- a 15GB data plan is enough if you're not creating a hotspot. 
Cellular data is efficient and cheap as most shorelines and lakes are near land. Hence, the signal strength is excellent. 
Further Seas
A yacht deep in the sea. 
Satellite Internet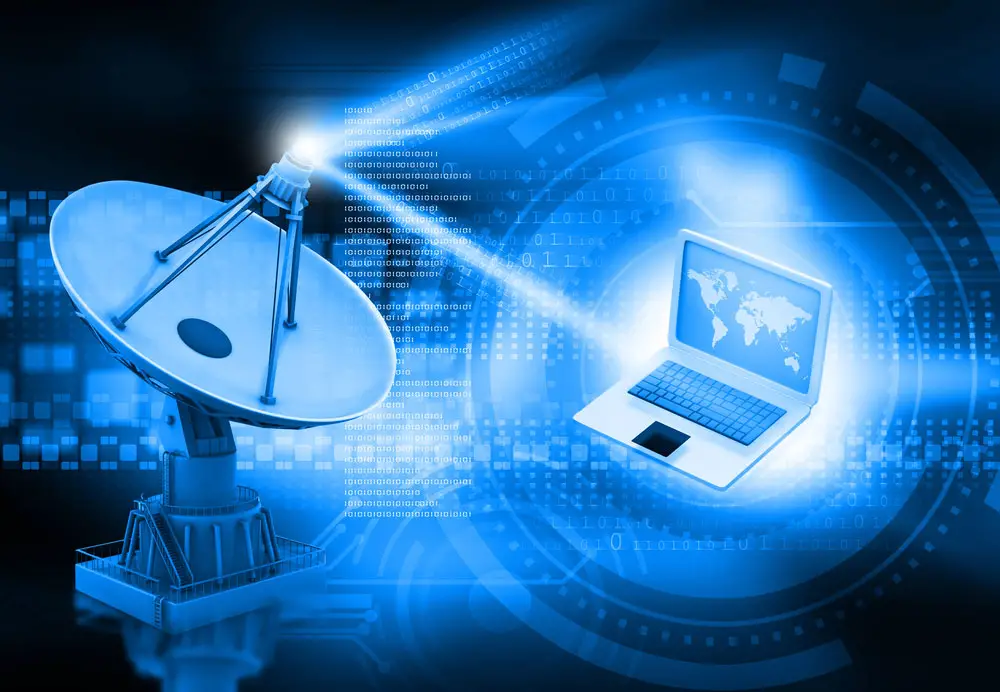 Satellite Dish Transmission Concept. 
It is a viable option when you are deep into the sea. Most of the internet services we've highlighted above will not work in such environments. 
Nonetheless, it is an expensive option as you primarily need to invest in infrastructure to support its access. The boat satellite internet packages are also quite pricey. 
One of the downsides of boat internet satellite is that it doesn't guarantee a stable signal.
Hence, the internet reception will be low in windy or stormy conditions. But it is arguably the best option while boating in deep seas. 
Broadband Global Area Network (BGAN)
It is the most viable alternative to the above option as it saves you the need to invest in a satellite receiver. 
This option enables you to manage the high infrastructural costs as you only need to invest in a BGAN device.
It will receive a satellite signal just like the mounted antenna in the erstwhile option, and you can also use it to create a mobile hotspot. 
The primary advantage of a BGAN is that it provides access to numerous satellites, guaranteeing a more stable connection. 
How to set up internet on your boat
Enjoying the internet in a yacht. 
BGAN
First, invest in a BGAN satellite phone, have an ISP agent configure it, and set it up ready to receive internet. 
Ideally, invest in a satellite phone that doubles as a modem and a WiFi router. After the setup, your device can readily connect to the internet. Hence, you can now use it to connect your mobile device or laptop while you're deep in the sea. 
Another advantage of the option is that rechargeable batteries power the device. Hence, you need enough to sustain your duration while in the sea. Also, it's linked to your phone number, ensuring you can purchase data plans from your regular ISP. 
Satellite Internet
Invest in a satellite terminal to establish a connection to the internet source. 
Next, ask a boat satellite tv expert to set up the system for you. 
To make the setup yourself, you must get the vital things right. For instance, ensure the satellite points to the equator for optimal signal reception. 
Next, use a coaxial cable to link the receiver to a modem from where you can use the internet on your laptop or mobile phone. 
Depending on your needs, you must also subscribe to an internet plan.  
Mobile Hotspot
First, subscribe to a data plan sufficient to meet your internet surfing needs. 
Next, select 'Settings' on your phone and choose 'Open Mobile Hotspot.' You may also need to create a password to prevent unauthorized access to the network. 
If your connection is still not strong enough, connect an internet booster to improve the signal quality. 
Public Wi-Fi
The setup process is simple, as all you need is to switch on your WiFi on your mobile device. 
If you're using protected WiFi, ask for the password from the provider (it could be a beach house or marina). 
Also, your signal might wane when you move away from the seashore. So it would be best to have a WiFi extender to strengthen the connection. Again, setting up the extender is easy, and the device is compatible with all public WiFi. 
Which boat is the WiFi/ Internet option best for you?
An old couple enjoys the internet on a yacht. 
If you're looking for boat internet accessible from anywhere worldwide, go for BGAN satellite internet. It's a portable option, but again, it's very pricey, especially with the acquisition costs of the devices. 
A mobile hotspot will also serve you well if you're close to the mainland or at any point in the sea with access to a cellular connection. It's also relatively cheap, especially on an unlimited data plan.
Lastly, public WiFi is viable if you're near a shoreline/building with WiFi. 
The bottom line is that all the above options are viable, but you must choose the reliable one depending on where you are. 
How Much data do I need on a Boat?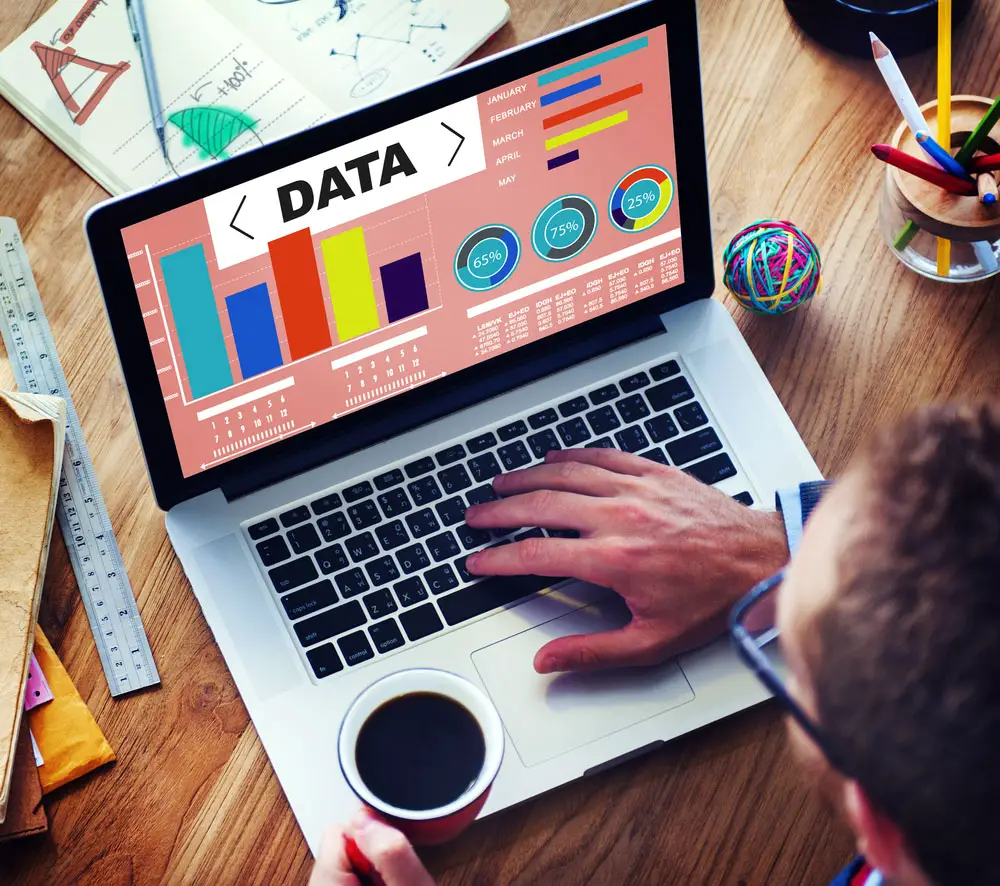 Data Plan Concept. 
Your data requirement depends on what you intend to do with the internet. For instance, a cheap internet plan will be sufficient for basic browsing, navigation, and messaging. 
Nonetheless, if you are on data-intensive activities such as working remotely or video streaming, you will need quite a high data investment. 
Conclusion
Boating is now more fun than ever, considering you can always connect to the internet even while deep in the seas. 
Above, we have provided reliable means to access the internet on your boat. Now you have all it takes to navigate the waters while streaming your favorite TV show.