Everyone dreads getting caught up in a traffic jam as it's both time-wasting and mentally draining. Thus, having real-time traffic information is priceless. Fortunately, we can get weather forecasts, custom maps, and other additional features in this era if we have an internet connection. Here is where having the best smartphone GPS app comes in handy. In our guide today, we'll explore some of the best phone navigation apps that provide real-time updates on the condition of our roads. 
Table of Contents
10 Best SmartPhone GPS Applications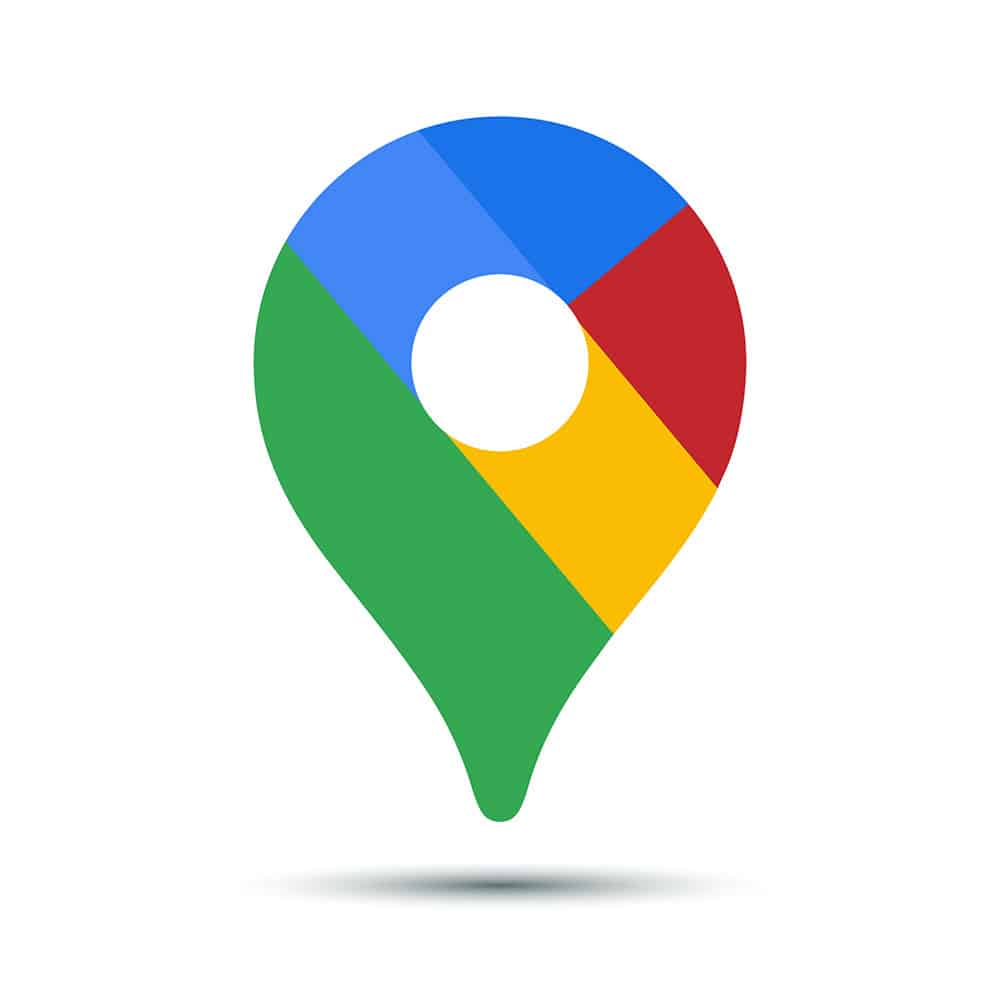 Google Maps. 
It's the best smartphone GPS app that gives you real-time traffic data free of charge. Moreover, it also allows you to download offline maps for use when there is no internet connection. 
Pros
First, Google Maps is offline and offers real-time traffic updates. 
Google maps also work perfectly irrespective of your mode of transport. Besides, the application has an excellent user interface; no wonder it's popular with most Android device users. 
Thirdly, Google Maps will also provide voice guidance. Thus the application will guide you to reroute in case there's a traffic snarl-up resulting from an accident or road closure.
Lastly, it'll also provide you with the departure and arrival time if you use it while driving.  
Cons
Using the app can significantly affect your battery life. Google GPS is renowned for impacting battery power, especially if you use it all day. 
The app also doesn't allow social media sharing, a feature for most other navigation applications.  
Thirdly, Google Maps is prone to misguiding users on exits, especially in remote areas or unmapped regions. 
Besides, its alternate routes can be lengthier than the original ones, especially if you make a wrong turn. 
Waze Icon Location GPS Symbol. 
It is also a smartphone GPS app by Google that is more interactive than Google Maps. It operates through crowdsourcing traffic data on a real-time basis. 
Pros
It relays real-time alerts on existing road hazards and the condition of roads. Thus, the application allows you to choose the most efficient route for your trip. 
Further, Waze features community editors who constantly update its maps and routes. 
It's also an interactive platform for android devices where users can share even the current gas prices. 
The app has the AI property; thus, with long-term use, it makes more efficient suggestions to reach your favorite locations. 
Cons
You may find the app's real-time sound notification updates to be nagging as they are numerous.
Besides, you require a cellular connection to receive the updates. 
Lastly, the app may cause abnormal mobile device battery drain because of the constant updates. 
It is among the oldest mapping apps that were conventionally in desktop format. Today, it operates like any other IOS & Android navigation app. 
Pros
It primarily provides you with driving directions and maps. However, it also provides traffic updates and turn-by-turn navigation services. 
The app also has a live camera feature that lets you observe the road behind you. 
Thirdly, the app gives you a traffic bar that offers real-time data on the route progress and flow. 
Besides you can also use the app to book a hotel, compare gas prices, and reserve a restaurant space. 
Cons
Despite being among the best smartphone GPS apps, Its map size is relatively tiny, so you may need help deciphering the fine details. 
You're also likely to find its regular updates and notifications nagging.
Moreover, it also features frequent pop-up ads that can be quite a nuisance. 
It doesn't give offline mapping data, so you must have a cellular connection.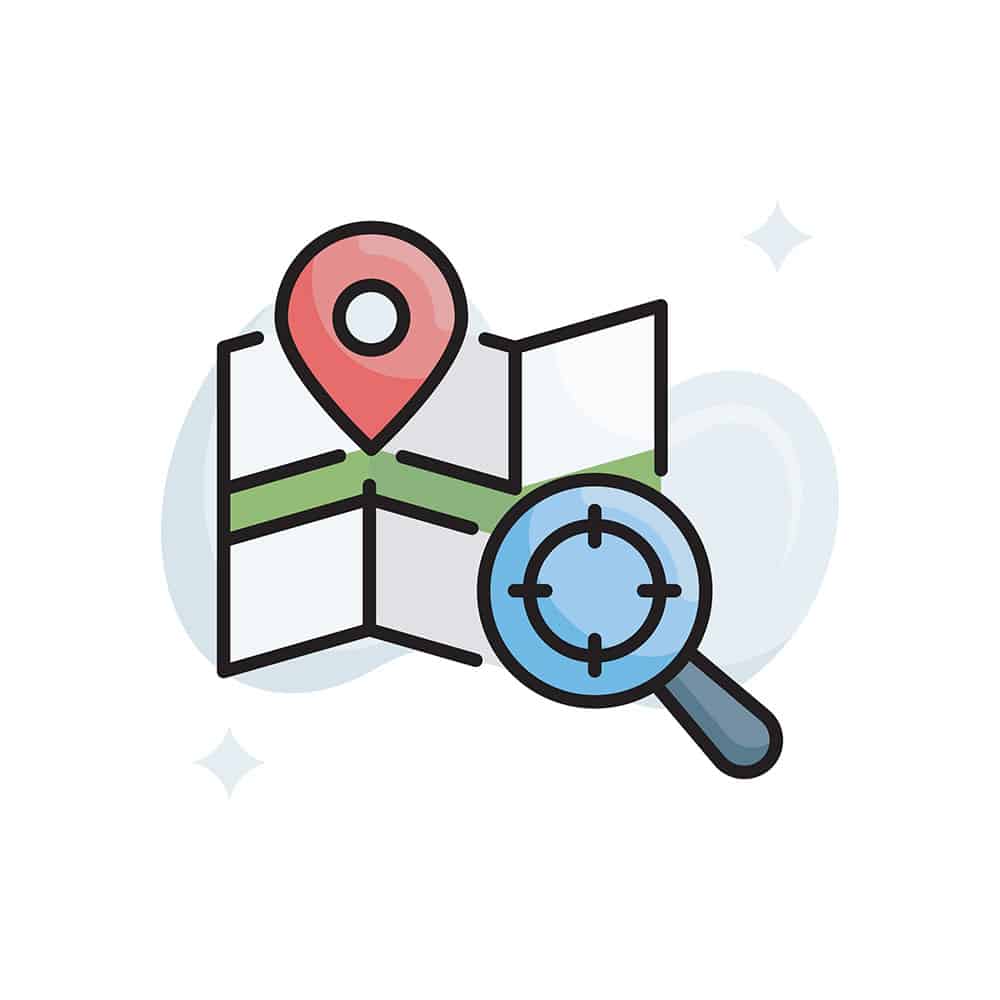 A map search vector. 
If you love traveling to different parts of the world, this is the smartphone GPS app for you. It features worldwide high-quality maps to ease your navigation wherever you are. 
Pros
It gives you the auto-follow mode enabling you to navigate unknown places easily. 
Also, you don't necessarily need a data connection to use it, as it allows full offline functionality. So good is the app that you can still find a hotel or ATM while in this mode. 
Besides, it enables you to share your location when in online mode. 
It barely drains your phone battery as it primarily operates offline. 
Cons
Its UI is also not so friendly, and sometimes the maps load slowly, especially when receiving updates.
Also, operating offline has downsides, such as a lack of regular business updates on its maps. 
Polaris GPS Navigation
Polaris GPS has a compass feature. 
It is the ideal water navigation app and, thus, a must-have for all travel and adventure enthusiasts. Below are some of the top features of Polaris GPS Navigation. 
Pros
It is a crowdsourcing traffic app that will obtain real-time traffic data from existing navigation services. 
It also operates offline and is ideal for navigation and outdoor activities, even in remote locations. 
Further, you can easily download maps with the app
It also features a compass to facilitate waypoint navigation. 
Cons
It is not the ideal app for day-to-day activities like Google Maps. Thus, you may still have to have a complimentary application on your device. 
Besides, its UI is also not so friendly, especially if you're interacting with the application for the first time. 
Lastly, the app features a premium subscription version offering better features. However, this comes at a price.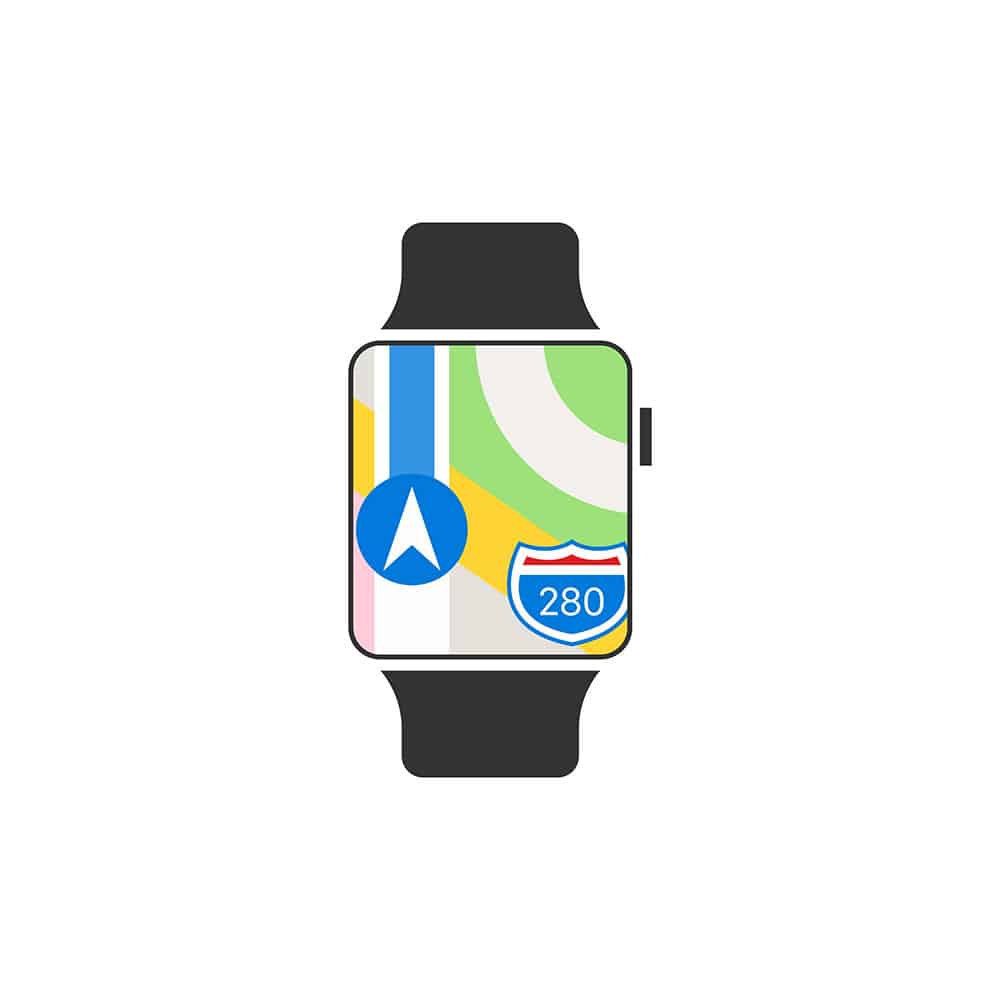 Apple maps. 
As the name suggests, it's specific to Apple devices such as iPhones. However, it resembles Google Maps in almost all aspects, making it rank top among the most helpful smartphone GPS apps. 
Pros
It has outstanding features such as voice navigation and the ability to detect the shortest route to your destination. 
Also, Apple Maps are more sophisticated than the average one. They feature a 3D view (even for buildings), thus easing navigation. 
Further, the tool informs you of the lane you need to take while out on the road driving. 
You will also access a flyover tool that provides an aerial overview of your surroundings. 
Lastly, the app gives air and weather quality to the surroundings.  
Cons
Its exit directions may need to be more accurate, especially for remote areas. 
The maps are also unavailable for offline use. So it would be best if you always had an internet connection. 
The 'Look Around street view' property has yet to map the entire US. Also, you cannot access the feature worldwide as it's limited to just five countries.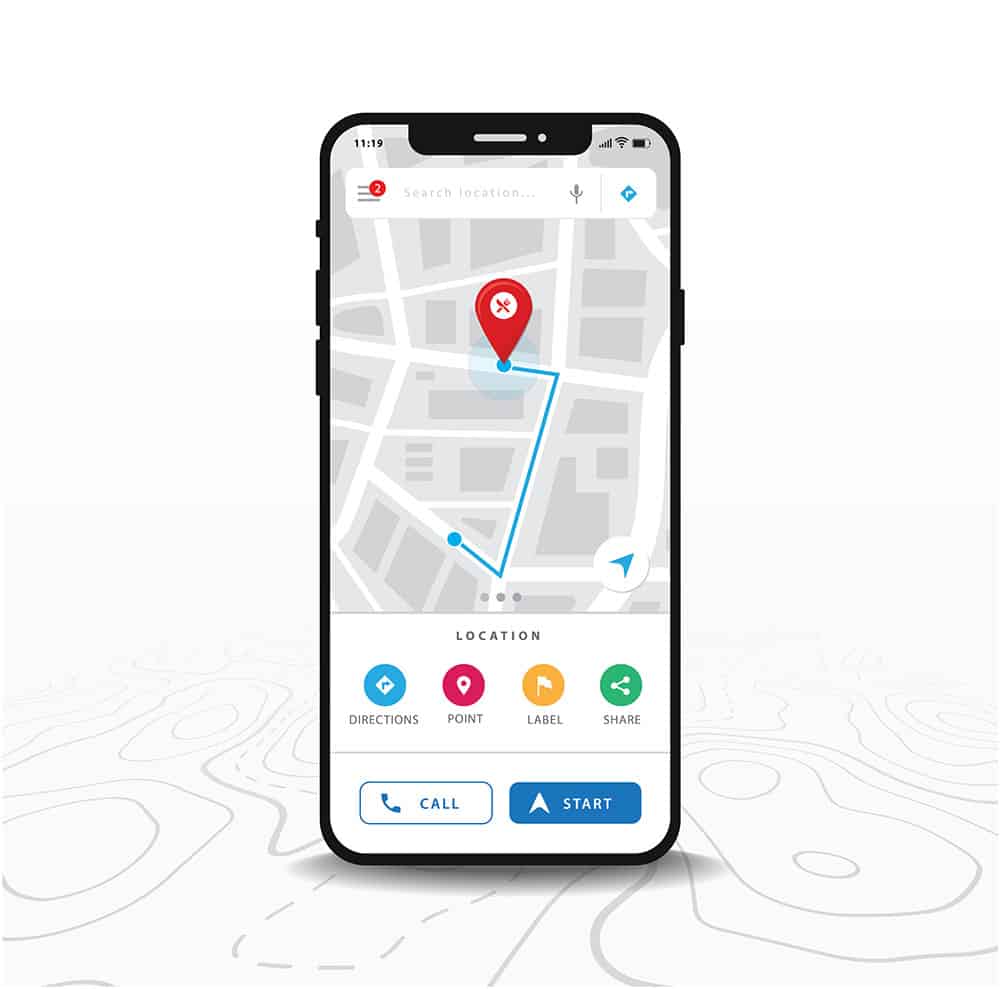 Maps GPS Navigation. 
It's the best smartphone GPS app for route planning, especially for RVs, small cars, and trucks. 
Pros
You can easily customize the app depending on your vehicle.
Again, you can use the app in offline mode to find hotels and restaurants. 
It has premium features that include 3D Maps, an audio navigation capacity, and traffic data on the roads. 
Lastly, you can use it at any place worldwide. All you need is to subscribe to the worldwide use package. 
Cons
The subscription costs are high for access to basic features like 3D maps. 
Also, some users are concerned that the app is hard to customize for large vehicles. 
A table PC with GPS Navigation. 
It's the best smartphone GPS offline navigation app. Its fundamental features include the ability to provide maps for almost all world parts. 
Pros
It applies the OpenStreetMap data, contributing immensely to an extensive database of points of interest. 
Secondly, it grants voice turn-by-turn navigation in various languages, thus suiting use in different world parts.
Lastly, Its map coverage spans more than 200 countries. 
Cons
The app's traffic data is not current and thus may misguide the user. 
Also, the voice navigation feature is prone to frequent crashes. 
Lastly, while it offers premium features, they come at a cost.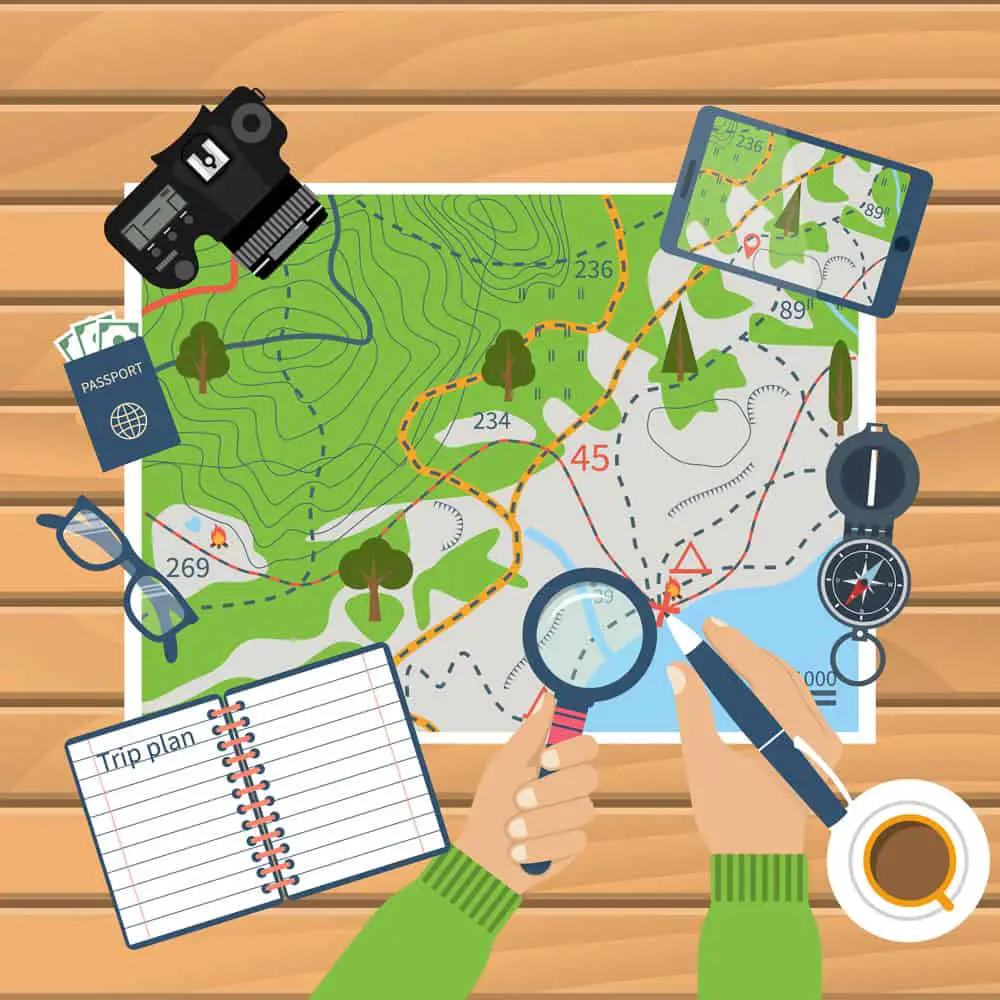 A table with a map and tourist equipment plan to travel.
It's the best smartphone GPS app for social navigation, and true to its name, it's the ideal scouting application. 
Pros
It gives real-time updates on the traffic situation
The app is also renowned for its effectiveness in highlighting the location of social amenities like restaurants. 
Besides, the application provides notifications to your chosen contacts on your expected arrival time. 
Again, it lets you know when to expect your friends to arrive at your location. 
Cons
While it has a free basic version, the premium version is quite pricey, at approximately $24.99 per annum. 
The app constantly runs as it updates. Hence, it will likely drain your battery quite fast. 
Information-sharing also raises safety and privacy concerns, especially when sharing data with strangers. 
Lastly, it may not provide accurate notifications regarding traffic congestion.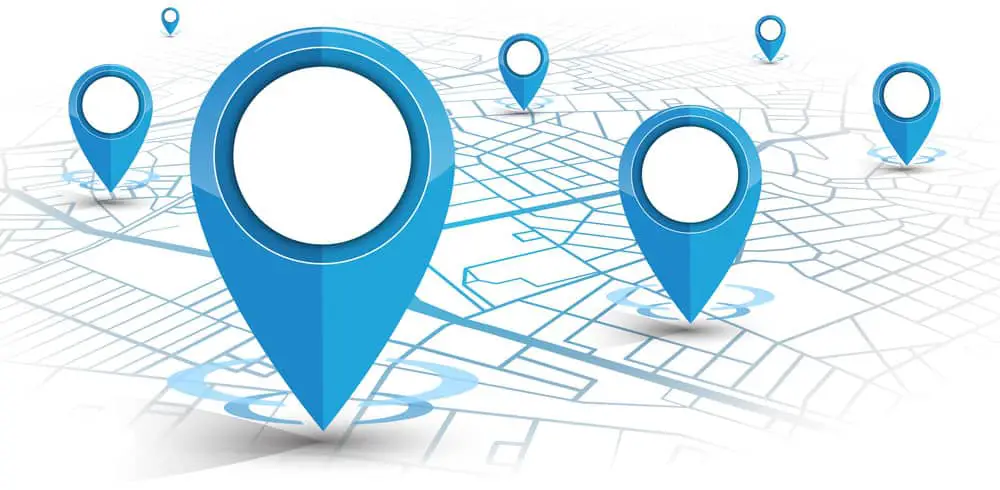 A GPS Navigator symbol. 
It is fundamentally a map app that relies on OpenStreetMap data to furnish its users with info. 
Pros
You can use it anytime, even when you don't have an internet connection. 
It also enables users to upload GPX files for use during their navigation.
Furthermore, the app is the perfect guide for cyclists as it features lane and voice guidance properties. 
Again, if you're a skiing enthusiast, this should be your go-to app thanks to its plugin feature that enables movement in remote areas. 
Cons
You may prefer to avoid its user interface as it is hard to locate various features within the app. 
Its 'address search' feature is also underdeveloped and thus can be frustrating to use. 
Summary
There are many apps in mobile stores, and we have highlighted some of the best for your traveling. Most of the apps we've covered are the best GPS apps for android devices. But, if you're looking for the best ios GPS app, Apple Maps got you covered. That's all on the best smartphone GPS app. But for inquiries, don't hesitate to contact us anytime.