Best Motorcycle GPS Trackers, Motorcycles are smaller than cars and can easily get stolen if you ignore their safety. As such, most of us are always uneasy whenever we leave them on the street.
However, that should change with more sophisticated GPS tracking devices. 
In today's article, we're highlighting some of the best GPS trackers for motorcycles. Also, we'll be looking at the best GPS app for motorcycles and why it suits you best.  
Table of Contents
5 Best Motorcycle GPS Trackers
Here are the best motorcycle GPS systems and trackers.
(Close-up navigation GPS screen on a motorbike)
Spytec GPS tracker is a lightweight device that easily ranks high among the best in the business. The tracker is compact, has amazing performance, and allows you to customize your geofences. Additionally, the device has an SOS button just in case you are in an emergency and need help. 
Furthermore, Spytec GPS works with Google Maps and allows you to access it from your phone or PC. And what's appealing about this tracker is its small appearance despite packing a battery with an excellent range. 
No GPS tracker can match Americaloc GL300W's flexible and easy-to-setup custom route tracking. The tracker stores your tracking data for as long as a year. You can search route data, activities, and times your motorcycle went beyond the geofence when necessary. 
Additionally, you can configure it to give you near real-time location updates every 10, 30, or 60 seconds. However, the device has a weak battery that drains faster with more usage and higher update frequency.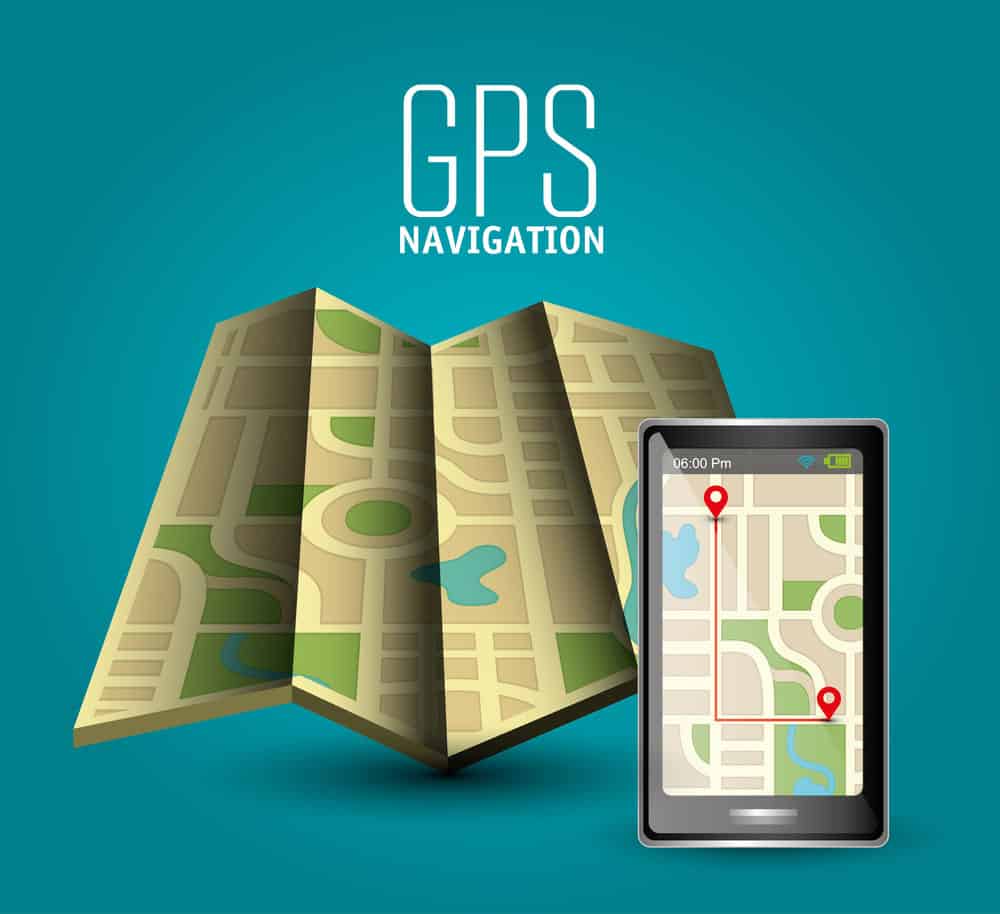 (GPS navigation design)
The Optimus 3.0 GPS tracker works perfectly for motorcycle use due to its dual magnet case. To install this tracker, attach it to a metallic part of your motorcycle. 
Moreover, it has an inbuilt Optimus motion sensor that lowers battery usage when not tracking. Other features include geofencing, speed control, and low battery alerts.
The Amcrest GPS GL300 is one of the best GPS motorcycle trackers due to its waterproof rating and long-lasting battery. The sleek and compact design makes it highly concealable. 
Also, you can enjoy 5-second real-time location updates to ensure you know where your motorcycle is at all times. Other tracker features include geofencing, speed limit alerts, and proximity alerts.  
If you're looking for a low-maintenance GPS tracker for a motorcycle, the Trak-4 GPS Tracker is for you. It's a user-friendly tracking device that works without any activation fee.  
Its long-lasting battery can last more than a year with a lower ping rate. Furthermore, it comes with a sturdy case that withstands adverse weather conditions. 
Considerations While Buying The Best GPS for Motorcycle
(A rider using a phone for navigation)
GPS trackers can differ significantly, with some offering better features than others. Alternatively, some have fewer features but are more robust than others.
As such, here's a brief look into what you should consider while shopping for a GPS tracker. 
Real-time Tracking and Connectivity
Go for a GPS tracker that provides real-time updates, especially while you're on the road. It should monitor your location and movement and relay the same information to you or your partner.
Additionally, a good GPS tracker gives regular location updates that may help track your motorcycle in case someone steals it. 
Modern Technology
Technology is growing at an exponential rate. Therefore, GPS manufacturers are adding more helpful features at affordable prices.
Remember, what was top-notch a decade ago will struggle against modern-day trackers. Always go for the latest versions of most premium GPS trackers.
Robustness and Durability
(A classic chopper motorcycle)
Unlike car trackers safely hidden within, motorcycle trackers have to bear the brunt of harsh environments.
Consequently, go for trackers that are not only tough but also very robust. 
Geofencing
Geofencing is a GPS tool that allows you to create a virtual fence for your motorcycle.
Therefore, you'll receive prompt notifications whenever your motorcycle leaves the virtual fence.
Battery Life
A GPS tracker with a battery life that's enough to sustain it for several weeks or months is ideal.
It is more so if you are planning a long-distance trip and would like to reduce the number of times you'll spend recharging it. 
Ease of Installation
Most people prefer motorcycle GPS trackers that are easy to install.
Generally, you'll find that wireless GPS trackers with magnetic cases do not need complex installations. 
The Best GPS App for Motorcycles
(A person using a GPS app)
There are a ton of motorcycle GPS apps across the Android and iOS platforms. Generally, some of the best GPS apps for motorcycles include:
My-Route App: It's available both on iOS and Android. Additionally, it allows for historical reporting, route planning, mobile tracking, and GPS tracking. 
Rever: It's available both on iOS and Android. It grants you access to thousands of pre-planned routes other REVERs have taken and shared. Furthermore, it allows you to discover routes and integrate with CarPlay. Also, you activate voice-guided navigation.
Other excellent motorcycle apps include Calimoto, Google Maps, AA Route Finder, and Best Biking Roads. 
Benefits of A Motorcycle GPS Tracker
Here are some reasons you should buy a GPS tracker for your motorcycle. 
The first is security since you'll get a notification about your motorcycle's location in case of a theft. Additionally, you'll have peace of mind knowing that your motorcycle is safe. 
Furthermore, you can enjoy riding your motorcycle by planning your routes using your GPS tracker for easier navigation. Also, some GPS trackers monitor the performance of your motorcycle and notify you when it requires maintenance. 
Lastly, GPS trackers improve safety as you'll get real-time traffic hazard alerts and updates. 
FAQs
What's the best motorcycle GPS tracker?
Spytec GL300 GPS tracker is the best overall GPS tracker for motorcycles. It has SOS buttons for emergencies and uses fast technology to provide regular location updates. 
Why use a GPS tracker and not a GPS app?
GPS trackers have dedicated tracking chips and are more accurate than the apps. Additionally, the tracker is tamper-proof and has a longer-lasting battery.  
Is a motorcycle GPS tracker worth it?
Yes. GPS trackers are important for navigation and security. Therefore, you won't regret buying a tracker for your motorcycle. 
Final Remarks
In conclusion, GPS trackers are getting increasingly sophisticated with technological advancement. Nowadays, trackers rely on state-of-the-art technologies to guide you to your destination. 
And they're getting cheaper, so don't worry too much about the cost. Furthermore, you can enjoy geofencing, roadside assistance, and SOS emergency features. 
Finally, feel free to reach out to us for clarification or comments.