A dependable GPS watch is a big plus for any military officer or anyone trying to navigate unknown terrain. Nonetheless, you might need help settling on a particular one as there are many choices in the market.
We want to simplify your decision-making by bringing the best military GPS watches. We'll also highlight what you need to consider when choosing a suitable tactical watch. Let's get started!
Table of Contents
Factors to Consider When Selecting the Best Military GPS Timepiece
When choosing a military GPS watch, there are several key factors to consider:
Ruggedness
Military work/hiking is demanding, so the ideal tactical watch should withstand harsh conditions. Thus, when looking for a rugged military watch, check if it has the following properties: 
It should be durable and capable of operating in states of shock.
Also, the tactical watch should be scratch resistant. It should further have water resistance and should be hard to break down. 
GPS
A tactical watch with GPS will be a great addition as it assists you in finding your way around the remotest parts of your hike. So, that should be a top consideration for any military watch; luckily, most contemporary types have the feature. 
A military watch 
Design
The design matters, too, for a military watch. You may opt to go for neutral-colored watches such as silver or green. Alternatively, you can go for those that feature interchangeable bands if you're keen on customizing your watch. 
The bottom line is that the ideal military watch should have a design that matches its primary role- use in military expeditions. 
Battery Life
On battery life, you might have to trade between a watch with and without a GPS. A military watch without GPS will have a longer battery life- primarily because the feature consumes a considerable amount of energy. You can still go for a GPS watch with solar rechargeable batteries. 
Alternatively, you can go for one without GPS, as it'll have many other advanced properties.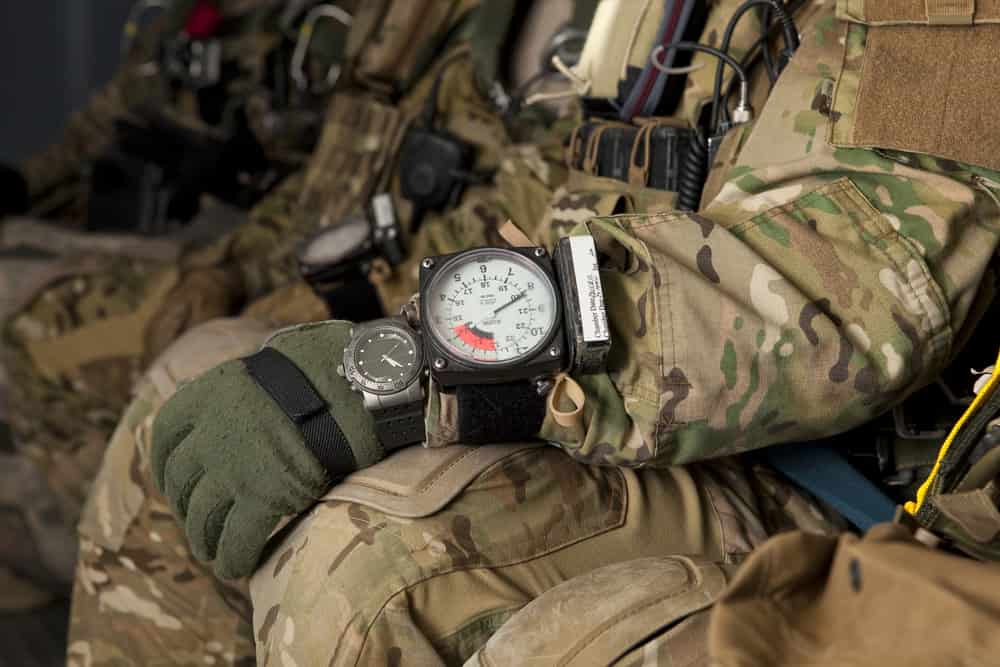 A soldier with a military watch 
Tactical Properties
Look out for a watch that features essential navigation and prediction capabilities. For instance, it should have basic tactical watch properties such as an altimeter and a 3-axis compass. Such features ensure you're well-equipped in the field, even under demanding conditions. 
Top 8 Military-grade GPS Watches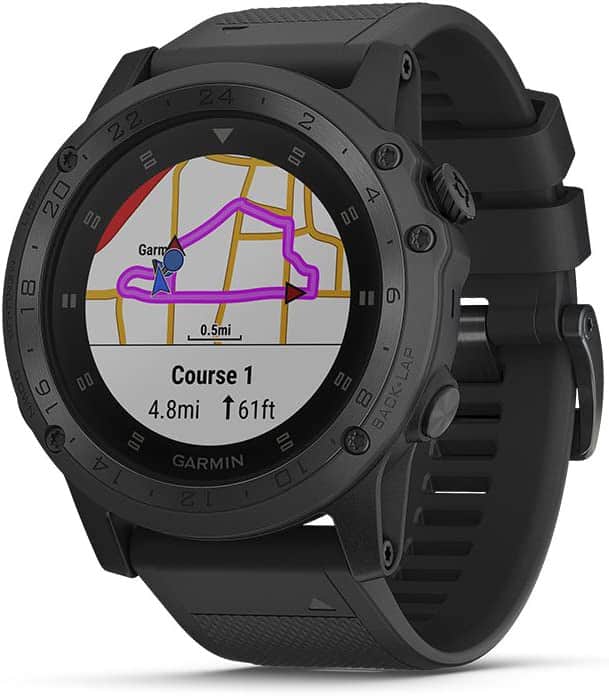 It is one of the best GPS watches in durability and versatility. It is also renowned for the following features. 
It comes with a high-resolution lens that allows you to read the watch even when exposed to sunlight. 
It's also the typical military watch thanks to its outstanding properties, like the dual-position GPS formatting. 
Again, it features a gyroscope, which can sense tilts, and it's also equipped with other navigation features such as an altimeter and barometer. 
Lastly, it features a long-lasting battery with a battery life of approximately 12 days and 35 hours while in the smartwatch and UltraTrac battery saver modes, respectively. 
It ranks among the top Military watch models thanks to its exquisite functionality and durability. It also comes with loads of exemplary features, such as the following: 
The watch's UI is great, and the device's overall design is also classy. 
Its battery can last longer than many other tactical watches, and you can also replace it if it goes low. 
Again, it's the ideal watch for snorkeling enthusiasts thanks to its depth meter property. It also means that it can operate underwater without damage. 
Moreover, its storm alarm can detect and alert you to pressure changes.
Also, the watch is renowned for its wide range of features, such as a 3-axis compass, barometric altimeter, and thermometer. 
Its manufacturer is a big name in the watch-making arena; thus, one of the primary properties you're assured of with this model is durability and exquisite ruggedness. Its other features include the following:
It has an analog display and an attractive case with a grip to ensure that it firmly attaches to your arm. 
Moreover, the watch comes with loads of advanced digital properties, such as the ability to give the bearing and current temperature. 
It is compatible with your smartphone (through pairing), thus making it a handy accompaniment for your trekking expeditions. 
Lastly, it's a versatile military watch, which you can still use during hiking and camping.  
The Casio Rangeman GW9400-3 is a rugged and durable watch, perfect for outdoor enthusiasts who need a reliable timepiece. This incredible watch grants you the following features:
Built with tough materials, it can withstand shock and abrasion. Still, you can easily press it even while wearing gloves.
The watch features a triple sensor technology with an altimeter, barometer, and thermometer to aid navigation and weather prediction.
It also has a solar-rechargeable battery lasting eight months without light exposure.
It includes a countdown timer, stopwatch, and backlight with afterglow. The Casio Rangeman GW9400-3 is an excellent military watch with many useful features.
Are you an outdoor enthusiast looking for the military watch that best suits your cause? Look no further than the Suunto Traverse Alpha. It also comes with the following superb properties:
It has a GPS feature, thus capable of mapping the coordinates of places you've visited. And this is imperative in finding your way if you get lost on the trail. 
It also allows its users to check their progress thanks to the Movescount app. 
Again, it has a long-lasting battery that goes for about 14 days. Furthermore, the battery can serve you for about ten to a hundred hours while in GPS Mode. 
Lastly, it's the best watch for fishing and angling lovers primarily due to its moon phase calendar. This feature allows you to determine the ideal fishing period. 
The "Garmin Fenix 5X Plus" is a top-notch multisport watch with many features.
It can monitor your heart rate and has color Topo maps for finding the best paths. It also has a Pulse Ox sensor that helps with altitude acclimation.
The watch can store and play 500 songs and allows connecting to Bluetooth headphones.
The battery performance is top-notch and can last 20 days while in "smartwatch mode."
When in "GPS mode" with audio playback, its battery can last approximately 13 hours.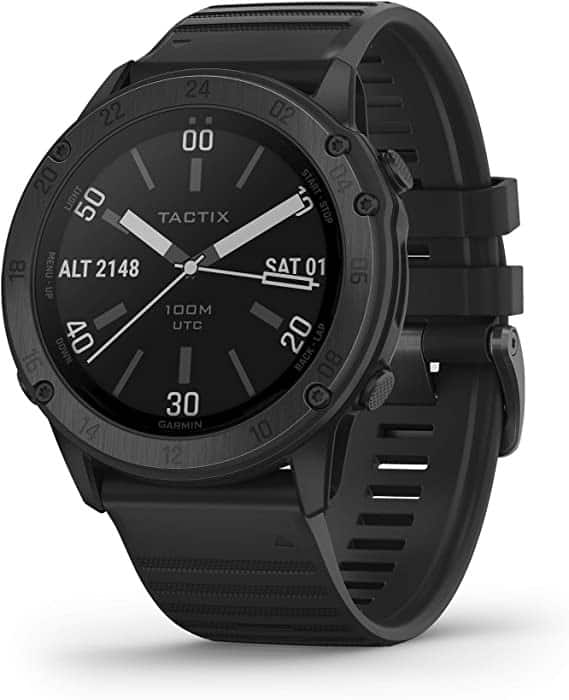 It is a GPS-tracking watch whose features are suitable for military fanatics thanks to its extensive range of features:
The Garmin Tactix Delta has good military features, such as a durable case and a DLC-coated steel bezel.
Also, for maximum durability, the lens has Sapphire glass. The watch comes with a silicone strap compatible with the QuickFit system, allowing you to change the belt easily.
It has built-in GPS, Galileo, and GLONASS support and offers various tactical features like MGRS format coordinates, navigation, and jumpmaster mode.
Further, It can track your activities and provides in-depth information in the Connect app.
Additionally, it supports modes like running and swimming and shows phone notifications when paired.
The Garmin Instinct 2 is arguably one of the best devices for operating under such conditions. It also comes equipped with other properties that we'll elaborate on below. 
The manufacturer chemically reinforces the watch screen, making it ideal for tough environments. 
You also use it for exercising as it has suitable features like a heart rate monitor and a point-to-point navigation system. 
The Garmin Instinct 2 is a tremendous multisport watch that can stay in top condition while operating under harsh environments and extreme weather.
Again, it employs simplicity in the appearance of its navigation system, making it easy to use for everyone. 
Lastly, the watch is affordable yet has a load of advanced features. 
Summary
Finding the best military GPS watch can be a daunting task. However, with these models, staying on top of your navigation game is easier. Whether a seasoned veteran or a first-time buyer, you can find a model that meets your needs and exceeds your expectations.
Don't settle for anything less than the best regarding military GPS watches. Invest in one of these top-rated models and experience the ultimate in navigation technology.