Experience the great outdoors like never before with the best hiking GPS app for tracking and navigation. With detailed trail maps and accurate GPS tracking, these apps will make navigating your next hike a breeze.
They also provide essential information such as waypoints, trail guides, popular hikes, distance, and elevation to enhance your hiking experience. Hence for more, stay on course and discover new trails with our popular hiking apps guide.
Table of Contents
What Are the Reasons for Utilizing Apps for Hikers?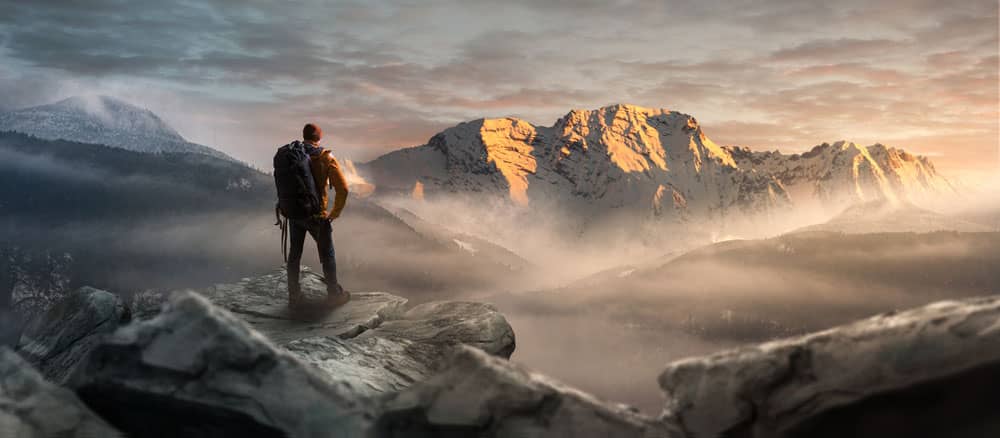 A Hiker on a Mountainous Trail. 
Here are some reasons hiking maps are valuable to the hiking community.
Hiking apps come in handy in helping you to the trailhead and keeping you on course. It is especially useful in areas with poor cell service.
Some apps even feature a voice navigation feature to guide you even when you're not looking at the device. Thus, they are among the vital hiking essentials.
Discovery
With apps like All Trails, you can uncover hidden gems worldwide. It's like having a personal tour guide for your next adventure.
Even advanced hikers would like to discover more trails, and nothing provides detailed directions on this better than an app for hikers.
Trail Information
Hiking apps provide you with the inside scoop. You can learn about the area from trail history to recent reviews before you even set foot on the trail.
You can also check out photos and trail status. Hence, having a hiking app is akin to walking with a personal guide by your side.
Learn
Think of your smartphone as your outdoor guide. Hence, as you enjoy outdoor recreation, you can learn about the plants, animals, and stars you encounter on your hike.
It's like having a naturalist in your pocket to guide you even on distance trails.
Keeping memories of hikes
Hiking apps can help you keep track of all the popular trails, hiking routes, and beautiful places you've previously visited.
Hence, with the ability to save and label your hikes, you'll never forget a favorite trail again. Moreover, some apps have vital features, such as saving safety contacts.
Thus, as you plan your next outdoor adventure, you must have a GPS hiking app.
12 Top GPS Apps for Hiking in 2023
Gaia GPS is a highly-rated hiking app that provides the following critical features for navigation.
You can use it to discover new trails and keep track of your hike stats
The app is also a handful in recording your journey.
It even gives you weather updates and helps you find camping spots.
The app is available in both free and premium versions. The no-expense version provides access to basic features like topographic and satellite maps. But, experienced hikers looking for premium features will have to spend $39.99 annually.
All Trails is a user-friendly hiking app to help discover new trails and save hikes. It also comes with other perks like the following:
It provides information about the trail's history, current status, and conditions to help you prepare for your hike.
Additionally, it allows you to compete with friends and fellow hikers for added motivation.
Also, you have the option for the advanced version, which allows you to save maps for offline use and receive alerts if you deviate from the designated path. The pro version of the app is available for $29.99.
If you like hiking in mountainous areas or doing mountain biking, PeakVisor suits you perfectly thanks to its features:
The app lets you identify the mountain peak in real time by pointing your camera at it.
Also, you can upload pictures of mountains, and the app will tell you the name of the peaks.
Avenza Maps is a top-rated GPS hiking app, considered by many to be among the best for the following reasons:
It's great for hiking because of its extensive map coverage and the ability to download maps for offline use.
The application allows you to monitor your current GPS location even when disconnected from the internet.
It also saves records of your GPS hikes, including photographs and notes linked to a specific location.
Although the app is free, some features may require in-app purchases.
Google Maps is a widely used app that many hikers already have, but they may not utilize its full capabilities.
One of the most advantageous characteristics of the application for hikers is the capability to pre-load maps while not connected to the internet. Thus, it guarantees the ability to find one's way on the hiking path, even when losing network connectivity.
With GPS still working offline, you can utilize Google Maps for directions with the map you previously saved.
Again, this app is available for iOS and Android and is an excellent free hiking GPS app.
Spyglass is a hiking app with additional capabilities such as a projected display, an enhanced reality feature, and a rangefinder.
The enhanced reality functionality enables the capability to monitor things in real-time and identify the exact location of any point on the map.
Secondly, the application comprises trail pictures and offers tactical GPS choices, including coordinates for use by civilians and military personnel.
The weakness of the app is its steep learning curve for new users. Also, it has the best experience on an iPad, which is not the most practical option for the trial.
Cairn is an app designed to keep you safe on hiking trails.
First, it allows sharing your path and GPS location with loved ones and the option to pre-load maps for offline use.
It also delivers current location and progress updates in real-time, so your loved ones can keep track of your whereabouts and safety.
The "free version" grants access to fundamental capabilities such as cell coverage, trails, and maps when you have service.
Moreover, the app grants users a 60-Day free trial and is also available to Android and iOS users. 
Guthook Guides
Guthook Guides is popular among backpackers or long-distance hikers thanks to the following features.
The app provides info on the campsite, water sources, distance, and waypoint data. Moreover, it is available for Android and iOS smartphones.
Again, Guthook Guides is a free hiking GPS app, although you need to purchase the guides.
The cost of these hiking guides varies from $4.99 to $59.99 based on the trail distance, which is quite affordable.
Hiking Project is an application for hikers that is generated by the collective contributions of its users and is also exceptional for providing ideas.
Like AllTrails, it offers notable points of interest identified as "Gems" within the application.
The app allows you to look for hikes by noteworthy locations, making it easy to find the hike that fits your preferences.
With hikes primarily located in Canada and the United States, the app offers the ability to view statistics by state and trails that are ranked by popularity.
The app is available for both iOS and Android and is free to use.
You will appreciate this application if you're in the US and a national park fan. National Park units provide this app, and it is free for both iOS and Android users.
Also, you may not discover tracking and path functionalities equivalent to those in other hiking applications. However, you will come across extensive trial information, including:
Trailhead locations and detailed hike descriptions
National Parks Roads
Reservation info and tour information.
This app best suits hikers curious about nature and the surroundings, especially those interested in plants. If you fit in that category, Seek by iNaturalist app will give you an adventurous and epic hike experience.
You need to turn on your location, capture the species using the app's camera, and let the app identify the species.
Seek by iNaturalist is a free hiking GPS app for android and iOS.
SkyView Lite
Skyview is an app that helps you identify satellites, planets, constellations, and stars.
It's simple to use, open the application and direct it toward the item you wish to recognize.
The application's integrated illustrations align with the celestial objects in the sky, making it easy to identify.
The app is accessible for both Android and iOS. The "free version" is sufficient for many users, while the payable one has a fee of $1.99. 
The paid version comes with additional features, such as watch functionality.
FAQs
Which GPS App Is the Top Choice for Hiking?
When it comes to hiking, Gaia GPS is the way to go. It's got better maps and navigation than AllTrails, making it an excellent choice for navigation.
However, if you desire to utilize the map and functionalities while not connected to the internet, you will have to make a payment. Usually, the annual subscription fee is $39.99.
Is It Possible to Use My Phone's GPS for Hiking?
Definitely! Most hiking apps can use your phone's GPS to update your location on topographic hiking maps.
Hiking tracking app on a smartphone
Conclusion
Hiking is a fantastic way to explore nature, but staying safe and on track is vital. A good GPS app can make all the difference. Whether you're a seasoned hiker or a first-timer, a good GPS app is essential for a safe and successful hike. From mapping your route to identifying landmarks, these apps are a must-have for any outdoor enthusiast. Don't let getting lost ruin your hike; have a reliable GPS app on hand.