The Best Fleet GPS Tracking Systems. Fleet tracking has become easier with the advancement of GPS and cloud computing technologies. Nowadays, you can have all fleet information, including speed and direction of travel, in the palms of your hands. 
Consequently, GPS fleet tracking has become crucial for managing a company's moving assets. These assets include drivers, cargo, and even the vehicles themselves. 
But as thousands of systems are out here, most people wonder which offers the best value-for-money deals. Well, here's all you need to know about the best fleet GPS tracking systems and the ones that suit you best.
Table of Contents
What Is a Fleet GPS Tracking System?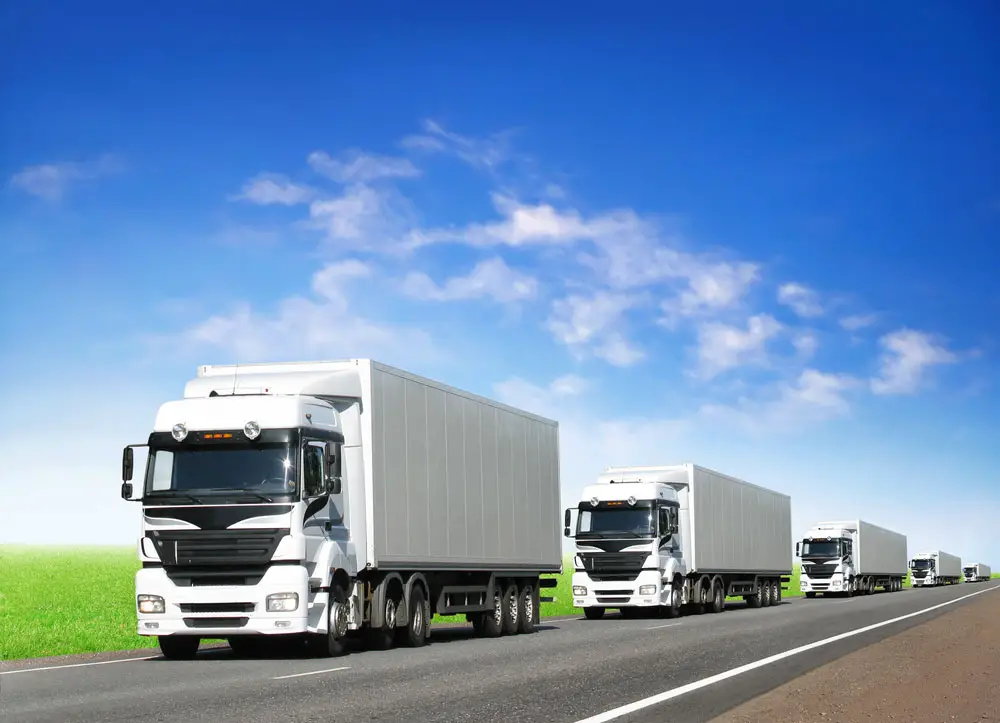 (A caravan of trucks on the highway)
A fleet GPS tracking system is management software that allows you to monitor your assets remotely. Companies mainly use it to monitor driver behavior and the location of their vehicles in near real-time. 
Furthermore, the system captures critical metrics such as the speed and direction of all vehicles and any stoppages. Consequently, you'll analyze the data to improve efficiency by enhancing productivity and rewarding driver behavior. 
How Does Fleet GPS Tracking Work?
Fleet GPS tracking relies on GPS trackers attached to each vehicle in the fleet. Afterward, the tracking devices will receive signals from several GPS satellites and send the location data to a cloud-based platform. 
Additionally, GPS tracking systems work with multiple sensors to gather more information, including fuel usage and engine performance. Therefore, as a manager or operator, you can access the information to help determine your fleet's performance. 
Best Fleet GPS Tracking Systems
(Manager with a digital tablet on the background of vans)
Here are the best fleet GPS tracking systems in the market.
Verizon Connect
Verizon Connect is a top fleet GPS tracking system that's more suited for industry-specific clients. It offers an excellent level of customization to reflect terminologies particular to the industry. 
For example, you can change specific labelings, such as vehicle to van or truck. Other features include fuel card tracking and the freedom to choose between hard-wired and plug-and-play GPS tracking devices. 
Azuga
Azuga is an easy-to-use but efficient fleet GPS tracking system. Also, its installation process is relatively easier than most other systems. Generally, it will take minutes to install the OBD-II plug-and-play hardware and register your fleet with the service. 
Moreover, the interface is user-friendly, with the most frequently used functions being one or two clicks away.
ClearPathGPS
(A customer signing on the agreement terms of car rental service)
ClearPathGPS's large selection of standard and additional features makes it an excellent choice for companies needing customizable systems. The fleet management system has many hardware options to choose from. You can either go with the hardwired or plug-and-play hardware. 
Besides, you can select either solar-powered or dual-powered accessories, including trackers and dashcams. And, if you need fleet management software with no contracts, ClearPathGPS is for you. 
Samsara
Samsara is a great choice for smaller companies whose limited resources prevent the adoption of complex systems. This is because Samsara allows you to customize your payment plans to reflect your needed features. 
Furthermore, the fleet management system is one of the few tracking systems that provide near real-time monitoring and video reporting. However, Samsara lags behind the likes of Verizon Connect with its slower refresh rate of 30 to 60 seconds.   
NexTraq
NexTraq is another unique fleet management system with top-notch safety features. With NexTraq, you can choose plug-and-play or hard-wired hardware. Either way, the system is tamper-proof and relays information in near real-time. 
It also allows you to customize refresh intervals from 30 seconds to 15 minutes. And, what's even more appealing is the non-inclusion of minimum fleet size conditions suiting smaller firms. 
Why Use a Fleet Tracking System?
As a fleet manager or operator, you can use fleet tracking systems to obtain a thorough overview of all corporate vehicles in near real-time. Additionally, you'll collect data analytics to aid in identifying non-efficient vehicles while rewarding the top performers. 
Efficiency is a key area in any industry; hence you can also use a GPS fleet tracking system for routing your vehicles. Furthermore, you can monitor driver behavior to identify cases of speeding and idling. 
What Are the Benefits of GPS Fleet Tracking?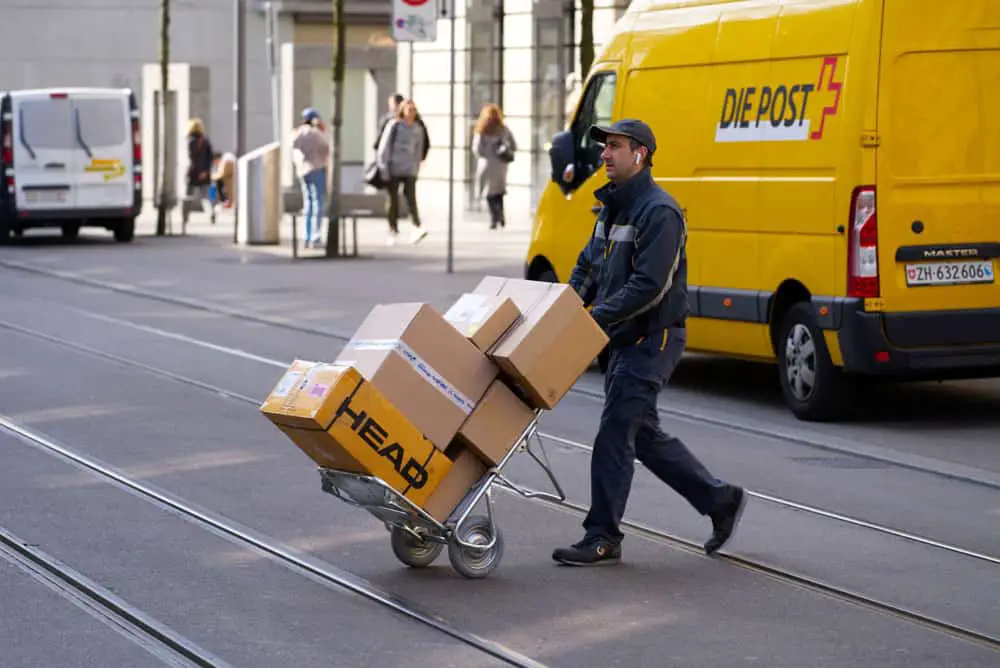 (A driver delivering a package)
Here are some benefits of modern GPS fleet tracking systems for organizations. 
Optimize Vehicle Use
One of the main roles of the GPS fleet tracking systems is to maximize efficiency. By monitoring your fleet, you can determine your vehicles' performance. This way, you can allocate your highest-performing drivers to more suitable roles and maximize revenue.
Reduce the Cost of Fuel
Organizations that use efficient GPS fleet tracking systems usually report significant reductions in fuel costs. With less idling and better driver behavior, fleets can maximize the available resources. Moreover, the available fleet data can assist you in finding the most efficient routes to save resources and raise employee productivity. 
Better Customer Satisfaction
You're assured of better customer satisfaction if you use a good GPS fleet tracking system. For example, using the best routes or assigning your most efficient drivers to do certain deliveries will surely get you a five-star rating. 
Lower Cases of Theft
Reputable fleet tracking technologies allow you to build personalized geofences around your trucks. Consequently, you'll receive notifications when a vehicle leaves its area or operates after regular business hours. This ensures that drivers follow their routes safely and as company policy requires.
Improve Driver Safety
(A happy driver)
Most GPS fleet tracking systems store trip data you can retrieve for analysis. And, as we know, drivers are an integral part of any organization. Therefore, if drivers are speeding, you can retrieve and analyze their data. Afterward, you can mentor drivers and help them develop their driving abilities.
Lower Maintenance Costs
Modern GPS fleet tracking systems are sophisticated with advanced vehicle diagnostics features. Some, like fuel level indicators and engine diagnostics, allow you to monitor important areas of your fleet's health. 
FAQs
Can you install two tracking devices on your car?
GPS tracking devices can work individually and relay data on their own. Generally, tracking devices rely on a cellular network to send data or alerts to your smartphone. Consequently, at no point will two tracking devices interfere with each other. 
How do you keep track of fleet vehicles?
You can easily manage and keep track of all your fleet vehicles by installing good fleet management software. Consequently, you'll easily track your vehicles and drivers' performance.  
Do fleet vehicles have GPS tracking?
Most fleet managers install GPS tracking to ensure that drivers reach their destination in time. Additionally, GPS trackers show how the vehicle is driven and whether it veered off the preplanned route. 
Conclusion
In conclusion, managing a fleet remotely is tough when you don't have access to the real-time tracking information. You'll incur losses due to poor driver behavior or inferior route planning. Also, you might face increased operational costs and compliance challenges that may damage your reputation. 
Therefore, always go for the best fleet management systems and raise your profits and overall competitiveness. Lastly, contact us if you have any questions or need clarification on today's topic.