Do you sometimes pause and think about how sea or ocean travel was before the GPS invention? We can assure you that ocean or lake movement was an activity left for those who deeply understood maps, compasses, and navigation. And even with maps and compasses, many would start journeys across oceans, never to return. Luckily, there are the best boat GPS for modern boat owners to help you navigate the waters. 
Therefore, with these devices, you can navigate large water bodies and even send emergency alerts if necessary. But what makes a good boat GPS, and how do you get one? 
This article highlights the best boat GPS to improve your sea, lake, or ocean navigation.
Table of Contents
If you are a fisherman, the Humminbird Helix 5 G2 is the best boat GPS for you. The GPS supports down imaging to help you see what happens below your boat. Therefore, you can use this feature to track down ideal fishing spots. 
This product is perfect for both salt and freshwater. What's more, it's preloaded with data and maps from NOAA and LakeMaster to help you navigate without challenges. Furthermore, everything appears clearly on a 5-inch WVGA HD screen.  And for beginners, there is a simple keypad control interface. 
Pros
Excellent down and side imaging
It has a simple keypad control interface
The GPS comes with preloaded data and maps
Cons
Sometimes experiences quality-control problems
The transducer wire is short
(A Garmin Striker GPS)
The Garmin Striker 4 is a compact device with a 3.5-inch display. The GPS employs high-frequency sonar technology that gives a clear view of the water below your boat. Additionally, it has a waypoint map to help you navigate and view locations like stumps and docks. For your information, it performs well for a maximum depth of 750 feet and 1600 feet in salt and freshwater, respectively. 
Furthermore, most users find this device easy to use thanks to the keypad having dedicated buttons. Lastly, this product sells for an affordable price on Amazon. If you'd like to try vertical jigging or ice fishing, grab a Garmin Striker 4 GPS. 
Pros
Has an advanced underwater imagery
Simple to operate with a keypad having dedicated buttons
Supports ice fishing
Cons
Has a small screen of 3.5 inches
Difficult to read in day-mode
Garmin EchoMap+ 94sv
The Garmin EchoMap+ 94sv is ideal for those who love big displays. This 9-inch display boat GPS allows you to see everything with clarity. Since it's preloaded with Great Lake and Bluechart G3 coastal charts, you can use it in fresh and saltwater.  
Additionally, it's equipped with a GT51-TM 12-pin transom transducer that emits CHIRP sonar. This provides temperature and depth readings and ensures clear imaging is available on the screen.  
Furthermore, it's Wi-Fi-enabled to sync with your smartphone directly. Therefore, you can call or text directly from the device. 
Pros
The device is WiFi enabled.
Features Great Lake and Bluechart G3 coastal charts
Provides clear underwater imagery
Cons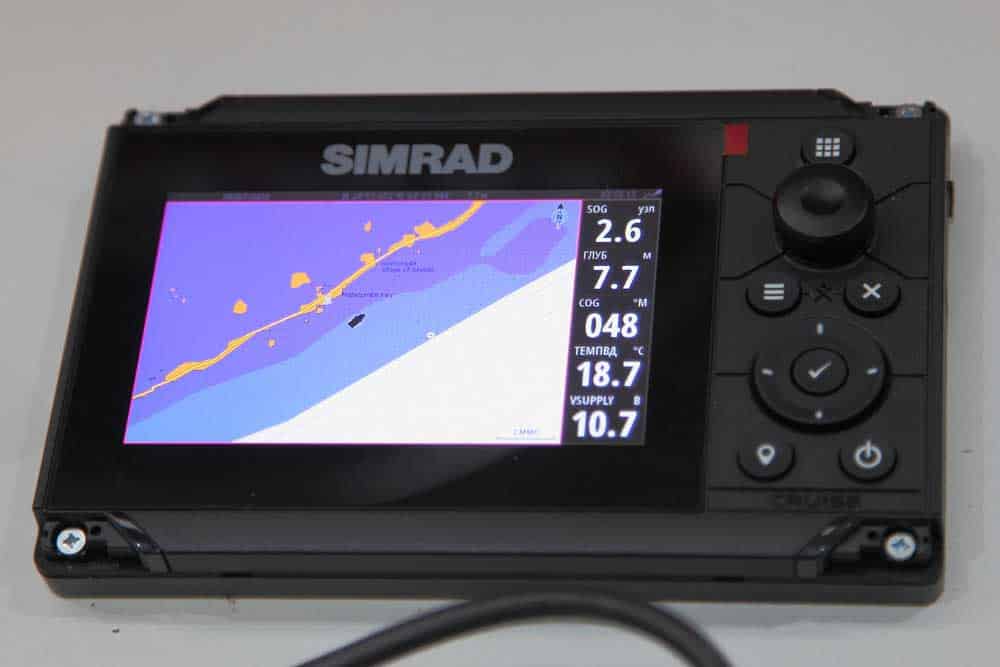 (A Simrad Cruise GPS)
Are you after an advanced boat GPS with top-notch software and hardware features? The Sim Simrad Cruise 7-7-inch GPS is the best option to improve your navigation experience. To begin with, it comes preloaded with US coastal maps. Additionally, an 83/200 transducer offers advanced depth tracking. 
Moreover, you'll interact with a control menu that lets you create customized routes. At the same time, you can access different information, including temperature and speed readings. 
Pros
It's easy to install and mount
Preloaded with US coastal maps
Has an 83/200 transducer for advanced depth tracking
Cons
The Best Boating GPS Apps
(A young lady sailing)
We understand that a boat GPS is expensive, and not everyone can afford one. Also, we know that most people nowadays own a smartphone. Therefore, you can download and use a boating app in place of a boat GPS to navigate without challenges. 
But what mobile GPS apps are good for you? Well, you can download any of the apps below:
C-Map Embark
iNavX
Maptech lot
SeaPilot
Navionics
Generally, the above GPS apps are easy to use. However, before downloading a boating GPS app, ensure it supports automatic route planning. Also, it should allow sharing and WiFi connectivity. Furthermore, it'd help if the app supports offline charts in case you lose the network in the middle of a lake. Finally, ensure the app has weather forecast features so you don't navigate blindly. 
What To Consider in A Boat GPS
(Photo of a Garmin GPS)
Before you buy a boat GPS, consider the following features:
Maps and Charts
This is the first thing to prioritize in a boat GPS. Therefore, ensure the GPS has a preloaded map of the lake, sea, or ocean you're likely to navigate. Most importantly, it should allow you to add more maps. 
Portability
For a small boat, we recommend buying a small and compact GPS. This makes it easy to carry and store the device. 
Display
Always go for a GPS with a large screen to view details. Additionally, it should have a high resolution. Whether the sun is very bright or there is total darkness, your navigation should not stop.
Waterproof
Remember, you're going to use the device in water. What if the device drops in water or water splash over it? In such a case, the GPS should remain intact and free from damage. Therefore, go for a waterproof product. 
FAQ
Is a boat's GPS accurate?
Yes! Like most GPS, a boat GPS is also accurate. Generally, you'll see accuracy within 10 meters under normal conditions. 
Can you use your phone in place of a boat GPS?
Absolutely! If you have a smartphone, you can take it with you for a boat ride. However, you must download and install a boating app. Therefore, check the boating apps we have suggested above. 
Do I need a boat GPS for an Ocean or lake?
For large water bodies such as lakes and oceans, you need a boat GPS. Without it, you won't know where you're going or coming from. A smartphone won't work well in such a situation since it might lose internet connection midway. 
Conclusion
In conclusion, owning a boat GPS is a great way of improving your navigation experience. The best boat GPS should be portable and waterproof. Additionally, it should have a great display and reliable maps and charts. 
Luckily, almost all the boat GPS we have highlighted above have these features. Therefore, if you can't afford a boat GPS, you can use a boating app comfortably. 
What are you waiting for? Purchase a boat and enjoy a boat ride in any ocean or lake.