With the 5g compatible flip phones, Nothing reminds you of the good old times more than having a flip phone. Although most phone manufacturers had discarded flip phone designs, we have seen them making major comebacks on the market. 
Even better, these phones are now designed with sophisticated technologies, including 5G. Why does this matter? You'll experience almost 100 times better network efficiency than your current 4G phone. 
Unfortunately, finding a 5 G-compatible flip phone isn't a walk in the park. This guide is here to help you. 
Table of Contents
Best 5G Compatible Flip Phones
Modern-day flip phones have excellent features that closely mirror our smartphones. And none more so than having 5G compatibility. Here, let's look at the best 5 G-compatible flip phones.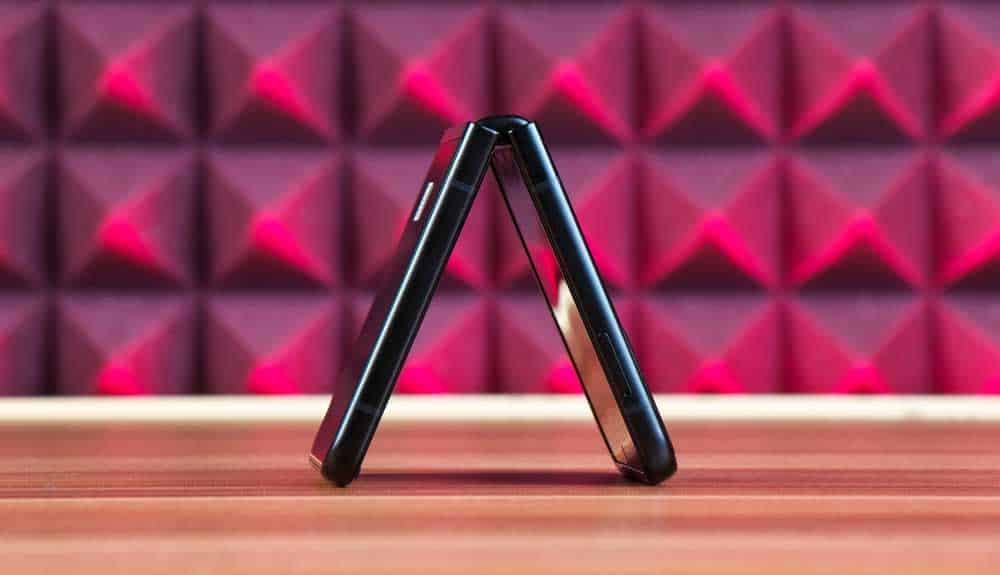 (Samsung Galaxy Z Flip3)
As one of the pioneers in foldable smartphone design, Samsung shook the market when they unveiled the Galaxy Z Flip3 5G. The flip phone outclassed earlier flip phones with its amazing IPX8 water resistance rating. Furthermore, the Flip3 has a big 6.7" display, a Snapdragon 888 chipset, and 8GB of RAM. 
If you're a gamer, this is a good phone as you can capitalize on the faster 5G speeds and a split screen. And if you like taking selfies, you'll like Flip3's 10 MP front camera. 
However, the phone's major downside is its 3300 mAh battery. Honestly, Samsung could have done better and paired this magnificent flip phone with a bigger battery. 
(Holding a flip phone)
An upgrade to the Flip3 5G, the Samsung Galaxy Z Flip4 5G, is better, stronger, and more appealing. The phone has the same size 6.7″ foldable display as the Flip3 but with a bigger and better 3700 mAh battery that supports fast charging. Also, it has an IPX8 water-resistant build and a Foldable Dynamic AMOLED 2X display with a 120Hz refresh rate.  
Other features include 8GB RAM paired with 128GB/256GB/512GB storage and a Snapdragon 8+ Gen 1 chipset. The selfie camera is 10 MP, while the dual main camera pair is 12 MP for the wide and ultrawide sensors. 
The phone's fast charging lags compared to the competition despite its massive $960 price tag. Additionally, the device is susceptible to throttling, and you can easily notice the display crease. 
(Friends lying on the grass and using smartphones)
Motorola's Razr 5G has an excellent build quality compared to most flip phones in the market. It's compact when closed, has a sleek design, sub-6GHz connectivity, and has a quick-view display. Additionally, it features a 6.2″ foldable P-OLED display, 20 MP selfie and 48 MP main camera, and a Snapdragon 765G chipset. 
Other features include 8GB ram and 256GB of storage. Also, Motorola has upgraded the front screen features to enable you to access your favorite apps. Therefore, you can easily respond to notifications and texts. 
However, the Razr 5G's main downside is its battery. At just 2800 mAh, the battery can't make it through the day and drains faster when using power-draining applications. The other downside is that the phone lacks an IP rating. 
What to Consider When Buying a 5G Flip Phone
(New phones in a showroom)
Before you decide to get a 5G flip phone, you should consider many things. We share the most important ones here. 
Battery Life
When buying a 5G flip phone, always choose one with a bigger battery and a smart operating system. 5G is faster than the 2G, 3G, and 4G networks. As a result, to keep up with its high speeds, it consumes more battery than its predecessors. 
Fast Modems and Chips
The fact that your flip phone supports 5G doesn't necessarily mean that it will be fast. It still has to have the fastest modems to support fast 5G speeds. Consequently, go for a 5G flip phone with the fastest modems and chips (usually more costly). Some excellent chips include the Snapdragon 870, Snapdragon 8 Gen 1, Dimensity 9000+, MediaTek Dimensity 9000, etc.
Software Support
What good is having a 5G flip phone that lacks software support from the manufacturer? Most phones, especially in countries without 5G services, will still have hardware that supports 5G. To be safe, always use a 5G flip phone from a trusted manufacturer to access 5G support.
mmWave and Sub-6GHz Support
(A businessman pointing at a flip phone)
A 5G chipset in your phone doesn't automatically translate to faster speeds and a seamless experience. If you need fast speeds, go for flip phones with mmWave and Sub-6GHz support. The reason is that the mmWave offers the best 5G speeds. 
Date of Launching
Always go for the latest 5G flip phones, especially when buying a budget one. Newer 5G flip phones have improved chipsets, better speeds, and stronger antennas. 
Front Screen
Opening your flip phone to read a message can be hectic every time you get one. As such, go for flip phones that have a front screen. Though not of the same grade as the regular screen, the front screen allows you to read messages or make calls easily.
FAQs
How do you know your flip phone support 5G?
Click on your flip phone's "Settings" app to access the Settings menu. Next, tap on "Network and Internet." You'll see a list of options under the "Preferred Network Type" option. Check the list of supported networks to see if your phone supports 5G.
Is it worth switching to a 5G phone?
Absolutely. With 5G technology, you'll access higher download speeds, low latency, and increased bandwidths. 
Does 5G drain my flip phone's battery faster?
Yes. 5G network is faster and requires more resources to operate efficiently. All these, coupled with faster data handling, will cause the battery to drain faster. 
Conclusion
5G technology is here to stay. It promises a greater future not just for our mobile devices but also in the world of IoT. As a result, ensure your next flip phone supports 5G connectivity. Lastly, we've exhausted your crucial questions about 5G-compatible flip phones. If you still have any questions, feel free to contact us.